Established in 1972, Pascha's (Pascha Cologne) is Europe's largest brothel and self-proclaimed 'whorehouse'. It covers an area of 9000m2 over 12 storeys and is situated in the North of Cologne.
Europe's first high rise brothel was created in part by the city's authorities, who in a bid to eradicate the sprawling red light district as the heart of Cologne's sex industry, authorised a license for a single brothel.
Originally named the Eros Centre but renamed Pascha in 1995, the brothel is run by a central management company who charge entrance fees to all clients but rent space to individual prostitutes to operate independently.
---
---
In this guide to Pascha, we'll take a look at what you can expect inside one of Germany's most famous brothels.
Facilities & Services at Pascha Cologne
With around 120 prostitutes operating independently rented rooms the brothel has a whole host of facilities to keep customers happy. It is one of the most famous brothels in Germany (and given the competition in the German adult industry, that is no mean feat!)
There are a range of services operating across the seven floors of prostitutes; from themed rooms such as a dominatrix studio, doctors office and darkroom to a professional massage parlour for a more luxurious experience.
Each escort advertises different specialities with the main Pascha website offering a preview of some of the ladies that work there.
Club 11 at Pascha Köln
Club 11 is a gentleman's club on the eleventh floor with topless waiting staff, full bar service and a laid back approach to soliciting sex.
Entrance fees vary depending on the time of day but range from €10-40 which includes all drinks; however, staying in the club costs by the half hour with the first 30 minutes being €50-80 and additional half hours being €100.
What you do during your time there is between you and the women you engage with but there is a sauna, spa and private rooms as well as a public socialising area.
Pascha Nightclub
The nightclub is open daily and offers guests the chance to enjoy erotic performances by their employed dancers to get in the mood.
Entrance is €25 (Sunday to Thursday) and €35 (Fridays and Saturdays). Private dances can cost as little as €10 with drinks being very reasonably priced.
7th Floor Trans
For clients who are fans of trans or just curious there is an entire floor of the brothel that caters to this. The 7th floor specialises in the '3rd sex' and offers what the house calls 'strikingly feminine divas'.
Hotel
The venue also offers full hotel accommodation where guests can enjoy free entrance to all of the clubs and areas of the brothel with all inclusive access.
The accommodation is of a high standard and guests can expect management to cater for their every need. A theme that runs throughout the premises…
Boutique
The venue also has a shop, Dani's Boutique, from which you can buy your favourite lady a special gift or simply take away a souvenir of your stay.
With erotic clothing, sex toys and pornography there is something for every fetishist at this in-house sex shop.
It's open from 6pm to 11pm, Tuesdays to Saturdays.
You can also purchase a bottle of Pascha's own brand Vodka, P; imported from Austria and distilled five times, their own blend is smooth and a great souvenir to take home.
Shisha Lounge
New to the brothel is the Shisha Lounge, a laid-back area in which clients can enjoy the laid-back delights of shisha amid the attention of scantily clad ladies.
The venue also offers golfing days and poker nights in a bid to keep its customers happy.
Prices at Pascha
The house charges an entrance fee of €5 which includes all non-alcoholic drinks but all services are negotiated directly with the lady of your choice.
The prices vary considerably depending upon what you are looking for and the quality or specialism of the prostitute involved. Some areas of the brothel attract additional entrance fees such as Club 11 and the nightclub.
Pascha's regularly runs events and promotions with discounted entrance, happy hours and other special offers. It is worth checking the website or social media before attending to take advantage of these.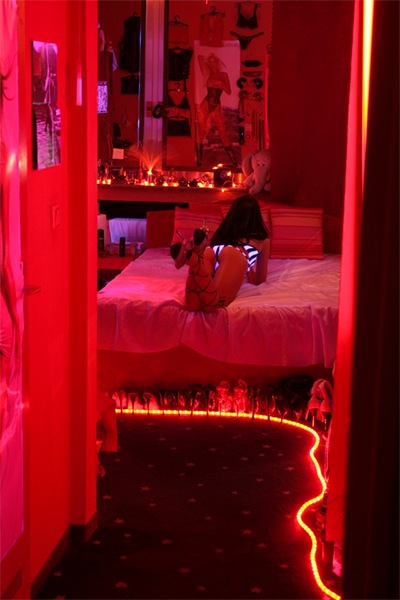 Where is the Pascha brothel?
Pascha's can be found on Hornstraße 2, 50823 Cologne, Germany.
North of the city, the area is industrial and far removed from any residential area or nightlife. It is not somewhere you would stumble across on a night out.
The company also has locations in Austria including Salzburg, Linz and Graz.
Opening Hours
Pascha's (the brothel) is open seven days a week, 24 hours per day.
The weekends are busier between the hours of 10pm and 3am but with the number of women working there is usually no problem with getting serviced.
The nightclub is open daily from 9pm to 5am with Club 11 being open 24 hours per day.
Contact Info
Need more information? Want to speak to the brothel's management ahead of your visit?
Here are the details you will need:
http://www.pascha.de/
Phone: 0 221 17906100
Email: info@pascha.de
---
Have you visited the famous Pascha Köln, Europe's largest brothel?
Let us know what you made of the experience and whether you'd recommend it to our readers…