Want to know more about sex in Frankfurt? Want to see how the Frankfurt escort scene compares to the rest of Germany's vibrant adult entertainment industry?
Frankfurt has a vibrant nightlife with modern clubs and bars – as well as strip clubs, sex cinemas and erotic massage parlours. With the sex industry fully legalised in Germany, Frankfurt is also a hot bed for street prostitution, FKK clubs and brothels. This is a city that truly comes to life after dark — if you know where to look, sex in Frankfurt is not hard to find.
In this uncensored Frankfurt Sex Guide, we take a look at the Frankfurt escorts scene, plus where you can find 100% legal sex services. We look at the best local FKK Clubs, brothels, sex shops, erotic massage parlours and more…
---
---
Is Prostitution Legal in Frankfurt?
Yes.
Prostitution in Germany is fully legalised and regulated as a professional industry.
As a result, sex work is widespread and varied across the country and Frankfurt offers a huge number of ways to indulge in adult services.
The most popular ways to pay for sex in Frankfurt are via:
Laufhauses, Brothels or Eros Centres [see our Germany Laufhaus guide]
Private Apartments (Wohnungspuffs)
FKK Clubs
Swinging Clubs (Partytreffs/Pauschalclubs)
Street Prostitution (Straßenstrich)
Street hookers may only solicit for business in permitted areas, usually designated as red-light zones in the major cities and Frankfurt has one of these (see below).
In some parts of Germany, additional facilities outside of the city are provided.
These sex drive-in facilities are called Verrichtungsbox (or 'performance box') and allow drivers to pull up to a bay in order to have sex in their car. The idea behind these structures is to control and limit the public spaces utilised for car-based prostitution and offer safety and security for sex workers.
Often located in industrial areas, Frankfurt has been considering installing these booths but, as yet, there are no firm plans to do so.
Prices for sex in Frankfurt start at around €20 for a quickie, usually from a street hooker and range up to €100-€200 per hour with a standard escort. However, there are lots of options for budget sex with venues like FKK Clubs offering entrance from around €50-€100 which can include multiple sex tokens.
You can also get sexual services from erotic massage parlours (mostly manual, sometimes oral and maybe full intercourse). However, prices for this kind of service are more costly as you usually pay for the massage on top at a rate of €70-€150.
Frankfurt Escorts Guide
As Germany's fifth largest city and popular with business and recreational tourists, Frankfurt is well serviced by both independent and agency escorts. Many are German but there are lots of other European and international ladies (and men) who provide outcall sex services.
Most escorts charge around €200 per hour though there are some budget options available as well as premium call girls. If you are looking for something special then you can also find a good range of fetish outcall services as well as transsexual escorts.
If you don't want to pay for an escort, you can always try your luck with adult hookup sites – the most popular in Germany being Adult Friend Finder. The site is (ironically) full of escorts and freelance courtesans, but it's also possible to hook up with everyday Frankfurt girls. As always on these sites, your mileage may vary!
Of course, you could try Tinder, too. But it's much harder to get laid on Tinder than it is using a self-filtering hookup app.
We've detailed below the best Frankfurt escort sites and agencies where you can find a good selection of fully legal escorts in Frankfurt. To make life easier, we have split these into three categories; General, VIP and Specialist Escorts.
General Escorts in Frankfurt
Kim Escort
A local agency offering the services of a few dozen escort girls and call boys, Kim Escort covers Frankfurt, Wiesbaden, Cologne, Darmstadt and Mainz. Prices vary by model but are around the €190 per hour rate.
Private Modelles (Escort Frankfurt)
www.privatmodellefrankfurt.com
With some nice budget options available, this directory has an SMS/WhatsApp booking function to make it more convenient for punters. The first hour is charged at €150 with each additional hour costing €130; extras are charged on top, details of which can be found under each model's listing.
Main Escort Directory Sites
Our favourite escort directory sites are listed below and each has good coverage for Frankfurt. They are all free to use and feature various filters you can use to search for a suitable call girl within your budget:
Prices via these directories range from budget hourly rates of around €120 to €500+ with some offering more specialist services.
VIP Escorts Frankfurt
If you are searching for a more exclusive escort service then the following sites offer premium models at premium prices.
Specialist Frankfurt Escorts
However, if you are looking for something a little more unusual from an escort then you might want to consider one of these directories:
Frankfurt Girls On Cam
You don't have to hire an escort to hook up with Frankfurt's adult service providers.
One of the most popular alternatives is via cam sites. You can chat online, watch sex shows, direct the action and build out a list of beautiful Frankfurt sex contacts.
We've reviewed dozens of popular cam sites but the most popular choice for foreigners seeking Frankfurt girls is MyDirtyHobby.
This is the largest amateur sex community in Europe, and it's bolstered by a huge contingent of German cam girls.
Some other popular alternatives include:
Sex in Frankfurt: What Services Are Popular?
Like most German cities, Frankfurt has an abundance of ways to get serviced when it comes to adult entertainment.
From full sex at brothels, laufhauses and eroscentres to erotic massage parlours, strip clubs and FKK clubs. Swingers and fet-fans can also find some great clubs and venues to suit their lifestyle as well as there being plenty of extras to experience.
Prices for sex services vary depending on what it is you are seeking and where you are getting it from.
Strip clubs may be able to provide some salacious entertainment but this isn't as cheap as getting a quickie in a laufhaus. Likewise, a quick rub and tug massage can be less expensive than a full body-to-body service.
We've provided a full list of the best sex work and adult entertainment venues in the city including sex shops, sex cinemas and details of the city's red-light district.
Frankfurt Brothels
Brothels in Germany are mostly of the European laufhaus (running house) style in which rooms are occupied by self-employed, independent prostitutes.
These kinds of brothels don't offer a line-up like traditional whorehouses like the ones you might find in North America. Instead you are invited to wonder around the premises and choose a room.
Women who are available tend to leave their doors open for customers but some more modern laufhauses operate a red/green light system.
Frankfurt does have a couple of more traditional bordellos where you are presented with a line-up of women available. Often 'classier' than the laufhauses, the prices at these brothels are higher.
Crazy Sexy
Elbestraße 49-53, 60329 Frankfurt am Main
One of the biggest, oldest and most infamous brothels in Frankfurt, Crazy Sexy has been operating since 1968. Though the address hasn't changed in more than fifty years, the place has and customers can expect a slightly more modern welcome.
Housing up to 80 ladies including several transsexual prostitutes, Crazy Sexy is a large laufhaus in the centre of Frankfurt's red-light district, Bahnhofsviertel. As well as European and Asian women, you can also find some dominatrices offering a full BDSM/dungeon experience.
The brothel doesn't have the best reputation judging by the online reviews available with some of this purporting to general cleanliness in the communal areas and some rooms. Overall though the prices here are considered reasonable but there are no guarantees on availability of the girls; you pretty much get who is available and turnover here is quite high.
Formerly known as Eroscenter 55, opening hours at Crazy Sex are as follows:
Monday to Thursday – 10.00am to 4.00am
Friday and Saturday – 10.00am to 5.00am
Sunday – 10.00am to 3.00am
Eroscenter Taunusstraße 26
Taunusstraße 26, 60329 Frankfurt am Main
Covering four floors, the Eroscentre Taunusstraße 26 is a laufhouse style brothel in the centre of Bahnhofsviertel. It has an excellent reputation with locals as being one of the best running houses in the city. One of the main reasons for this is the high standard of cleanliness in evidence throughout the venue as well as low turnover rates of the prostitutes themselves.
Modern, clean and with fair prices, this venue also caters for people with mobility issues.
As with any laufhaus that is populated with independent sex workers there are a variety of options available including some women who offer full BDSM.
The Frankfurt Eroscenter is open 24-hours a day, seven days a week.
Labelle Treff
Hauptstraße 17, 65843 Sulzbach (Taunus)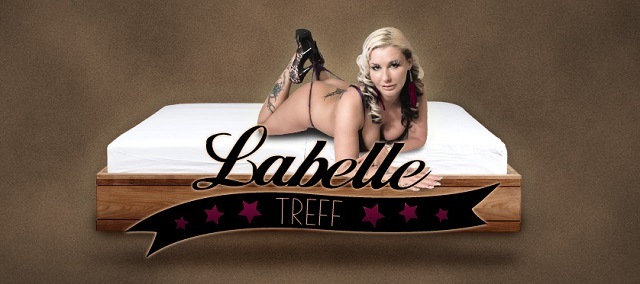 Located about 15km to the west of Frankfurt in a town called Sulzbach you can find the small laufaus of Labelle Treff.
With a weekly change of girls (presumably taking a break from the city?), there are a few dozen international girls to choose from.
With a good reputation for service, cleanliness and prices, it may seem a long way to go for sex but Labelle Treff is a bit of an oasis away from the hustle of Frankfurt's red-light district.
Labelle Treff is open as follows:
Monday to Friday – 10.00am to 11.00pm
Saturday – 10.00am to 10.00pm
Sunday – Closed
Rotes Haus
Taunusstraße 34, 60329 Frankfurt am Main
Located slap bang in the middle of Frankfurt's red-light district, the Rotes House is one of the largest and most famous running houses in the city.
With 67 rooms there is a lot of choice on offer including some transsexual prostitutes, Dominas and newcomers. As with most laufhauses, all of the rooms are decorated to the occupants tastes but there are a couple of themed ones which are quite popular (the SM room and Flower Room, for example).
Tidy and clean, prices are quite reasonable for the city and are around €25 for 15 minutes or €50 for 30 minutes.
The Rotes Haus brothel is open as follows:
Monday to Thursday – 10.00am to 4.00am
Friday and Saturday – 10.00am to 8.00am
Sunday – 10.00am to 2.00am
Sex Inn
Taunusstraße 27, 60329 Frankfurt am Main
Though not the most modern of venues in the city, it is well located in the central red-light district and has a reasonable reputation.
Directly opposite the Rotes Haus and Pure Platinum, Sex Inn is a classic laufhaus style brothel and you are encouraged to meander the corridors approaching open doors and getting a feel for what's on offer before you make your choice.
Spread over five floors and with 51 rooms the Sex Inn offers a good selection of ladies to choose from including Asian, Eastern and Western European and the occasional Central and North American.
Being independent, each lady, of course, offers a range of different services at various prices with some specialising in massage or BDSM whilst others can service more unusual kinks.
The Sex Inn is open daily from 10.00am to 4.00am.
Villa Le Mirage
Bieberer Str. 259, 63071 Offenbach am Main
Located to the east of Frankfurt, about 10km from the centre of the city, is the Villa Le Mirage. It's a small suburb called Offenbach and this venue is a more traditional bordello-style brothel.
It's got a classical feel to the décor with lots of fussy furnishings, gilt decorations and ornamental touches. Although it's clean and hygienic, it's not a 'modern' brothel.
There are around a dozen ladies operating at any given time with a mix of nationalities, shapes, sizes and ages available.
Villa Le Mirage is open daily from midday to 3.00am.
Other Frankfurt Brothels
There are a couple of other small laufhaus style brothels in Frankfurt that also offer sexual services:
Laufhaus 7-9, Breite G. 7, 60313 Frankfurt am Main
Japan China Girls, Adalbertstraße 7A, 60486 Frankfurt am Main
Penthouse No 1, Breitgaße 1 60313 Frankfurt am Main
Sex Cinemas in Frankfurt
Sex cinemas (or Sex kinos) are popular across Western Europe and are usually found to the rear of sex shops and gay clubs. They used to be more abundant in Frankfurt but now there are only a few to be found in the city.
The largest of these is Josefines which can be found to the east of the city in the suburb of Offenbach (Platz d.Deutschen Einheit 2, 63065 Offenbach am Main).
A fine erotic store with a great range of products including bedroom toys, German porn, and sex aids, they also have a few video cabins and one of the largest sex cinemas in the Rhine-Main area; gloryholes are also available.
The price for a day ticket (so you can come as often as you want) is €14 or €20 for couples.
Opening times for Josefines Sex Cinema are as follows:
Monday to Wednesday – 8.00am to Midnight
Thursday – 8.00am to 1.00am
Friday and Saturday – 8.00 to 3.00am
Sunday (& Public Holidays) – Midday to Midnight
You can also find a small family run sex cinema at Jerome, Elbestraße 17, 60329 Frankfurt am Main as well as at the Erotik Supermarkt, Allerheiligenstraße 38, 60313 Frankfurt am Main.
BDSM & Fetish Scene
Germany is well known for its love of BDSM and other fetishes and the country has a good population of groups and networks which are set up to provide outlets for this kind of adult entertainment.
Frankfurt has an active community for BDSM aficionados and anyone seeking Doms and subs can find a good selection from the following:
Please note that some of these listings provide outcall only whilst some have their own studios from which they can provide services. Alternatively, there are some private studious available to rent if you want access to dungeon furniture and BDSM toys.
Here in Frankfurt there are quite a few private apartments and professional dungeons that are available to hire as well as some outside the city. A few of these can also provide staffed services:
And, if you are more interested in a professional BDSM or fetish experiences then you might want to consider this specialist brothel offering 'bizarre erotic encounters around the clock'.
The Skyline Bizarr 24 is based in Downtown Frankfurt and is a modern and stylish bordello staffed by professional Dominas and slaves. Offering an alternative to 'vanilla' and run-of-the-mill laufhauses, it is an intimate boutique BDSM brothel with state-of-the-art Style Fetish furniture.
Grand Opera
Christian-Pleß-Straße 11-13, 63069 Offenbach am Main, Germany
The 'Home of Fetish People' in the Frankfurt area, the Grand Opera is a stylish bar and club which serves as a social and play opportunity for fet-fans.
Opened in 2005, the venue is upmarket and modern with the average age group being in their 30s. The Grand Opera has plenty of play spaces around the club and some unusual seating as well as a popular dancefloor
There are no admission fees unless there are events planned such as the Havana Pain Club which runs on the last Thursday of every month (admission €10) as well as things like:
Gin Tonic & Play
JoyClub Joy Night
Devil's Opera
Tango & Tonic
Rhein Main Fetish and Erotic Market
Young Sin
Moulin Rouge Night
Tickets for these events can be purchased online; always check in advance before you attend as most events are members/ticket only.
The Grand Opera is open as follows:
Wednesday and Thursday – 7.00pm to 1.00am
Friday and Saturday – 8.00pm to 3.00am
Frankfurt FKK Clubs
FKK Clubs are quintessentially German and are a kind of cross between a swinger's club and a brothel. Known as sauna or sex clubs, FKK is short for Freikörperkultur and is the German word for Free Body Culture, or naturism.
Whilst the FKK movement at its heart has no association with sexuality and the term includes far more innocent groups, venues and gatherings, FKK Clubs are traditionally venues which offer spa and sauna facilities whilst being populated by prostitutes who will have sex with the clientele.
There are lots of variations on the format with some clubs offering an all-access admission fee which enables you to sleep with the ladies on site at no additional cost whilst others have a standard entrance charge and any sex you enjoy is chargeable on top (negotiated with the ladies directly).
Each FKK club is different so do check the charges either via the website or when you arrive. Frankfurt has a good variety of sauna clubs in the city and surrounding areas from small intimate spas to larger venues.
Bahama Club
Marie-Curie-Ring 30, 63477 Maintal
Located about 25 minutes to the east of Frankfurt in an industrial area of Maintal, the Bahama Club offers an intimate and clean sauna club. It's modern enough but is not a designer or boutique venue and there are limited facilities.
However, there are generally between 10 to 15 ladies on site to choose from (peak times) and you can enjoy the following at the Bahama Club:
Bar
Lounge
Sauna
Outside Sun Deck and Cabana
Massage Tables
Breakfast and Dinner Buffet
Entrance fees are €35; however, the Club Bahama has a Happy Hour offer where admission between 6pm and 8pm is charged at €25 (including soft drinks, buffet and full use of the facilities). This also applies all day on Monday and Wednesdays.
The Bahama Club is open daily from midday until 3.00am.
Club Darling
Siemensstraße 36, 61130 Nidderau
Located about 30 minutes away from the city, to the North East, Club Darling is a large naturist sauna club covering around 1500 sq. m.
The club has plenty of indoor and outdoor spaces to enjoy including a spa, bar and lounge area as well as more private rooms.
In terms of the women offering services, there are around two dozen, mostly from Italy, Romania, Latvia and other Eastern European countries as well as some local ladies. At the time of our review there was also a lady from the Caribbean.
Admission is €20 which includes free food and soft drinks; however, big events do attract slightly higher charges (Christmas, Halloween, Valentine's Day etc.).
Club Darling is open as follows:
Monday to Thursday – Midday to 2.00am
Friday and Saturday – 2.00pm to 5.00am
Sunday – 1.00pm to 2.00am
FKK Mainhattan
Schielestraße 45, 60314 Frankfurt am Main
The 'hottest FKK club in the city', FKK Mainhattan has both an indoor and outdoor area and is conveniently located in an easily accessible but discreet part of Frankfurt.
It's a large and modern club covering an area of over 2,500 sq. m including facilities such as:
Bar with Sky Entertainment, live music and shows.
Smokers Lounge including Hookah
Private rooms with AC
Sauna
Wellness Oasis
Hot Tub
Swimming Pool
Sun loungers
Solarium
Massage tables
Free Wi-Fi
Entry to the club is charged at €65 and includes soft drinks, buffet (including BBQ in the summer) and the use of most facilities (solarium and massages is extra).
Depending on the time of day and year, there can be anywhere between 10 and 30 ladies on hand to service guests with many reportedly being 'very good-looking'.
Overall, it's a pretty good club and very convenient if you are staying in the city. Though prices may be more expensive than some clubs, the FKK Mainhattan has a good reputation for service and standards.
The FKK Mainhattan is open daily from 11.00am to 4.00am (5.00am on Friday and Saturday nights).
FKK Oase
Ober-Erlenbacher Str. 109, 61381 Friedrichsdorf
Thirty minutes' drive to the north of the city and you can find the oasis of, the aptly named, FKK Oase. Though it's a short way outside of Frankfurt, we've included it here as its one of the largest and most popular sauna clubs in the area.
With an indoor and outdoor wellness area and lots of spa facilities including swimming pool, saunas and massage tables, FKK Oase has a solid reputation for service. As well as bar and lounge, there is also a porn cinema and VIP area.
The club runs themed days throughout the week including live discos on Wednesday. Friday and Saturday. Each day attracts different discounts and admission rates including offers like 6 for 4 (six people get in for the price of four) and Triple 50 Wednesdays (50€ all day admission, 50% off alcohol and 50% off VIP services); see website for details.
General admission prices are as follows:
All Day From 4.00pm – €70
All Day Until 4.00pm – €50
Wednesday All Day – €50
2 Hours (between 10.00am and 4.00pm) – €30
FKK Oase is open daily from 11.00am to 4.00am (5.00am on Thursday, Friday and Saturday nights).
The Palace
Königsberger Str. 23, 60487 Frankfurt am Main
Centrally located, The Palace is one of the more convenient sauna clubs to get to in Frankfurt and can be found in the northwest of the city.
Its not as large as some of the clubs outside of Frankfurt itself but there is a nice spa, bar, restaurant and VIP lounge. Overall the style is modern and the venue is set up more like a gentleman's club than an FKK spa.
Day tickets cost €75 or you can get an early-bird discount between 10.00am and 5.00pm for just €50.
The Palace is open daily from 11.00am to 4.00am (5.00am on Thursday, Friday and Saturday nights).
Treff 188
Düsseldorfer Str. 1, 65760 Eschborn
Located about 10km to the west of central Frankfurt, Treff 188 is a party club that offers bargain sex. Pay once and get up to twenty sex tokens, there are usually around a dozen girls to choose from as well as getting to enjoy the club's facilities:
Live Sex Performance Area
Porn Cinema
Finnish Sauna
Chillout Area
Outdoor Area
Buffet and soft drinks are included and this means a barbecue in the summer months.
Treff 188 also operates a second club about 40km to the west of Frankfurt in Wiesbaden and you can get a ticket which gives you access to both venues. Prices for admission are as follows:
| | | |
| --- | --- | --- |
| Price | Duration | Sex Tokens Included |
| €75 | 2 hours | 9 |
| €90 | 3 hours | 12 |
| €100 | 5 hours | 15 |
| €120 | All Day | 18 |
| €130 | All Day – Valid for Both Clubs | 20 |
| €60 | Last Hour of the Day | 6 |
Couples can pay just €35 for a day ticket.
Treff 188 is open as follows:
Monday to Thursday – Midday to 2.00am
Friday & Saturday – 2.00pm to 3.00am
Sunday – 2.00pm to 2.00am
Other FKK Clubs
There are a couple of gay FKK clubs in Frankfurt, including The Amsterdam (Waidmannstraße 31) and The Metropol (Schwedenkronenpl) plus a couple of larger FKK clubs outside of the city.
FKK World (reviewed here) is located about an hour to the north of Frankfurt in Polheim whilst the large FKK Club Sharks can be found about half an hour's drive to the south in the town of Darmstadt.
The FKK 40 (Sauna Dietzenbach) can be found at Voltastraße 4, 63128 Dietzenbach which is also to the south of the city
Swinging Clubs in Frankfurt
Swinging is very common in Germany and there are lots of places where you can get together with other like-minded couples for a night of hedonistic libertinism.
Whilst FKK clubs can offer elements of this with open and public sex taking place in these venues, the following clubs adhere to a more traditional swingers' environment.
Most clubs will ask you to register with them in order to gain access and some will even offer discounts if you are a member of the German erotic dating portal, JoyClub.
Whilst every effort has been made to ensure that the prices and opening times for these venues are up to date, you should always check the website before you make a visit. Certainly, it's a good idea to familiarise yourself with the club's dress codes and changing facilities prior to arrival.
Club 22
Wilhelm-Röntgen-Straße 22, 63477 Maintal
Image via website.Club 22 Swingerlounge is located about 15km to the east of Frankfurt in an industrial area of Maintal. They are a welcoming and tolerant club that except all sexes and sexualities.
The venue covers a space of 520 sq. m and includes a selection of themed playrooms, group playground, darkroom and BDSM area.
As well as a champagne bar and buffet dining area, there is also a sauna and lounge with dancefloor complete with stripper pole.
Club 22 is a modern and clean venue that is purpose built and well maintained.
Open five days a week, standard events are themed as follows:
The Erotic Monday – Masseur on site from 6pm
Bi-Party Tuesday – All welcome TV/TS/CD, Bi and Gay
Wellness Party Thursday – Wellness classes and masseur
Test The Best Fridays and Saturdays – Club Night Party
In addition, they also run some special events such as Sex Games, Dark & Nude and Men's Surplus parties.
During the summer, the club is occasionally open on Sundays for a more informal and relaxed coffee-time get together.
Entrance prices are as follows:
Single Men – €99 (€75 on Monday)
Single Women – €15
Couples – €50 (€30 on Monday)
Club 22 is open as follows:
Monday – Midday to 1.00am
Tuesday and Thursday – 4.00pm to 1.00am
Friday and Saturday – 4.00pm to 3.00am
Club Fantasy
Bergen-Enkheim
A club on two levels, Fantasy has been running for over a decade and is a 'traditional' swinger's venue. This is not a slick and modern purpose-built industrial club but small, bijoux premises that have been adapted (very well) for swinging sex parties.
Facilities on site include:
Sauna
Smoking Room
Bar
Mirror Room
SM Room
Two Open-Plan Playground Areas
Couples and ladies can attend the club for free but single males must pay €115 for the use of facilities.
They have a good reputation and a decent local following that means the club attracts a reasonable number of guests. However, it is a private venue and you must contact the owner, Thomas, in order to book a place and receive address details.
The club runs events on Christmas Eve and New Years Eve but is generally open on Wednesdays, Fridays and Saturdays from 8.30pm.
Emmanuelle
Westerbachstraße 70, 60489 Frankfurt am Main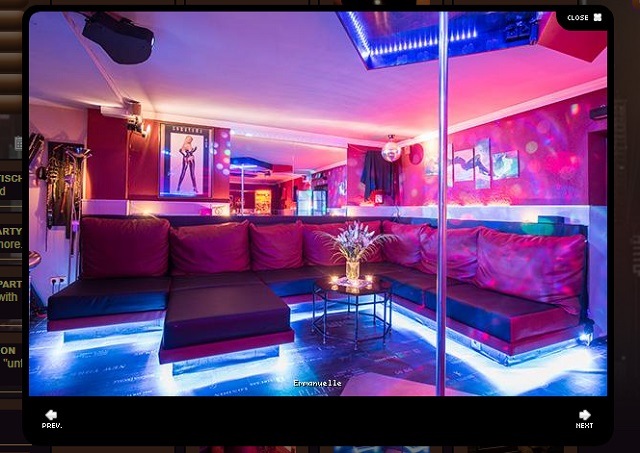 A stylish and modern swingers club in the west of the city, Emmanuelle is a well-attended venue that attracts a nice mix of locals and international visitors of all ages.
Though the average age of guests can often be in their 40s and 50s, they do host a Hot & Young Party once a month for lifestyle members under the age of 30. This is in addition to plenty of themed nights including gang bangs, fetish parties and special celebrations.
There's a nice mix of themed rooms at the house; some designed as a feast for the eyes whilst others are prepared to titivate the senses.
Admission prices are currently charged as follows:
| | | | |
| --- | --- | --- | --- |
| Days | Single Ladies | Single Men | Couples |
| Tuesday | €10 | €80 | €10 |
| Wednesday | €10 | €80 | €15 |
| Thursday | €10 | €80 | €25 |
| Friday | €10 | €110 | €40 |
| Saturday | €10 | €110 | €40 |
| Sunday | €10 | €80 | €30 |
The entrance fee includes buffet and soft drinks as well as the use of the sauna.
Emmanuelle is open as follows:
Tuesday, Wednesday and Thursday – 7.00pm to Midnight
Friday – 8.00pm to 2.00am
Saturday – 8.00pm to 3.00am
Sunday – 3.00pm to 10.00pm
Love Lounge
Dieselstraße 2, 64546 Mörfelden-Walldorf
Located about 20km to the southwest of Frankfurt, the Love Lounge is a small swingers club that is popular with locals.
Open five days a week, including on Tuesday for sex breakfasts, the Love Lounge is more of a traditional swinger's club and is not a nightclub or sauna style venue.
They run a selection of themed evenings throughout the year including BBW nights, FKK parties and some private events.
Admission prices are as follows:
Single Ladies – Free
Couples – €20
Single Men – €80 to €100
If you'd like to attend an event at Love Lounge then you should make reservations using contact details on the website.
The Love Lounge is open as follows:
Tuesday – 10.00am to 3.30pm
Wednesday – 6.00pm to Midnight
Thursday to Saturday – 8.00pm until late
Swingerclub Number One
Karlsbader Str. 43 A, 65428 Rüsselsheim am Main
One of the most renowned swinger clubs in Germany, Swingerclub Number One has been operating since 1985 from their private home in Rüsselsheim.
They offer a nice range of facilities including themed rooms, group play spaces and an outdoor smoking terrace.
Each week, evenings have a theme and can include FKK, LGBT and Dark House events. However, as a private club, guests are asked to contact the club's owners in advance of attending any events.
Couples and single ladies can attend for free whilst single men will be charged admission of €90.
The club is open as follows:
Thursday and Friday – 7.00pm to 11.30pm
Sunday – 3.00pm to 9.00pm
Other Swinging Clubs
There are quite a few other swingers' clubs within a short drive of Frankfurt that might be tempting if you fancy a change of scenery from city life. Most of these clubs can offer information for local hotels. Always call ahead before visiting to check opening times and whether any events are running:
Frankfurt Erotic Massage Parlours
There are lots of massage salons in Frankfurt but not all offer adult services.
However, those that do can provide a variety of ways to provide satisfaction from erotic body slides and prostate massage to simple rub and tugs or even oral relief. There are some parlours where full sex can be negotiated as can other extras with some even providing more fetish orientated massage services.
We've provide a list of those venues where rates and service are considered good but there are many more salons in the city including several Asian massage parlours. These do tend to be a bit more hit and miss in terms of quality and not all of these salons will offer extras.
City Relax Massage
Töngesgasse 44, 60311 Frankfurt am Main
Located just a short walk from the red-light district to the east of Bahnhofsviertel, City Relax Massage is a small studio offering a selection of half a dozen ladies to choose from. Rates are competitive compared to other city salons and they have a reasonable reputation for service.
Rooms and facilities are comfortable, not overly modern but are clean and well maintained.
Services offered at City Relax include:
Aroma massage
Body to Body massage
Couple massage
Dominant massage
Prostate massage
Spanish massage
Synchronous massage
Whirlpool massage
Prices start from around €60 for a thirty-minute body to body massage with one lady and can go up to €280 for a two session with whirlpool.
Additional extras can be included such as the lingerie of your masseuse to takeaway for just €45.
Happy hour at City Relax is between 10.00am and 11.30am (Monday to Friday and before 10.00pm on Saturdays and Sundays. During this time, you can get €10 discount from any service.
City Relax is opens Monday to Saturday from 10.00am to 10.00pm and from midday on Sundays.
Glamour Massage
Friedensstraße 3, 60311 Frankfurt am Main
www.glamour-massage-frankfurt.de
Located on the eastern edge of Frankfurt's red-light district, Glamour Massage is a small salon with a selection of a handful of ladies. Offering a standard service from comfortable and bright 'zen' like rooms, prices for their massages are as follows:
| | | | |
| --- | --- | --- | --- |
| Massage Type | 30 Minutes | 60 Minutes | 90 Minutes |
| Body to Body | €70 | €100 | €160 |
| Spanish | €70 | €100 | €160 |
| Prostate | €90 | €120 | – |
| Synchron | €120 | €160 | €280 |
Glamour Massage is open daily from 10.00am to 9.00pm (from midday on Sundays).
Kaskade
Stiftstraße 22, 60313 Frankfurt am Main
About 1.5km from the red-light district you can find the chic and modern studio, Kaskade.
Offering no less than 24 varieties of massage including some non-erotic options, the business has a good reputation for professionalism. Prices are comparable to other city salons and generally are considered worth paying for that extra touch of class you get here both with the ladies and the service itself.
Most massages are priced at €65 for 30-minutes though extras such as an intimate shave, toys and roleplay will cost more.
Kaskade is open daily from 10.00am to 10.00pm.
Silhouette Massage
Westerbachstraße 179, 65936 Frankfurt am Main
A contemporary salon in the northwest of Frankfurt, Silhouette offers body-to-body, nuru, prostate and relaxing massages as well as a sensory and erotic blindfolded experience.
There's just a couple of rooms and half a dozen masseuses to choose from but the venue is elegant and well maintained.
Prices start from €40 for a 15-minute service or from €65 for full massage.
Silhouette Massage is open as follows:
Monday to Friday – 10.00am to 10.00pm
Saturday and Sunday – 1.00pm to 9.00pm
Somas Lounge
Strahlenbergerstraße 125 B, 63067 Offenbach am Main
The Somas Lounge offers erotic massage either with or without sex and there is no ambiguity about what is and isn't included. It's a bright and modern tantra studio with a nice selection of ladies available to choose from and they offer a good choice of services:
Body to Body Massage
Couples Massage
Whirlpool Massage
Blind Date Massage
Cuckold Massage
Swinger Massage
Voyeur Massage
Prices start at around €70 for a 30-minute session or €120 if sex is included. Extras can be booked and paid for on top which include Domina, prostate, intimate shave, shared shower or Spanish.
The Somas Lounge is open as follows:
Monday to Saturday – 10.00am to 10.00pm
Sunday – Midday to 10.00pm
Velvet Massage Studio
Bleidenstraße 2, 60311 Frankfurt am Main
Velvet Massage is right on the edges of the red-light district and close to the MMK Museum of Modern Art.
With six massage rooms and more than half a dozen international ladies to select from, the studio has a good reputation. It's clean, bright and modern with comfortable massage beds and well-maintained shower facilities.
Prices are slightly higher than some of their competitors but this is reflected in the standard of service. A 30-minute treatment starts at €70 going up to €300 for three hours.
Velvet Massage is open as follows:
Monday to Saturday – 10.00am to 10.00pm
Sunday – Midday to 9.00pm
VIP Massage
Kaiserleistraße 59, 63067 Offenbach am Main
https://vip-massage-frankfurt.de/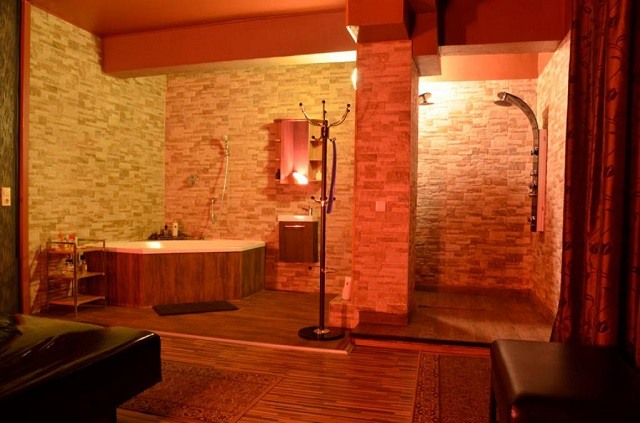 Apparently one of the largest massage studios in Germany, VIP Massage Studio covers an area of 500 sq. m.
Here you can get a range of massages from nuru, body to body and Thai to some more bizarre and exotic treatments. In fact, it is the latter option for which this studio is becoming best known and for a price of €180, you can be treated to some SM play from a latex clad Domina who will use a whip to massage you with.
Standard massages start at around €65 for 30-minutes with treatments like a soapy massage costing €165 for an hour.
Situated around 15 minutes by train from the heart of Frankfurt (or the city airport), the studio is open daily from midday to midnight.
Other Erotic Massage Studios
Emotion, Große Friedberger Str. 30, 60313 Frankfurt am Main
Leila Massage, Stiftstraße 22/5. OG, 60313 Frankfurt am Main
Massage Studio De Luxe, Oeder Weg 7, 60318 Frankfurt am Main
Pam's Massage Lounge, Alte G. 5, 60313 Frankfurt am Main
Secret Service Massage, Zeil 26, 60313 Frankfurt am Main
Sinneskunst, Große Bockenheimer Str. 6, 60313 Frankfurt am Main
Frankfurt Strip Clubs
With so much going on in Frankfurt it might come as a surprise to note that the city isn't stacked with strip clubs. In fact, there is really only one option if you want to experience lap dancing and all-night erotic entertainment of this kind. However, there is a cabaret club which is more burlesque than bare-naked.
Pure Platinum
Taunusstraße 34, 60329 Frankfurt am Main
Located in the heart of the red-light district and a stone's throw from two of Frankfurt's inner-city brothels, Pure Platinum is the number one strip club in town.
Opened in 2000, the club has a good reputation for putting on a great show and has a stable of excellent international dancers providing lap dances, table dances and private experiences. It's a popular place for stag parties and the main shows of a weekend are particularly impressive….erotic acrobatics.
The venue also has male strippers performing every Friday and Saturday night in addition to a regular schedule of entertainment.
It's not the biggest strip club you can find in Germany but the ambience is upbeat, intimate and stylish and there are usually some good DJs booked.
Entrance to the club is €12 with prices for extra services being charged as follows:
Private Dance – €40
VIP Stage Show – €50
Group bookings are available and can include limousine service.
Pure Platinum is open daily from 9.00pm to 5.00am.
Pik-Sonntag Cabaret
Elbestraße 31, 60329 Frankfurt am Main
Otherwise known as The Queen of Spades, this club is Frankfurt's oldest cabaret and puts on a mix of entertainment including live music, magic and soul with, of course, some strip.
This is not a club where you can expect naked ladies gyrating at poles for hours on end but a traditional revue style adult club.
Close to the Central Station, the Pik-Sonntag is a small and cosy club that isn't open seven days a week. In fact, they are now closed as they undergo refurbishments.
Street Prostitutes & Red-Light Districts
The Station Quarter of Bahnhofsviertel directly opposite the Hauptbahnof railway station is Frankfurt's red-light district.
All around this area, you can find many of those adult entertainment and sex service venues listed above including:
Laufhauses
Strip Clubs
Erotic Massage Parlours
Eroscentres
Sex Shops
Street prostitution is only legal in tolerated zones in the city and you can find hookers plying their trade along the Theodor-Heuss-Allee (Bundesautobahn 44) just to the north of the Frankfurt(Main) Messe station.
The stretch of side streets between Kreuznacher Straße and Galvanistraße are all good pick up points but there does tend to be fewer women working during the day and when the weather is cold.
Here, sex workers can be picked up in cars; prices start at around €25 for a quickie but hand jobs and oral can be negotiated for less.
Outside of this area, picking up street walkers is not tolerated and you can be fined if you attempt to do so.
However, it is possible to find prostitutes on the streets of Bahnhofsviertel, particularly late at night around the sex shops, peep shows and other adult entertainment venues. Some may even offer to come into the video cabins with you to give you some company and provide light relief for €10-€20.
Prices for sex in the red-light district vary depending on where you procure services but are typically between €20-€50 for a quickie, €50-€80 for 30 minutes and €80 to €120 for an hour. Oral sex or a handjob can be around €20-€30.
However, premium prostitutes or other services can cost more such as BDSM, massage, anal, roleplay etc.
Sex Shops in Frankfurt
As with most European countries, the traditional sex shop is a dying breed as more customers use online shopping to order their personal goods.
However, Frankfurt has a dozen or so sex shops around the city ranging from small independent stores to large chain outlets and some pretty specialist and boutique venues too.
We've listed out all those adult entertainment stores where service and range are considered good:
Yes, We Cum, Bornheimer Landstraße 49, 60316 Frankfurt am Main – Small, independent boutique store with a good range of hi-tech sex toys.
Erodis, Wächtersbacher Str. 86, 60386 Frankfurt am Main – Nice range of BDSM and Fetish gear.
Inside Her, Stiftstraße 32, 60313 Frankfurt am Main – Lingerie store
Jerome, Elbestraße 17, 60329 Frankfurt am Main – Small, family run store with sex kino (see Sex Cinema, above).
Showcentre Sexyland, Taunusstraße 30, 60329 Frankfurt am Main – Mainly video cabins, in the heart of the red-light district.
Orion, Hanauer Landstraße 80, 60314 Frankfurt am Main – Germany's largest sex toy chain store, three branches in Frankfurt.
Orion, Stiftstraße 4, 60313 Frankfurt am Main
Orion, Berliner Straße 175, 63067 Offenbach am Main
Sky Line, An der Staufenmauer 5, 60311 Frankfurt am Main – Large Gay Video Store
Erotik Supermarkt, Allerheiligenstraße 38, 60313 Frankfurt am Main – Sex kino and sex toys
Josefines, Platz d.Deutschen Einheit 2, 63065 Offenbach am Main – Sex kino and sex toys
Most of these sex shops are open daily from around 10.00am to 7.00pm/9.00pm; however, those that have sex kinos may stay open later.