Are you looking for the hottest German cam girls?
Want to watch a live sex show — or go cam2cam with a sultry fräulein?
We've reviewed eight popular German cam sites with hundreds of live German sex cams. These platforms showcase erotic webcams featuring everything from Munich's MILFs to Berlin's BDSM babes. There's just something about the soft undertones, strong consonants and rhythmic cadence of that German accent. We can't get enough of it. 😉
Not to mention, these cam girls are liberal as hell. There's not much they won't do.
Some of these sites are dominated by German models, others include models from all over Europe (with a strong presence in Germany). We've also included some international platforms where the hottest German cam girls compete directly for your attention (and tips) with webcam babes worldwide.
Let's get started…
What Are The Best German Sex Cam Sites?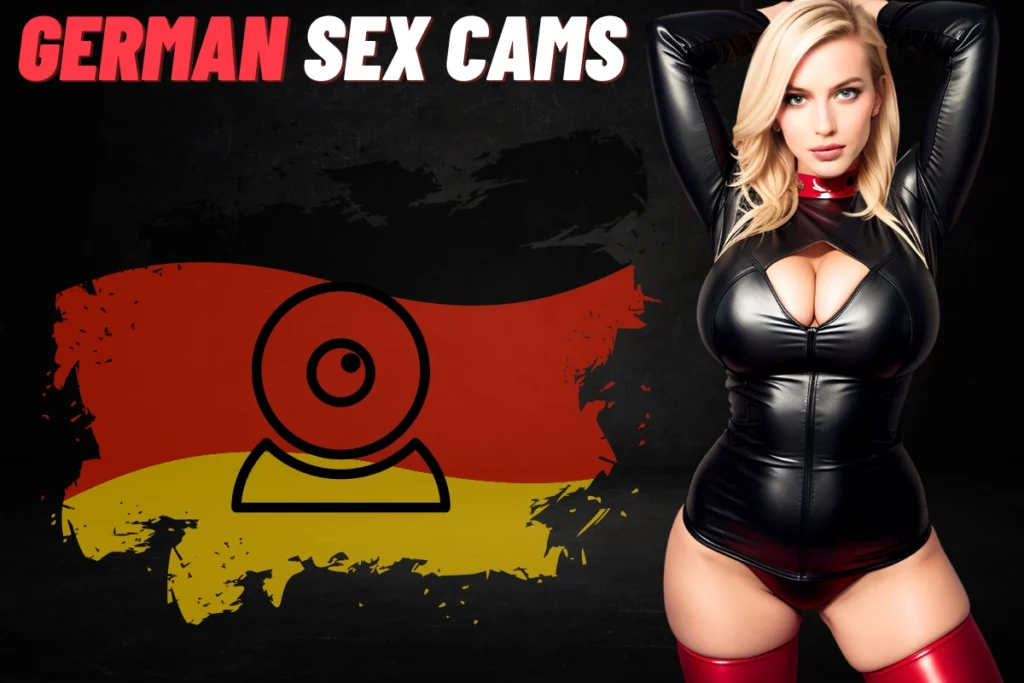 The eight top-rated German sex cam sites in 2023 are listed below:
Visit-X
My Dirty Hobby
XCams
StripChat
Bonga Cams
Chaturbate
Cam4
LiveJasmin
Now, you don't need us to tell you… There are hundreds of websites offering live webcams. We've chosen these platforms specifically for chatting with German cam girls. We've prioritized several factors, including the number of online German models, the variety of performers (MILFs, teens, BDSM, femdom, etc), how many models actually chat live in German, and the overall user experience on the platform.
Let's take a look at why each site made our list:
1. Visit-X
Visit-X is our top-rated specialist German cam site. The site has over 66,000 registered models, most of which are from Germany.
Over 90% of Visit-X's users come from Germany, making this a rare example of a cam site that dominates in a single region or country. The site has been online since 1999, so it's had plenty of time to onboard all those German beauties. You'll find a broad mix of amateur and professional models, but the most popular cam girls fall into the OnlyFans-style category of girls who know how to work their audiences.
The first thing you'll note is that while all of the cam girls speak German, the vast majority will also speak English. You don't have to understand German to decipher the dirty chat from these horned-up Euro babes.
Unlike most cam sites, Visit-X presents its sex shows in the style of a dirty social network. Each model has her own profile page, which the homepage thumbnails link to (rather than her current live show). From her profile, there is a prompt to start 'livechat', of which you'll get 20 seconds free before being prompted to sign up and pay for private access.
Each profile also includes a personal phone number (for sexting or phone sex), as well as video and photo sets that you can access by becoming a fan of each model. The cost of chatting with live cam models varies by individual. It's usually around €1.99/minute for live chat and about €1.79/minute for voyeur mode. That's about the industry standard.
Visit-X also offers a VIP membership for €9.95 per month. With this, you get access to a collection of premium German porno, 10 complimentary messages per month, 4x longer free previews on cam shows, and 30 premium videos to stream monthly.
You won't find a higher concentration of sexy German cam girls anywhere online. So if it's purely German webcam babes you're looking for, Visit-X is the one for you. On the downside, it's not the sleekest cam platform. You can't dip between shows like you can on other sites on our list. If you prefer to "try before you buy", there are far better options below.
2. My Dirty Hobby
My Dirty Hobby is a German-focused adult social network that offers more than just a traditional cam site. Owned by MIndGeek (now Aylo), it claims to be the largest amateur sex community in Europe, with videos, image sets and live webcams daily.
Over 50% of My Dirty Hobby's users come from Austria, Switzerland and Germany. While many models are tagged with a German flag in their thumbnails (see above), this is slightly misleading. Not all of the models are actually German — we bumped into plenty of Austrian cam girls who have the German flag to denote that they prefer to chat in German.
English speakers… don't fret. Around 70% of the models on the site can speak English and will happily oblige to your private dirty talk. 😉
Like Visit-X, My Dirty Hobby has no intention of sticking to just the live sex cams business. In fact, the site is most famous for its massive collection of amateur porn. With 4 million adult pictures and 390,000 amateur videos, the site feels more like a German OnlyFans than a German Chaturbate. Once you find a model you like, it's tough to decide whether to pay for a cam show or simply splurge on her library of private nude selfies.
Decisions, decisions…
My Dirty Hobby has over 5,000 cam models live daily, with around 150-200 online during peak hours (8pm to 11pm CET). The girls are searchable with various popular German tags, including:
Frauen
Europäisch
Asiatisch
Anal
Blümchensex
Große Titten
Bukkake
Interracial
Sex-Parties
The site uses its own currency system called DirtyCents, meaning you'll need to buy bundles of DC that can then be put towards sex shows, videos or images. A private cam show on My Dirty Hobby will vary in price, but on average, it will cost around €3 per minute, a tad expensive compared to rival German cam sites.
The big plus of My Dirty Hobby is its community feel. There are a ton of German amateurs on this site, many of them being highly kinky in the bedroom. The clue is in the name… dirty hobby. Many of these girls offer fetish sex shows that blow away the vanilla shit on Chaturbate or MyFreeCams.
3. XCams
XCams is a major European cam site with models who speak English, French, Dutch, Spanish, Italian or German. It is the first dedicated cam site on our list, focusing solely on live sex shows. No video and photo upsells.
Unlike My Dirty Hobby and X-Visit, the models are evenly split across Western Europe, with XCams pulling in a notable number of French cam girls. You can use the simple top menu navigation to filter all German-speaking beauties, of which around 30-40 are online at any given time.
First-time visitors, be sure to select the 'Free' option from the menu. Otherwise, you'll be restricted to five 15-second teaser videos. All live shows become available once you've signed up and verified a credit card. The good news is plenty of explicit action is available to verified members. In our experience, XCams is excellent for sexy older models. You can choose between 18-25 and 40+ as an age filter, but it's clear from the homepage that the MILFs category is popping' on XCams.
Private shows on XCams work out to between €1.50 to €2.50 per minute, depending on how many credits you buy. Find a model you like, and you can add her on WhatsApp for private messages and updates. As part of the arrangement, she can message you a slew of dirty pics and videos for free, but it will cost you one credit to reply.
XCams does a cracking job of serving up multi-lingual European beauties who know how to strut their stuff on live cam. Each live stream is helpfully annotated with the languages she speaks, her cam feed quality (is it HD?), and any live sex toys synced up. Only 10-15% of the models on XCams are German, but if you're sick of cam sites dominated by American girls, this European platform provides a nice mix of continental brains, beauty… and tits.
4. StripChat
https://stripchat.com/girls/german
StripChat is the first of the freemium mega-sites on our list. It's the fastest-growing cam site in the world, with a database of models from all over the globe, including Germany.
StripChat has a dedicated Germany sex cams page where you can click through dozens of live sex shows. And by sex shows, we're not talking 15-second sneak peeks of lingerie. These shows get wild, even in the free public streams. Look at the homepage, and you'll find free-to-watch shows with fräulein hotties baring all… think solo masturbation sessions, dildo riding, or even German couples banging on cam for the fun of it.
As a modern cam platform, StripChat is the best in the business. The interface works beautifully well. Thumbnails are updated on each live refresh, so the content you see, while you're browsing the shows, is genuinely representative of the action happening live. StripChat has swept several industry awards, including Most Innovative Cam Site (LCA 2023). It's one of the only major cam sites to feature VR cams, meaning you can view a small handful of German cam girls in virtual reality — as if you're kneeling in front of her while she works herself to orgasm.
Another gem feature is the recordable private shows. No longer do your private cam sessions need to be confined to sweet cum-stained memory. You can watch back the best bits and enjoy the action whenever you want.
The number of German models live on StripChat will depend on the time of day you visit. Hop on between 8-11pm CET, and you'll find 100+ German models. In the afternoon, there are usually between 30 to 50 live shows. While StripChat is considered an international cam site, it does an excellent job of filtering models by their language spoken. Visit a German cam girl's room, and the live chat will be filled with German commenters.
This might deter English-speaking users who want to go private, but it shouldn't. From our experience, most German models also tend to speak pretty good English. It's just that the audience is primarily German. A private show on StripChat costs anywhere from €1.20 to €6 per minute, depending on the level of privacy you prefer (group shows, voyeur mode, or fully exclusive 1-to-1).
5. Bonga Cams
https://bongacams.com/tags/german
Bonga Cams is one of the premier European cam sites, consistently ranked as one of Europe's top adult live-streaming sites. It was the 37th most popular website in the world (according to Alexa) as recently as 2022. While German models and viewers only make up around 10% of the total audience, make no mistake: Bonga Cams has a massive contingent of German cam girls ready and willing to get naked.
You can expect over 150+ live cam girls from Germany during peak hours. From these models, you will find a variety of performances featuring everything from anal games (a crowd-pleaser) to sex toy play to full sex between couples. There are many exhibitionist-style shows that will satisfy fans of voyeur 'real life' cams.
Private shows on Bonga Cams cost between €1 to €4 per minute; a 'spy' mode is available to save money, although you won't be able to chat to the model in this cheaper show format.
Bonga Cams has racked up many awards, receiving Cam Site of the Year from XBIZ Europa, YNOT and LALEXPO. It also took home the prestigious Cam Company of the Year from XBIZ in 2019.
The platform is up there with Strip Chat as one of the easiest to use. We particularly love the live thumbnails. You don't have to click on a show to watch the action. You can hover over the thumbnail, which turns into a live feed of the model's broadcast. Perfect for horn-scrolling through dozens of German hotties. Find one you like, click through, and you can chat with her live in the wild public chat rooms. Or go private for a more intimate experience. Bonga Cams is so popular it's widely touted as "Europe's answer to Chaturbate."
6. Chaturbate
https://chaturbate.com/tag/german/
Ahh, yes. Chaturbate. The world's most famous adult cam site, fusing together chat and masturbation on a platform that boasts more models and viewers than any other site. Chaturbate has a popular #German tag that features hundreds of live performers during peak hours.
Chaturbate's German performers are heavily skewed towards younger models. It's primarily exhibitionist and OnlyFans-style performers in their early 20s ("Guys, I'm so horny, who wants to fuck me today?"). These models love the platform for its enormous reach. A model who hits the homepage on Chaturbate can expect to receive thousands of viewers glued to her every move. And while her show may be 'free to watch,' the best bits are unlocked by tips, which can add up to several hundreds of dollars in a single performance. The top Chaturbate German models average over $1500 from tips daily.
Often, a cam girl will set a token target that, once reached, will unlock a live performance (known as a ticket show) that you won't want to miss. While you can enjoy uncensored free content without ever dipping into your wallet, some of the hottest solo fuck-fests from the site's most popular models are reserved for ticket show holders. You'll need to buy some Chaturbate tokens to join them.
Another unique factor of Chaturbate is that the cam girls can see precisely who has tokens to spend — and who is 'broke.'
So if you have zero tokens to your name, you can expect the cold shoulder. Or certainly not as much attention as she's willing to give to the guy toting a bag full of tokens…
And whatever he suggests…
So, how do you find German cam girls on Chaturbate?
Simple, you use the #German search tag.
This will uncover all live shows featuring German performers at any given time.
You probably won't find yourself resorting to this since there are THOUSANDS of cams broadcasting all numbers of weird shit from the second you reach the homepage. Grab yourself some tokens, popcorn, and Vaseline and lock the door. Chaturbate is seriously addictive!
7. Cam4
https://www.cam4.com/female/germany
Cam4 usually has around 100+ live German cams at any given time. Unlike the other sites in our list, the action on Cam4 is evenly divided between females and males. It's the only cam site where the male models outnumber the women.
To be clear, Cam4 is strictly an amateur camming platform. You won't find professional models in studio-lit bedrooms or a glittering array of HD cams that jump off the screen. If that's your jam, see LiveJasmin (below).
We like Cam4 for its gritty, raw, homemade streams. This is a freemium cam site where you can enjoy a decent amount of explicit content for free, including full nudity. The German models tend to fall into the mature category; it's a much older demographic than you will find on StripChat (or Chaturbate). And while there isn't as much choice for German-speaking models as you'll find on Visit-X or My Dirty Hobby, there are far fewer restrictions in what you can see without busting out your wallet.
One of the significant advantages of going private on Cam4 is the free cam-2-cam addition. You don't have to pay extra to turn your cam on, which can make for some seriously dirty encounters — especially if you choose one of the BDSM fetish mistresses (of which Germany seems to have many!).
Cam4 is similar to Bonga Cams in many ways, with immersive thumbnails that update with live footage as you scroll over them. You'll need to visit during peak evening hours for a decent selection of models, but the ones that appear can undoubtedly be described as horny and game. They may be amateurs… but they are not shy.
Private shows start at around €2.50 per minute, but the standard group and voyeur modes are cheaper (starting at €1.20 per minute).
8. Live Jasmin
Live Jasmin is a gigantic live adult cams portal that you are probably familiar with from its deep-red advertisements that appear on… oh, every single porn tube on the web? It feels like it!
If you join Live Jasmin expecting to find thousands of free shows — like Chaturbate — you'll be disappointed. The models aren't allowed to stream any nudity for free, so the only way you get any action is by paying to go private, one-on-one or in a group chat.
The flip side to this arrangement is that the models on LiveJasmin are generally much more 'professional.' In many ways, Live Jasmin is the Rolls Royce of cam sites. Each model is heavily vetted before she is allowed to broadcast on the platform. You won't find amateur German first-timers staring at the screen, bored, in their bedrooms.
The cams are generally exceptionally high quality, with many broadcasting in full HD. Both the audio and video are crisp with none of the buffer, lag or fap-wrecking pixelation that you'll encounter on the heavily-trafficked free sites.
Even better… a quick look at the sidebar, and you'll see that #German is a trending tag. Live Jasmin typically has at least 30+ high-quality sex shows featuring Germany's best adult cam models. The site is famous throughout Europe (it initially rose to prominence as a Hungarian cam site in 2001), but the Live German Porn category is a real highlight.
Live Jasmin has private erotic shows ranging from €1.20 to €9.99 per minute. You can generally enjoy a solid fapathon for around €50; these models will keep you returning repeatedly.
LJ has been awarded the prestigious Live Cam Site of the Year five times at the AW Awards. Their ads may be annoying, but the site delivers in a big way.
Which Site Has The Most German-Speaking Cam Girls?
It's hard to determine which cam site has the largest database of German-speaking models, but it's much easier to pinpoint which sites have the most models online at any given time.
Based on our 'research' (somebody has to do it ;)), the sites with the most active German-speaking cam girls are Visit-X, followed by My Dirty Hobby.
Visit-X had 169 cams (off-peak), rising to 304 cams (peak hours).
My Dirty Hobby had 147 cams (off-peak), rising to 280 cams (peak hours).
This is hardly surprising, given these sites target a German audience.
From the major international cam platforms, Chaturbate and StripChat boast the most German-speaking cam girls.
German Cam Sites Where The Girls Speak English
It's not just Germans seeking out German cam girls for X-rated sex shows. These cam models have a global appeal, particularly in neighboring European countries.
Our favorite site for finding multi-lingual German cam girls is XCams.
It has an excellent thumbnail filter that specifies which language a model can speak, so you don't need to waste time trawling through dozens of cams featuring models who won't understand your dirty little requests.
Generally, most German cam girls will speak at least some English.
Over 56% of the German population speaks English, and the cam model population (in particular) is incentivized to attract the maximum number of punters.
Where Can I Watch Free German Live Cams?
The specialist German cam sites on our list (Visit-X and My Dirty Hobby) are extremely limited in what they will let you watch for free.
To watch free German sex cams without spending a penny, we suggest you use the freemium sites instead.
The best options for free German sex cams with fully explicit shows are:
Bonga Cams
Chaturbate
StripChat
Cam4
Amateur vs. Professional German Models
Some cam sites focus on recruiting amateur models, while other 'premium' cam sites focus on recruiting a smaller pool of professional models (or even part-time porn stars).
Your preference for amateur or professional German models will determine which sites you get the most from.
Generally, the freemium cam sites are the best options for watching amateur performers. Try any of StripChat, Chaturbate, Cam4 or Bonga Cams and you will find hundreds of amateur models in various states of undress.
Amateur cam shows are, by their very nature, a mixed bag.
Yes, you will occasionally see a fresh German face rise to the top of Chaturbate's homepage, with thousands of viewers gawping as she rides a dildo like a seasoned pro. More often, however, amateur cam sites are dominated by the expressionless stares of bored models 'waiting' for something to happen. It isn't easy to pinpoint the good stuff, and the explicit content might only represent 10-15 minutes of a cam show that runs for 2 to 3 hours.
In other words… blink, and you'll miss the money shot.
Some cam site users hate the free-for-all nature of Chaturbate. They crave a more intimate experience with a model prepared to respond to requests on a one-to-one basis. If this sounds like you, consider a premium platform like LiveJasmin. The models are vetted to ensure that only the top-quality performers appear on the site. And trust us, Germany has plenty. 😉
Who Are The Most Popular German Cam Girls?
Porn site XVideos has a helpful ranking system based on worldwide visitors and the popularity of German models, including some performers who are successful German porn stars.
If we narrow down their data to cam girls who have been active in the last year, here are the ten most popular German cam girls in 2023:
---
That wraps up our coverage of the hottest German live porn sites in 2023. Are there any sexy platforms that we've missed?
Who are your favorite German cam girls and performers?
Hit us up with your best suggestions, and we'll consider them for next year's list!