Looking for sex in Leipzig?
The largest city in Saxony, Leipzig has recently been called the hipster capital of the world and offers a diverse cultural mix with plenty going on in the city. Leipzig is truly one of the country's hidden and forgotten gems when it comes to adult entertainment.
In this Sex in Leipzig guide, we'll take a look inside the booming Leipzig Escorts scene. We'll cover all of the most popular adult services in the city – from strip clubs to saunas, swingers clubs to sex cinemas, plus brothels, erotic massage parlours and more.
---
---
Prostitution Laws in Leipzig
Prostitution in Germany is a fully regulated and legal industry where sex workers are protected by employment law and pay tax to the government on their earnings. Part of this legislation requires that all sex workers undertake to have annual health checks.
Though federal laws mean that prostitution is allowed, local regulations vary by state and each city has its own rules around how and where adult venues can operate.
For instance, in Leipzig there is no designated red-light area and street prostitution is illegal; however, brothels and sex clubs may operate as long as they hold the correct licenses.
So, as long as you pick up a prostitute or arrange a call girl using one of the establishments listed in our guide then you won't be breaking any laws.
Oh, and condom use is mandated by law which includes oral contact.
Leipzig Escorts Guide
The first port of call for many travellers to a foreign city is to arrange an outcall service at your hotel.
Whilst this is often a grey area of the law in some countries, here in Germany there are no issues with this kind of arrangement.
However, some of the larger international hotels, particularly those that are family-orientated may not be as accepting; the order of the day is discretion.
As one of the larger cities in Saxony, Leipzig is well serviced by escorts covering all range of budgets and tastes.
General Escort Directories For Leipzig
This selection of sites offers a decent range of escorts in one place; mostly independent ladies with a few agency models thrown in; the prices vary but are not 'elite' or 'premium'.
Euro Girls Escort
www.eurogirlsescort.com/escorts/leipzig/
An international directory of escorts by city, coverage in Germany by Euro Girls Escort is good and here in Leipzig you can find at least three dozen women.
It's a free to use service and is easy enough to filter through the results to narrow down your search by age, rates and physical characteristics.
There are some budget options here that charge under €150 per hour but all are under €300 per hour.
Escort Europe
https://escort-europe.com/escort-Leipzig/
With around 50 escorts listed as working in the Leipzig area this directory offers a decent selection of ladies including some TS models.
A simple site with basic profile details there are no prices quoted here and no quick way to filter your results.
Escort Site Leipzig
https://escortsiteleipzig.com/
With around 40 escorts listed on their site, this free directory has a handy filter tool so you can narrow the results down by age, services, rates and location. You can also see, at a glance, their vital statistics alongside their thumbnail profile pic.
Rates here start at around €100 and go up to €350+.
Cosi Escort
The women at Cosi Escort are all more mature in age and range from mid-30s through to early 50s and you can even book them in a duo. These ladies are experienced and come direct to your hotel for a set charge of €175 per hour.
Punterlink
www.punterlink.co.uk/main/leipzig-escorts
Punterlink has 60+ profiles of escorts in the Leipzig area and these vary in terms of services offered and rates charged. It's a nice big directory but no easy way to narrow your search using filters. Instead, you will have to browse through individual profiles, most of which are quite detailed and contain plenty of pics, links and information.
It's a good site if you have the time to do the research.
Other Escort Services
The rest of these sites also offer a small selection of call girls in Leipzig
Premium Leipzig Escort Services
There are some men who are prepared to (and can) pay more for their liaisons with a prostitute and these elite escorts offer something special for the money they charge. Often well-educated and blessed with supermodel looks, you are looking at a minimum of €500 for any time spent with these women, often a lot more.
Target Escorts
www.targetescorts.com/leipzig-escort.htm
Target Escorts has an international reputation for providing high-class call girls to global cities and whilst there are few women based here in Leipzig, most of the German escorts will travel. However, the minimum booking rates are two hours at a price of €800 and all will charge expenses if they are coming from further afield. Many will also insist on a 12-hour booking for out of town dates.
These girls are worth paying extra for and are sophisticated companions outside of the bedroom as well as talented between the sheets. Certainly a good option for men who need a lady for longer periods and have the budget to back this up.
Jessica's Escorts
www.jessicas.de/en/escort-leipzig
Jessica's is an elite agency that has been providing a high-end call girl service in Germany for over 19 years.
As well as catering for international clients across other European cities, they can provide a luxury escort to you in Leipzig starting at €800 for a two-hour date.
MB Luxury Escorts
A luxury agency supplying escorts right across Germany, the rates here are graded by the model's experience and sophistication and come in four price ranges:
The grading doesn't relate to the quality of the model nor their looks and at the lower end of the fee scale you could be looking at just €390 for an elite looking lady who is simply a newcomer. At the top end of the services here you could be paying upwards of €800.
Sex in Leipzig: What Adult Services Are Popular?
Leipzig might have gone under the radar of many visitors to Germany but it is a popular city with plenty to offer its locals and tourists alike.
As far as adult entertainment goes, the venues here are as diverse as you will find in places like Berlin, Hamburg and Cologne. Germany's sex trade is truly nationwide. Leipzig has numerous brothels, FKK sauna clubs and BDSM studios, erotic massage parlours and strip lounges.
We've picked the best venues in Leipzig where you can legally pay for sex or get access to the best adult entertainment on offer.
Please note that all prices are correct as of the time of our reviews.
Leipzig Brothels
Sex in a licensed brothel in Leipzig is perfectly legal and most operate by offering the services of independent companions in hired rooms.
Prices vary according to time and type of appointment as well as the class of venue and courtesan.
There's a brothel in the city to suit most tastes and budgets but if you are after something specific then you might want to check out the BDSM clubs. The erotic massage parlours listed below also provide some sexual services similar to a brothel.
At the lower end of the budget, a massage parlour is often able to provide manual hand relief for a fraction of the cost of a bordello.
Of course, independent sex workers also work out of FKK clubs so this might be another option.
Angels Sexworld
Dessauer Str. 24, 04129 Leipzig
Situated right alongside the Angels Table Dance club (see below), Angels Sex World is a laufhaus rather than a brothel. The apartment block has rooms which are let to independent sex workers, some of whom are dancers at the adjoining strip bar.
Services vary by tenant but you can pretty much pick up any kind of treatment here from French, Greek and Spanish to fetish and kinks.
The occupants change all the time but prices here are pretty consistent with the rest of the city and you can expect to pay around €50-€80 for a thirty minute, standard full service.
Opening times at Angels Sexworld are as follows:
Monday to Saturday – Midday to 5.00am
Sunday – 7.00pm to 2.00am
Die Wohnung 72
Täubchenweg 72, 04317 Leipzig
A stylish and high-end brothel to the east of the city, Apartment 72 has excellent reviews for service and quality of the ladies.
The girls here come from a range of European countries from Poland, Latvia and Czech Republic to Russia, Hungary and Belarus. Wherever they hail from, these 'pigeons' are exceptionally well put together and more than justify the premium rates being charged at this stylish bordello.
As independent courtesan, prices vary by lady but you can expect to pay around €100 for a 45 minute session; however, most will offer shorter sessions for which you can pick up a treatment for €50/20 minutes.
Opening hours are 10.00am to 10.00pm from Monday to Saturday.
Studio Dornenschloss
Essener Str. 17 A, 04129 Leipzig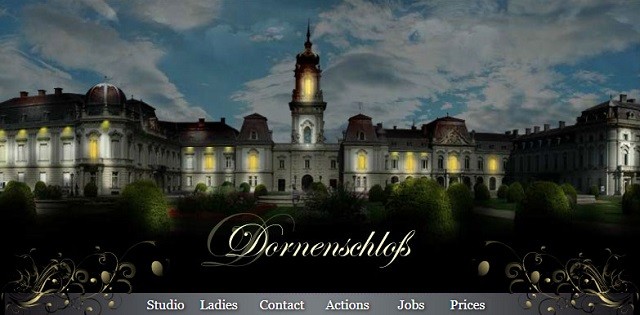 Located in the north of the city in the Eutritzsch which is mainly industrial you can find Studio Dorenenschloss; a five-room brothel run by Mistress Lucy and staffed by around a dozen or more ladies.
There's a nice range of women available for appointments covering everything from permissive strippers, dominant role-playing experts, anal princesses, deepthroat artists and busty matures.
Prices are in the region of €150 for 90 minutes which includes a two-shot maximum and the girls can provide a variety of additional or tailored services including shorter (and cheaper) options.
House specials include sessions that take place in the Blue Clinic (medical fetishes), SM Cellar (BDSM and kinks) as well as in the popular mirror suite.
Opening times at Studio Dornenschloss are as follows:
Monday to Friday – 10.00am to 9.00pm
Saturday – 11.00am to 6.00pm
Sunday – Closed
Pandora Night Club
Dessauer Str. 8, 04129 Leipzig
More of a gentleman's club than a straight up brothel, the Pandora Night Club offers sex on site but guests can also enjoy spending time in the company of their hosts before making a selection.
It's a large club and the main communal spaces are elegantly designed with a welcoming and sensual atmosphere at all times.
There are three large and well-appointed bedrooms (Aphrodite, Cassiopeia and Medusa) each stylishly decorated around a classic Greek theme. In addition, the Domina Room comes complete with full SM equipment including St Andrew's Cross, caged corner and gynae-chair plus an assortment of fetish toys and accessories.
There is also a large lounge and bar in which guests are welcome to relax and enjoy the company of the available ladies before they head on upstairs. There is also a Shisha Lounge on site which is also popular.
Anyone looking for a real treat will enjoy the spacious whirlpool bath which can kick off a soapy session.
The Pandora Night Club is open Monday to Saturday from 6.00pm to 5.00am.
Casa Bella
Demmeringstraße 28, 04177 Leipzig
A laufhaus in the west of the city, Casa Bella has seven apartments and one domina studio on site where independent girls provide services.
As with most running houses, tenants come and go but the website does have details of the current ladies operating from these premises which currently includes a TS model; prices vary accordingly.
Casa Bella is open 24 hours a day but not all ladies will accept callers at all times.
Swingers Clubs
Swinging and libertinism remains a popular pastime for couples and adventurous singles right across Germany and there are hundreds of clubs around the country.
Some are based in private homes and cater solely for the local community whilst others are open to international guests.
If you are a follower of the lifestyle and visiting Germany then it is worth registering a free membership with Joy Club; an online community where you can connect with over three million users. Most clubs offer discounts on admission to Joy Club members.
Saphir
Westringstraße 200, 04435 Schkeuditz
https://swingerclub-saphir.de/
Situated about 15km west of Leipzig in a town called Schkeuditz, Saphir is a purpose-built swingers club with a great selection of play rooms, communal spaces and modern facilities.
The central lounge and bar has a cosy feel with comfortable seating, a dance pole in one corner and leads to a large buffet with dining area.
Play rooms are all themed and are complete with accessories like sex swings, toys and bondage equipment. There is even a medical play zone as well as a dedicated BDSM area.
Group play is possible in several larger rooms as well as there being a few more private nooks.
Admission fees are currently charged as follows:
| | | | |
| --- | --- | --- | --- |
| Day | Ladies | Gents | Couples |
| Wednesday | €25 | €85 | €65 |
| Thursday | €25 | €85 | €65 |
| Friday | €25 | €95 | €75 |
| Saturday | €25 | €95 | €90 |
Opening hours for events at Saphir are as follows:
Wednesday – 2.00pm to 2.00am
Thursday – 5.00pm to 2.00am
Friday and Saturday – 8.0pm to 4.00am
Savannah
An der Gienicke 12, 04509 Zwochau
Half an hour away to the north of Leipzig you can find the independent club of Savannah. It's a popular swingers club for the Saxony area and has been awarded five hearts by the swinging community network, Joy Club. This recognises Savannah as a premium venue.
And there's good reason that Savannah is well regarded; it is a beautiful club that is well run by the owners, Steffen and Ramona, who go to great lengths to make all of their guests feel very welcome.
Extending over two floors and covering a total area of 600sqm, the Savannah club offers the usual facilities including:
Bar and lounge
Outside smoking area
Wellness zone with Finnish sauna, massage tables and small bar
2-storey cinema
10 themed play rooms
Dark room
Dog house/Kennel
Chillout lounge
Four poster bed
Two well equipped BDSM rooms
Prices for admission are charged as follows:
| | | | |
| --- | --- | --- | --- |
| Day | Ladies | Gents | Couples |
| Friday | €45 | €90 | €100 |
| Saturday | €57 | €150 | €120 |
Club Savannah is open Fridays and Saturdays from 8.00pm to 3.00am.
FKK Clubs in Leipzig
The culture of FKKs started here in Germany with sauna clubs of this kind still being hugely popular and, in many cities, are frequented more regularly than brothels. Offering a kind of hybrid to a swingers' club and a bordello, you can find out more about FKK in German Culture via our recent feature.
FKK Leipzig
Torgauer Str. 246, 04347 Leipzig
This naturist spa and sauna club is about 6km north-east of the centre of Leipzig and is a large purpose-built venue for FKK enthusiasts.
Covering 2000swm over four floors, the facilities here are modern and extensive and include:
Sex cinema
Whirlpool spas
Solarium
Lounge and bar
Games room with slot machines
Finnish sauna
Massage and wellness area
VIP Suites
Pool
Open air terrace
Full day tickets cost €60 which include use of all facilities (except solarium), hot and cold food and all non-alcoholic drinks.
The club has plenty of self-employed women on hand to make guests feel more comfortable but your admission cost does not extend to payment of any professional services they may offer. All prices are negotiated between you and your companion. The same goes for any massage therapy you might care to partake in.
Opening times at FKK Leipzig are as follows:
Sunday to Thursday – 11.00am to 3.00am
Friday and Saturday – 11.00am to 5.00am
FKK & Saunaclub Europa
Essener Str. 27A, 04129 Leipzig
Another large sauna club, this time to the north of the city, the FKK Europa covers an area of 1200sqm and includes:
Party space
Outdoor area
Wellness centre
Cinema
Club lounge
Private suites
Heated outdoor swimming pool
Day tickets are charged at €50 but if you arrive after midnight then you can get in for just €35. As ever, all women are independent from the club so their services are charged on top of the admission fee.
The club is open daily from midday until 2.00am.
L.U.V. Lounge
Ludwig-Hupfeld-Strasse 25 in 04178 Leipzig
The LUV Lounge is about a twenty minute drive out to the west of the city and is situated in an industrial part of Leipzig.
This is very much more of a brothel than an FKK club but they do have spa facilities on site. It's an intimate venue and the facilities and décor here are a little dated but are clean, comfortable and accommodating. Rooms include an SM zone as well as pool, sauna and bar from which you can enjoy a table dance.
There are a handful of girls on site here all of whom are in their mid-20s and details of whom you can find on the website.
The club is open daily from 2.00pm until late.
Sex Cinemas in Leipzig
Sex cinemas (or, 'kinos') are a great way to swing or cruise as well as watch others having some public fun. They were once very popular in Germany but becoming less so in favour of more open swinging clubs and legitimate venues like brothels. However, the fact is that having sex, or toying, with a stranger for the cost of a €15 ticket is still preferable for some and far cheaper.
Leipzig only has one such venue but it is a decent sized one and there is usually a good handful of people using the store for such purposes. Women do frequent the cinema but there are typically more men than women with some of these seeking homosexual hook-ups using the gloryholes as well as in the main cinema.
Dolly Buster Erotic World
Essener Strasse 13a, 04129 Leipzig
https://dollybuster-leipzig.de/sexkino/sexkino
Dolly Buster is a great standalone sex store but they are also popular for their sex cinema and gloryholes offering some great cruising and swinging action.
The store is located in the north of Leipzig in an area known as Eutritzsch and there is plenty of parking on site using the lot at the discount supermarket, NORMA.
Admission to the kino is via a discreet rear entrance with separate turnstile to the main store. Once inside, there are changing rooms and lockers plus several private video cabins. The cinema itself is reasonably large and can accommodate groups of people.
It's a pretty welcoming place and you can find gay, straight and trans singles/couples meeting for public fun.
Entrance to the sex cinema costs €14 with women going free.
Dolly Buster is open as follows:
Monday to Saturday – 8.00am to 1.00am
Sunday and Public Holidays – Midday to Midnight
Local BDSM Clubs
Germany, along with some other European countries, is well known for its love-affair with BDSM and other fetishes and kinks. As a result , there are few cities in the country that don't cater to this kind of sexual activity and here in Leipzig there are a couple of good studios to be found.
Studio Black Fun
Pittlerstraße 28a, 04159 Leipzig
Studio Black Fun is a deluxe and stylish BDSM studio and is like no other dungeon you'll have seen before. In place of the traditional dark and 'dank' looking SM clubs you may have visited before, this venue brings the universe of fetishism into the 21st century with elegant, cutting edge style.
From the luxury of the main foyer and entrance lounge that looks like a boutique hotel to the sterile clinic, rubber suite boudoir and dungeon, all the rooms are styled with perfect precision and attention to detail.
Experiences available at Studio Black Fun are just as high-quality and exclusive with the resident team providing SM journeys that include the delightfully named special offers:
Rubber Thrills
Sissy Bitch
The Living Doll
Monster Game
Cuckold Drill
Diaper Lover
Yellow Spa
Bizarre Massage
It's probably one of the best studios we've seen in this category for a while and their range of services are truly mind-blowing.
There are eight resident dominas as well as guest ladies who work from the premises and all sessions are by appointment only. Security deposits are sometimes required in order to confirm your booking.
Basement of O
August-bebel-str. 80, 04275 Leipzig
Basement of O
August-bebel-str. 80, 04275 Leipzig
A fully furnished and well-equipped studio available for private hire, the Basement of O is a private venue in the south of the city.
Hire costs include full use of furnishings, play equipment and sex furniture which extend to:
Water Bed
St Andrew's Cross
Holding Board
Bondage Frame
Wall Pillory
Love Swing
Cage
Massage Table
BDSM Trestle
The venue is often hired by independent dominas to provide services to clients but can also be rented for overnight stays and comes complete with kitchen for self-catering guests.
SM Station
A converted former train station that dates back over a century, SM Bahnhof is available to rent privately or you can arrange a session with one of the in-house dominas or masters.
The space is divided up into several dedicated play areas including medical room, dungeon and jail. Each room is well-equipped with bespoke and high-end furniture, toys and devices which include pillories, benches, beds, chairs, operating table, thrones and bondage/torture implements.
Full details of those ladies who work from the SM Station are available online which includes contact information and services offered. All appointments are by request only
Leipzig Erotic Massage Parlours
Leipzig has several erotic massage parlours where you can get a decent rub and tug service as well as specialist treatments like classic tantra, body slides and more.
Magic Moments Massage Lounge
Föpplstraße 14, 04347 Leipzig
Situated to the north east of the city in an industrial area, Magic Moments has recently celebrated its sixth year of operations.
There are five themed massage rooms on site:
1001 Nights
Tantra Lounge
Purple Lounge
Blue Lagoon
Mistresses Lounge
Each is comfortably appointed to suit the style of treatment you are booking and guests can choose from a range of services such as:
Body to Body
Love Ritual
Voyeur
Couples
Four Hands
Prostate
Wax
SM
Nuru Gel
Tantra
Bondage
Latex
The costs for each varies but classic treatments start at €40 for 30-minutes, €60 for an hour. More comprehensive treatments can be double this but full details are available via the website.
None of the treatments lead to full sex and only some come with lingam massage (happy ending).
Opening hours at Magic Moments are as follows:
Monday to Friday – 10.00am to 10.00pm
Saturday – 10.00am to 8.00pm
Sunday – Closed
Manuela's Studio
Zschortauer Straße 96a, 04129 Leipzig
www.traumhafte-erotische-massagen.de
Situated in the north of the city in the industrial area of Eutritzsch, Manuela's Studio has an excellent reputation for erotic massage.
It's a small parlour with a couple of ladies providing regular service since 2009 and they have recently moved to new premises to keep up with growing demand. There are no pictures yet of the new studio so we can't share information on how the new venue looks but they will still be offering the same kinds of treatments which include:
Quick rub and tug – €40 for 15 minutes
Erotic massage – €50 for 30 minutes
Body to body massage – €70 for 30 minutes
Mutual body to body massage – €80 for 30 minutes
Bondage massage – €120 for 45 minutes
None of the services come with anything more than manual relief but you can arrange for extras in advance which include light BDSM, Greek, Spanish, shower, latex, dilation and shaving.
The owner, Manuela, is also a respected domina and she can provide fetish treatments including SM from the premises.
Opening times for Manuela's Studio are currently as follows:
Monday to Friday – 9.00am to 10.00pm
Saturday – 10.00am to 8.00pm
Sunday – Closed
Oase der Lust
Permoserstraße 34, 04328 Leipzig
Out in the east of the city you can find the Oase der Lust, an erotic massage parlour/brothel staffed by a more mature bunch of ladies including one TS. The youngest, Iona, is 29 years old but the oldest, Maria, is 58. The tattooed new girl, Trans Rose is 46, and is billed as the 'flower that stings'.
Oase der Lust has been operating since 2007 and is a decent enough studio that is clean and comfortable; however, this is no high-end venue with fancy decoration. Instead, the focus here is on the quality of services which are wide and varied and include:
Classic massages from gentle to rough
French, anal, Spanish and Greek
Fisting and dildo games
Role playing and enemas
Cuddly games
Bondage games
Striptease
Lesbian games
They can also accommodate many themed and fetish requests; just ask for details.
First Class Massage
Sasstraße 38, 04155 Leipzig
To the north of Leipzig in the Gohlis part of the city you can find the First Class Massage parlour who have just celebrated their fifteenth year of business.
An hour of sensual massage can be booked here for just €80 which can include a variety of extras including lingam, foot fetish, bondage and hot wax treatments but does not include sex.
Masseuses here are all professionally trained and can deliver a great body rub as well as offering an erotic experience.
It's not the largest studio you'll find in the area with just two rooms from which they operate but it is clean, comfortable, private and discreet. There are two ladies performing treatments so it is worth booking in advance to avoid disappointment.
First Class Massage is open Monday to Friday from 9.00am to 7.00pm.
Vicky's Wellness Massage
Gorkistraße 33, 04347 Leipzig
A single apartment from which Vicky provides some classic erotic massage, you can find this venue in the north east of the city.
At 46 years old, Vicky offers a stimulating massage at the following prices:
| | | | |
| --- | --- | --- | --- |
| Treatment | 30 Minutes | 45 Minutes | 60 Minutes |
| Full Body Massage | €50 | €60 | €80 |
| Body to Body | €60 | €80 | €110 |
| Tantra | – | – | €120 |
All treatments include a happy ending within the price.
Opening hours are Monday to Friday from 11.00am to 9.00pm with the last guest admitted at 7.00pm.
Leipzig Strip Clubs
Strip clubs are a staple for any major European city and Leipzig has two great bars where you can catch an erotic and energetic strip show.
Angels Table Dance
Dessauer Str. 24, 04129 Leipzig
Located to the north of the city, Angels Table Dance is a laid-back 'spit and sawdust' strip bar where topless girls put on an erotic performance for locals and visitors.
This is no elite champagne gentleman's club; instead, expect a decent bar with admission costing just €5. There is a VIP area where groups can get the elite treatment with full bottle service and a selection of private dancers.
It's got an energetic vibe to it and the dancers put a lot of effort in to keep the atmosphere buzzing through during the week and early on in the evenings it can be a little 'flat'. Head here on a Friday or Saturday night at peak time and the story is different. Often heaving with customers and Angel bills stuffed into the panties of the dancers, it's difficult to even get standing room.
A club with a great reputation for a good night out and particularly good for bachelor parties, Angels run regular themed events including karaoke, ladies' night, glamour parties and beach themed evenings.
Angels Table Dance bar is open from Tuesday to Saturday from 9.00pm to 5.00am.
Metropolis Table Dance
Große Fleischergasse 4, 04109 Leipzig
Conveniently situated in the heart of the city, the Metropolis Table Dance Bar is another popular adult venue in Leipzig.
The club has been running for over twenty years and has a strong reputation for hiring talented and hot dancers, providing a decent night out without breaking the bank. From athletic pole dancing to classic erotic strip tease, these girls are sure to get guests hot under the collar and reaching for those tips….we said 'tips'!
You can pay for private dances (€50) as well as splash out for a shower show on the main stage (€100). They also run some great promotions including an all you can drink ticket for €35 plus group discounts on admission; these are great for hen and stag parties for which the venue is well known.
There's a more than decent selection of dancers currently working at the club and they have local following of regulars as well as appealing to visitors to Leipzig.
Regular entrance costs just €10 and drinks prices are pretty reasonable for the city.
The Metropolis Table Dance Bar is open daily from 10.00pm until 5.00am.
Street Prostitution & Red Light Districts
Leipzig doesn't have a red-light district like those you might find in Hamburg or Berlin nor does it have any regulated and licensed zones for street prostitution. It's actually very rare to find any women selling sex on the streets and your best chance for procuring professional services is to visit one of the licensed establishments listed above.
Sex Shops in Leipzig
Leipzig, like many European cities, has far fewer sex shops than a few decades ago as more and more customers opt to shop for their bedroom basics and intimate goods online. However, there are a half dozen or so good adult stores around the city where you can pick up some sexy toys, lingerie, costume and even some fetish goods.
They all carry a similar range of DVDs, magazines and other printed material plus toys and sexual wellness products:
Erotik Shop, Universitätsstraße 18-20, 04109 Leipzig
Orion, An der Passage 1, 04356 Leipzig
Orion, Grünewaldstraße 15/17, 04103 Leipzig
Orion, Merseburger Str. 259, 04178 Leipzig
Dolly Buster, Essener Strasse 13a, 04129 Leipzig
Eroso, Ernst-Keil-Straße 2, 04179 Leipzig
Sin Eros, Ernst-Keil-Straße 2, 04179 Leipzig
Featured image via Florian Richter (Flickr).