Looking for some high-quality German porn to stoke your fire?
Latin for sexual misdeeds, Inflagranti is an apt name for this premium German porn site. Offering up a collection of both mainstream hardcore and fetish films, the content here is 100% filthy. Founded more than twenty years ago, the studio is one of the most infamous adult brands in Germany and showcases exactly why this country has a reputation for being one of the kinkiest nations in Europe!
In this Inflagranti review, we take a closer look at one of Germany's most iconic porn brands and check out what you can expect from your premium membership to the Inflagranti website.
---
---
The Home of German S/M, Fetish And Reality Porn
Inflagranti is a Berlin based adult film studio producing two distinct brands of pornography. Whilst its Red Line series concentrates on general hardcore and realty sex, its Black Line series focuses on S/M and fetish productions.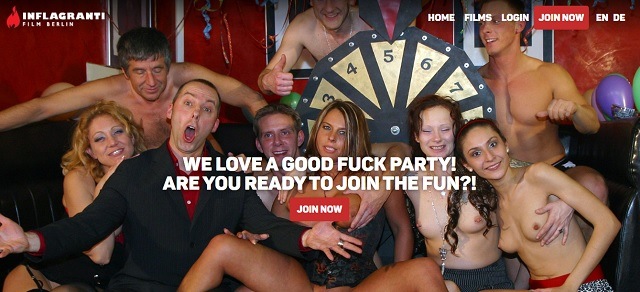 Both brands are very popular in Germany but the Black Line label has gained a notoriety throughout Europe for successful and innovative series such as:
Fetish Zone (Projekt: Fetischi)
Machine Sex
Hard as Steel (Stahlhart)
Schwarze Flamme Silverline
Don't be mistaken that Inflagranti is just another German kink studio, the Red Line label offers high quality hardcore covering everything from the private lives of glamourous sex kittens (Stars in Private)to gangbangs (Arena series), public sex and more.
Diversity is very much the driving force behind the studio's creative output and the team pride themselves on their signature style:
Premium Quality
Innovation
Diversity
Authenticity
Founded in 1997, Inflagranti's success started with documentary style reality porn filmed in Germany's capital.
Berlin Love Parade was the result and this sex video captured the attention of audiences across Europe and beyond. The title went viral and the studio quickly realised that they were on to something very exciting.
At the time, Berlin Love Parade was a fresh and original take on public sex, pick-ups and real-life sex. Yes, there are tons of reality porn available on the internet these days but 24 years ago, Inflagranti were pioneering this genre.
The studio has gone on to win multiple Venus Awards over the years and the debutante stars it works with continue to catch the industry's eye. Perhaps the most notable of these is Jana Bach who took home Best Newcomer award at the Venus 2005 ceremony in Berlin.
This premium studio offers up the best of its collection on its own VIP website where you can catch the latest and most exciting of their releases.
Exclusive Collection of Premium German Porn
Offering up more than 400 high-quality, feature length movies, Inflagranti is a powerhouse of Euro-porn.
Their content isn't pinched from other studios nor will you find their films on any other platform. Unless you've purchased a title already from a VOD site like HotMovies or Adult DVD Empire then you won't have seen this porn before.
Members get 100% exclusive access to all their movies each of which includes high-resolution photos.
Each scene is accompanied by a set of around 40 pictures which can be downloaded in a zip file of either 4752×3168 or 3000×2000 pixel resolutions.
Updated daily and fully optimized for streaming, downloading and for mobile and tablet access, this is a premium hardcore site that knows just how to entertain its audience.
All movies are available in full HD (1920×1080, 6mbps) but can also be downloaded in lower quality if you prefer.
Real Sex Documentaries
Inflagranti has an affinity with reality porn and this is a genre that they do particularly well with.
From MILFS in action and teens debuting to public gangbangs and amateur fuck parties, the style is addictive to watch.
Diverse Content
With their two labels (Black & Red), Inflagranti can cover a pretty diverse mix of genres and across the site you'll find scenes and films featuring everything from teens to milfs, lesbians to gangbangs, extreme rough sex and DP to anal sex and gaping.
It goes on and on covering wax play, squirting, latex, masks, enemas, fisting, public humiliation and food play. Inflagranti even offers up some competition to German Goo Girls with plenty of bukkake and messy play!
If that's your 'thang' then definitely check out Sex+Slime+Fuck.
The studio often gets pigeonholed into the kink category but whilst there are some great BDSM and fetish offerings, we think their mainstream stuff is also pretty impressive.
By no means softcore or vanilla, the Red Line label covers most of the main genres and categories you'd expect from a premium studio.
Best German Pornstars
A German site, it should be no surprise that the content here is all filmed in the German language using (mostly) German porn stars.
For English audiences, the bad news is that there are no subtitles so, unless you have a little knowledge of the language, you're going to have to ditch the plot for the action.
Still, the action is well worth the watch and audiences will definitely enjoy catching the likes of Inflagranti favorites such as:
Kitty Core
Domenika Rubin
Valeria Jones
Sharon Da Vale
Trinity Smith
Lena Nitro
Sophie Logan
Minka Prince
Sammy Fox
Chantal Anderson
Kamikatzerl
In all, there are more than 180 models being showcased here and you won't be disappointed with a single one.
How Much is Inflagranti?
To access all this premium content, you are going to need a premium subscription and Inflagranti offer a couple of membership options.
You can pay monthly at a cost of €29.95 or pay upfront to reduce your regular costs:
Three months will set you back €69.95 or you can get a full year's subscription for €119.95 which works out at less than €10 per month!
Payments can be made using credit card, PayPal or via Direct Debit.
Inflagranti Review: The Best Fuck Party in Town?
With more than 20 years of experience in creating kinky and hardcore content, there are few studios who can offer such a diverse lens through which to enjoy German porn.
In many ways, Inflagranti has shaped what we know about the adult film industry in this European nation. And perhaps it is because of the widespread export of its Black Line label which has helped earn Germany the title of 'Kinkiest Nation'.
Whether the content reflects the real culture or not, we love the range of content on offer here and you don't have to be a total kinkster to appreciate this kind of porn. You just have to be someone who wants a little spice with their fap content.
Every scene has something 'extra' to commend it and there is no content on Inflagranti that is simple girl/boy, straight sex.
Exclusive, high-definition and regularly updated, there are few things to complain about with a membership to this uniquely European site and we think the price of €30 is pretty good value.
Of course, it would be nice to have some bonus content included with your subscription but oftentimes these free extras can be disappointing.
Overall, we think there is enough top-quality hardcore entertainment with Inflagranti to keep you busy for at least three to six months.
By then, it's highly likely you'll have developed a taste for German porn and, if that happens, maybe you'll be ready to graduate to the next step up in kinky Euro sex… German Goo Girls anyone?
Until then, Inflagranti is definitely hot enough to fire up your fap flames.
Sign up here to check it out.