Want to know more about sex in Milan?
Situated in the north of Italy and just 50km from the southern border of Switzerland, Milan is the second largest city in the country. Home to around 1.3 million people, Milan is one of Europe's most visited cities and hosts around 6 million tourists each year. Many come to appreciate the cultural sites of the city including the historic old town, Teatro alla Scala, the San Siro Stadium or Milan Cathedral whilst others come on business. Whatever the principle reason for staing in the fashion capital, many visitors seek some more adult pleasures.
In this guide to Milan, we take a look at the sex scene and where you can go to enjoy the delights of Italian strip tease, enjoy an erotic massage or even sample the local swinging lifestyle. You can also find out more about prostitution laws in the city.
---
---
Prostitution in Milan
Prostitution in Milan is legal though brothels and organised prostitution are not. The city has an estimated 5000 sex workers plying their trade with over half of these regularly taking to the streets. Most other women work as independent escorts or providing massage services with extras.
The majority of prostitutes working in Milan are thought to be migrant workers from Eastern Europe as well as from West Africa though a good proportion are local Italian girls.
It is reported that customers can pay anything from €20 for manual or oral relief with a street prostitute or they can get an hours full service with an escort from around €150. Happy endings with a masseur will usually cost less than €100.
Whilst the sale and purchase of sexual services is legal, the general population is not so tolerant of the activity and tourists particularly do not like to see transactions being conducted publicly. There are no red light districts in Milan so discretion is recommended.
Some locals (and tourists) head over the border to southern Switzerland and head to Lugano where brothels are legalised in order to get a safe and legitimate bordello experience. Both the Pompeii Gentleman's Club and Club Oceano profit from Italian trade.
Milan Escorts Guide
The typical hourly rate is €150-€200 per hour with some models offering in call services as well as outcall.
There are a number of agencies present in the Milan region and escorts do a good business here, however the laws surrounding advertising of escort services is murky. We cannot list any of the popular agencies, directories or freelance providers on this site.
Sex in Milan
Brothels
Brothels are not legal in Italy and you won't find any legitimate ones operating in the city.
Banned throughout the country in 1958, there are some established networks of prostitutes that provide full service in Milan in 'brothel-style' premises but details and the location of these change in order to avoid the authorities.
You may find that responding to classified listings made by some 'independent' escorts result in an in-call service where more than one prostitute is working. Be mindful that these operations are not lawful and may not offer the most salubrious (or safest) of premises.
Because of the proximity of Milan to southern Switzerland where brothels are legalised, you can find that some locals will travel the hour or so to Lugano where you can get a traditional bordello experience at places like the Moulin Rouge.
You can find out more about sex in Switzerland with our full guide.
Swinging Clubs
Swinging in Italy is very popular and you can visit libertine clubs across the city both as a couple or as a single visitor. Most have membership restrictions but all welcome enquiries from international visitors.
New Paradise and Harem Club
Via Santa Maria 90, 20093 Cologno Monzese, Milan
The New Paradise Club is situated around 12km to the north east of Milan and has been operating since 1994; first as a standalone establishment but a part of the Harem Club since 2016.
As one of the city's longest serving swinging clubs, the New Paradise is also one of the largest and offers a range of play areas within its confines including an adult cinema, gloryholes, disco, summer garden and naturist area. The 4000 sq. m complex also includes spa facilities with Turkish bath, sauna, whirlpool and the new salt room and ice room.
Membership is required for entry to the club and pre-registration is recommended. International guests will need to provide proof of I.D. with a valid passport or EC citizens card.
The club is open every day from 11.00pm until 2.00am, staying open until 4.00am on Friday and Saturday nights.
Eve Club
Via Pallavicino, Milan
This private, members only club is situated in downtown Milan, to the west of the city close to the Parco Guido Vergani. Whilst offering a sophisticated play zone for its members, Club Eve also provides a full concierge service for member libertines visiting the city.
The club is an exclusive venue and pre-registration to all events is a must.
The club runs boutique shopping by appointment only where members and guests can browse their selection of couture lingerie, kinky accessories and erotic works of art.
Run by and for women, the under 30s receive discounts on both membership as well as entrance fees.
Enquiries regarding events and membership should be made directly via the website.
Fashion Club
Via Bernardo Quaranta n. 40, Milan
Fashion Club advertises itself as Milan's 'Coolest Club' but whether this true is very much down to opinion. What is true is that the Fashion club offers some state-of-the-art facilities in modern premises to the south of the city.
Facilities include a comfortable adult cinema, two bars, private rooms and a stage for entertaining.
Feature events are held regularly but the club is open Wednesday to Saturday from 10.00pm and from 7.00pm on Sunday.
Membership and pre-registration enquiries should be directed to the club's organisers via their website.
Bizarre Club Prive
Via Ripamonti 580, 20136 Milan
Situated in the south of the city in the Quintosole district, Bizarre Club Prive is a swingers club for members only.
Events are held on a regular basis and offer themed parties including 'Bulls Nights', 'Cuckold Evenings' and other feature occasions.
The club comes into its own during the summer months when the large outside space becomes an extension of the indoor play and guests can enjoy the outdoor pool, terraced dining area and spa facilities. Inside, the club offers several private play areas as well as a large central lounge and disco area with bar, dancing poles and comfortable seating.
Club Bizarre is open daily between the hours of 11.00am to 6.30pm and from 10.00pm for evening entertainment. The outdoor naturist park is open from 1 May to 2 October.
Guests wishing to join in the parties should contact the club directly for pre-registration.
La Divina
Via Melchiorre Gioia, 80, 20124 Milan
A 15 minute walk from the central station area you can find yourself in the eclectic swingers club, La Divina.
The club has a modern take on a neo-classical style with a range of well-maintained facilities including a BDSM room, video cabins with gloryholes and a dark room. A central bar and lounge offers a place to socialise with other lifestyle aficionados where you can get to know other members.
Entry to the club is by prior arrangement and is usually a result of being introduced by other swingers.
The club is open daily from 1.30pm to 5.30pm and 10.00pm to 3.00am.
Nautilus
Via Privata Mondovì, 7, 20132 Milan
This private swingers club is situated in a residential area about 4km to the north east of the centre of Milan.
They run a mixed programme of events with Friday nights being open to all including couples, singles, gay, bi and trans. Events include bondage parties and themed evenings.
Couples can play for free but individuals must pay an entrance fee.
Access to the club is via membership only and enquries must be made in advance via the website.
The Nautilus Club is open from Thursday to Sunday from 10.00pm with buffet served every evening.
Club Fermento
Via Italia n. 2 – Lodi Vecchio (Lodi), 26855 Lodi Vecchio
An exclusive members club, Fermento is situated about 30km to the south east of the city.
Entry is for members only but you can arrange this in advance of your visit providing you bring along proof of ID when you first arrive. Membership is open to singles as well as couples.
Facilities include:
Glory holes
Cinema room
Smoking area
Dance floor
2 private rooms for couples
5 private rooms for all members
BDSM room (The 'Classroom')
Whirlpool
Cage
Pole dance area
There is also a restaurant on site and a naturist garden is open during the summer months.
The club is open as follows:
Thursday: 9.00pm to 2.00am
Friday and Saturday: 10.30pm until early hours
Sunday: 3.00pm to 12.00am
Erotic Massage Parlour
Massage in Milan is mostly provided by independent masseurs rather than large scale parlours.
There a lot or oriental and Thai masseurs where rub and tug services are pretty standard.
Strip Clubs
Golden Door
Piazza A. Diaz 3, 20122 Milan
Apparently popular with visiting celebrities including actors, sports stars and sheikhs, The Golden Door is a famous club in the city. It certainly is a club of choice for entertaining visitors to the fashion houses during Milan's many events and festivals.
Opening its doors over 70 years ago, this strip club provides first-class entertainment for guests as well as a full dining experience.
The club is decorated in dark red with silk tablecloths, pristine silverware and Swarovski crystal decorations to add a touch of luxury. At over 1000 sq. m, the club can seat 200 diners before a show.
The club is open daily from 10.00pm to 4.30am.
Venus Milano
ang. Piazza Armando Diaz, 2, 20123 Milan
Another luxury strip club in the heart of the city, Venus Milano opened in 1931 and is situated right next to the Golden Door.
Just like it's next door neighbour, Venus can lay claim to many big names through its doors over the last eight years. Elegantly decorated with a VIP restaurant and bar the Venus is a very popular place to experience an Italian strip show.
The club is open daily from 10.00pm to 4.30am.
Extasia
Largo Augusto, 7, 20122 Milan
Opening in 1997, Extasia is a strip club offering lap dances, sex shows and a hot disco where the girls dance topless.
They regularly hold events nights with featured performers. Details can be found on their website.
As well as a bar, you can also get food at the restaurant with private dances starting at €60 for 15 minutes.
Extasia is open daily from 10.30pm to 5.00am.
Pepenero Club
Via Gallarate, 224, 20151 Milan
The 'Black Pepper' club offers strip, lap dancing and a disco in addition to its three well stocked, American-style bars to keep visitors fully entertained.
A zen terrace and smoking area extend the facilities over two floors and the club is often likened to an Italian take on an English gentleman's club.
Dancers are aged between 18 and 29 and attract a crowd that is a mix of tourists and locals. Pepenero is also popular with bachelor parties.
Pepenero is open daily from 10.00pm to 5.00am.
Foca Loca
Via Flavio Baracchini, 11, 20123 Milan
Foca Loca offers a distinctly nightclub feel to its strip shows and the club has a party atmosphere most nights of the week.
Situated a few minutes' walk to the south of the Palazzo Reale, Foca Loca is quite popular with businessmen. Lap dances are available starting from €50 for 15 minutes.
The club is open as follows:
Monday to Thursday: 10.30pm to 4.00am
Friday and Saturday: 11.00pm to 5.00am
Sixth Sense (Bikini Club)
Via Emilio Gola, 4, 20143 Milan
This small strip club in the south of the centre of Milan has around 30 dancers working each night to provide lap dancing and strip dancing for guests.
Feature events are run regularly including burlesque performances. There is an outside garden terrace, private car park and disco in addition to the lounge and bar.
The Sixth Sense is open as follows:
Monday to Wednesday: 10.30pm to 4.00am
Thursday: 10.30pm to 5.00am
Friday and Saturday: 10.30pm to 6.00am
Blue Eyes
Via Luigi de Andreis, 13, 20137 Milan
Blue Eyes is a small club which uses plenty of mirrored decorations to give the illusion of more space. A lap dancing bar, the club was opened in 2000 and extended in 2011 to accommodate an upstairs champagne room.
Blue Eyes may get its name from the fact that the bar is lit in electric blue and you may well get the feeling that all you see is blue for several hours after leaving; it's quite stark!
The place isn't the finest club on the list but it does have an easy atmosphere and the crowd is more local than in some of the more upmarket venues.
The DJ helps keep the atmosphere lively and you can enjoy the live entertainment from 3pm during the week and from 10.30pm at weekends. The club closes at 4.00am.
Hit the website before you go to download a pass granting free access.
Street Prostitutes
Street prostitution in Italy is legal though soliciting is not and drivers can also be fined if they make dangerous manoeuvres in order to pick up a hooker. The issue has become such a problem that some towns in the area have passed local legislation making it compulsory for street hookers to wear high visibility vests so that drivers can see them in advance to avoid last minute braking.
There are estimated to be around 5000 street prostitutes working around the Milan area with many staying within the areas where they can be easily picked up by car, such as along major nighttime commuter routes. Others work in areas of the city where pedestrian pick ups are possible.
The common places to pick up in the city is around the central station area, in particular Via Vitruvio, Via Napo Torriani and Via Claudio Monteverdi.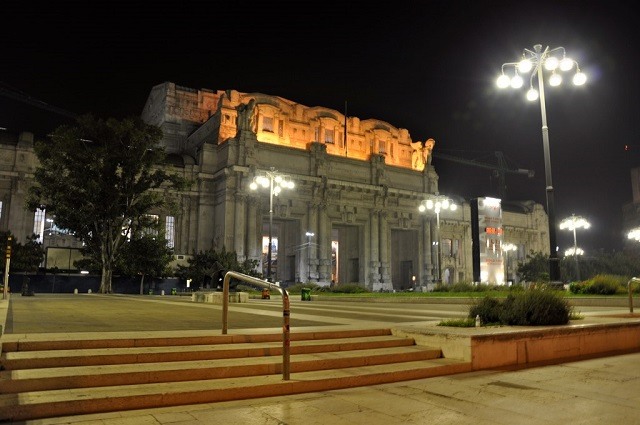 The area around the Garibaldi station was once considered the city's red-light area but has become the focus of a major regeneration project so you will no longer find any street action in this district. Despite cross-party support for plans to create a designated prostitution zone, there is (as yet) no such place.
Prices for a prostitute around Milan vary from around €20 up to €80; be aware that if you pick up in the city and do not (or are not able to) use your hotel room then additional fees may need to be paid for room rental.
Sex Shops
There are plenty of places around Milan where you can pick up bedroom accessories, toys and novelty items including pornography. We've selected our favourites below:
1000 Positions
Via Legnone, 19, 20158 Milan
Selling mainstream toys and accessories, 1000 Positions also stocks a good range of lingerie. The store has a good reputation with locals and offers friendly service in a relaxed and welcoming environment.
The Milan store is open daily from 10.00am to 8.00pm.
Sex Sade Fetish Boutique
Via Felice Casati, 8, 20124 Milan
This boutique sex shop a short walk from the Indro Montanelli public gardens specialises in saucy lingerie, 1950s clothing and naughty costumes. They also stock a good range of fetish and BDSM gear.
The store has a great reputation and offers something a little different to what you would find in a high-street sex shop.
Sex Sade has been trading since 1998 and is open as follows:
Monday: 3.30pm to 8.00pm
Tuesday to Saturday: 10.30am to 1.00pm and 3.00pm to 8.00pm
Best of the Rest
Here is a selection of some other good sex stores in Milan:
Magic Love, Viale Brianza, 28, 20127 Milan
Sex Shop, Piazza Sempione, 6, 20154 Milan
Abacadabra, Piazza Sempione, 6/A, 20154 Milan
Sexy Shop Milano, Piazzale Lugano, 4, 20156 Milan
Sexy Shop Flirt, Viale Monza, 101, 20126 Milan
Planet Sex, Via Benedetto Marcello, 44, 20124 Milan
Magic America, Viale Umbria, 50, 20137 Milan
Love Affair, Via Enea Salmeggia, 5, 20132 Milan
Sex Vending Machines
Some sex shops around Milan are automated centres where you can access vending machines that sell a basic range of products 24/7. You can find details of the network of these around the city via the Sex is Now website.
Featured image via Flickr.