Want to know more about sex in the UK?
A nation stereotyped by a conservative and reserved attitude, sexual liberalisation has never been something you would attribute to the British. However, this small but globally influential island country has a very healthy and thriving sex industry – as well as having some exceptionally liberal views and laws.
In this guide to sex in the UK, we take a look at sex culture in Britain as well as the state of the adult industry, prostitution laws and the latest porn viewing trends. We cover attitudes towards sex, British opinions on hooking up, and some of the best ways of doing so.
---
---
Let's get started!
Attitudes Towards Sex in the UK
There is a famous British farce entitle 'No Sex Please, We're British' which sums up much of the rest of the world's beliefs about the reserve of the UK when it comes to physical intimacy.
The stereotype of the reserved English gentleman and prudish women may have typified the nation in the 1950s and 1960s but has long ceased to be applicable in modern Britain.
In fact, the guarded formality ascribed to the British is at odds with a rich history of a saucier side to the nation.
Printed porn in the UK can be dated to Victorian times when erotic and, sometimes, hardcore images were distributed through gentleman's clubs and in select social circle.
The trade in French photography, erotic literature and prints was widely but not commonly available. With strict obscenity laws, most Brits had to make do with more controlled forms of adult content such as cartoons and publications that were not explicit, merely titivating.
Though not pornographic in nature, this point can be typified by the iconic saucy postcards from British seaside towns from the 1930. Often depicting busty women and bawdy innuendo, even some of these cartoons were deemed too risqué and were banned from sale.
By European standards, the UK has always had strict regulations on the content of pornography and hardcore material was only legalised for sale within the last two decades.
Pornography in the UK is legal to own and to buy as long as the content does not tend to 'deprave and corrupt' and falls within existing legislation on sexual acts (namely, does not depict or involve minors, animals or scenes of explicit violence).
The UK market for pornography is big and more than 51% of the British public admits to having watched porn.
According to a survey commissioned by the international market researchers, YouGov, Britons have a varied sex life but one of the worst in Europe.
The poll was conducted in 2013 and revealed that:
26% of adults think about sex once, or more, per hour.
For 11% of adults, half or more of their sexual experiences occurred whilst drunk
33% of adults have used a sex toy
Just 36% of adults can remember the names of all their sexual partners
34% of adults have had sex in a public place (third highest)
11% have dressed up to have sex (second highest)
20% of people have been to a strip club
14% have filmed themselves (or taken photographs) having sex (second highest)
Only 12% of the UK would rate their sex life as 'Excellent', compared to 21% in Switzerland, ranking them as the least satisfied country polled.
A further study undertaken in 2014 by the Observer showed:
11% of British adults rated their sex drive as 'Very High', 23% as 'High), 42% as 'Average' 13% as 'Low' and 12% as 'Very Low'.
79% of men were happy with the size of their penis.
Approximately one in three Brits describe their sex life as 'Adventurous'.
61% of couples believe that they can maintain a happy relationship without sex.
17% of adults had been unfaithful to a partner.
23% of people believe that monogamy is not natural but only 8% believe is not desirable in a relationship.
The average age for Brits to lose their virginity is 18.
The average number of sexual partners is 9.5 with more than 10% of Brits having had more than 21 partners.
In an average month, Brits have sex four times.
Swinging and dogging (public sex) are common in the UK with the former being popular from the 1960s during the period of sexual revolution.
See more: The best British swinging sites.
It is estimated that there are around 1million people in the UK who take part in the swinging lifestyle.
Sex education in the UK is widely believed to be quite poor by comparison to other European nations.
Not all aspects of sex education are compulsory in schools and parents have the right to withdraw their children from scheduled classes where it is taught. The recommended curriculum focuses on the emotional, social and physical aspects of relationships as well as sexual health, family planning and sexuality.
Most children do not receive formal sexual education until they are 11 years old. Plans by the UK Government in 2017 to introduce compulsory education from the age of 4 have been both praised and condemned.
Many parents feel that this is a step too far whilst proponents for greater awareness and understanding feel it is about time the UK makes this progressive step.
The same Observer survey as above undertaken in 2014 showed that 41% of adults believe that children receive too little sex education vs just 19% who think they receive too much; the remainder believe it is just right.
Despite recent decreases, the teen pregnancy birth rate in the UK is one of the highest in Europe. 80% of teens who engage in sexual intercourse do not use contraception.
STI rates in the country are also higher than other European nations with Gonorrhoea, HPV, Herpes and HIV rates all being greater than much of the rest of the continent.
How to Meet Women in the UK
Brits are traditionally seen as reserved, conservative and in some cases even aloof.
How does that translate to meeting women in the UK? And hooking up?
The truth is that Brits can be some of the biggest fun-seekers in the whole of Europe, and that extends to their escapades in the bedroom.
If you want to meet women for no-strings fun, the easiest way (certainly in 2021!) is to take advantage of one of the many dating apps that can be installed on your phone.
British women are prolific users on dating apps. Tools like Tinder have rapidly become the #1 way of meeting singles. Swipe right, swipe left, and before you know it you've built up a network of potential contacts.
Are British Women Easy to Approach In Pubs and Bars?
Before smartphones took over the world, Brits certainly had no trouble hooking up offline.
The bars and clubs of major UK towns are notorious for their heavy drinking and hedonistic party culture.
While the typical British woman is likely to wince at chat-up lines, that doesn't mean she won't humour you. UK women respond well to a confident approach, particularly when paired to good manners.
The British sense of humour is famously dry, so be prepared to take a joke at your own expense, and give back as good as you get. It's all good banter!
The truth about hooking up in the UK is that the major cities are such melting pots of different cultures, no one piece of advice is ever going to translate well.
London is an international playground and you are probably more likely to hook up with somebody from out of town than a typical local!
Best UK Dating Sites
Looking for the best casual dating sites in the UK?
There are dozens of sites (and apps) targeted at the UK marketplace. Most of them are for vanilla old-fashioned 'boy-meets-girl' dating – the kind that you'd be happy to talk about at grandma's dinner table.
We're guessing that if you are visiting this site, your intentions are slightly more… dirty.
If you want to hook up for sex, or seek out some no-strings-attached casual fun, then there are three sites we can recommend:
Adult Friend Finder – [Visit the Site]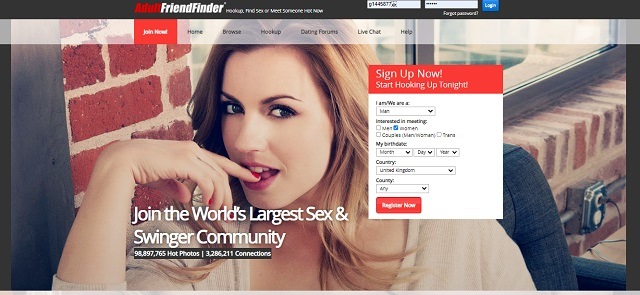 The OG of Casual Dating.
It's been around for what feels like forever, and it remains one of the top destinations for finding women (or men) who are interested in hooking up for no-strings-attached fun.
Seeking Arrangement – [Visit the Site]
Seeking Arrangement is a famous 'elite matchmaking' platform, which basically takes on the form of UK sugar dating.
If you are a bloke with money – and you want to pursue the companionship of a bunch of young, beautiful women – then this site will provide the 'hookup' for a mutually beneficial arrangement.
BeNaughty – [Visit the Site]
No prizes for guessing what the aim of this site is!
BeNaughty is one of the largest hookup sites of its kind, and it has a very large presence in the UK. There are hundreds of thousands of profiles of women (and men) looking to get some action between the sheets.
Interested in a site that is a bit more… traditional?
If you are looking for a regular subscription to a dating service, the top five dating sites in the UK are:
Note: These sites are not exclusively for hooking up. The majority of users are looking for a relationship, or traditional dating.
So, why would you use them if your only interest is getting laid?
Well, there's still a market on each of the sites for casual romance. You just have to find it…
And the member base is much broader since the site isn't marketed at horndogs.
Like us…
Best UK Cam Sites
The UK has a very large camming industry with tens of thousands of amateur models performing live at any given time.
UK cam girls are in hot demand and you'll often find 'British' one of the most searched tags on mega-sites like Chaturbate or LiveJasmin.
What are the best cam sites for watching UK models?
There are two we can recommend:
Chaturbate – [View the Site]
Chaturbate is a no-brainer for finding UK cam girls. If you head online here between 4pm-11pm GMT, you are guaranteed to find several British performers in the top ten most watched live streams.
Chaturbate is free to watch and works on a tipping basis.
Find a show you like, buy some credits, and tip her nicely to 'direct' the action.
StripChat – [Visit the Site]
If you are visiting StripChat from within the UK, the navigation has a ready made 'British' filter – from which you can browse all of the live UK shows.
And there are many.
StripChat has become one of the hottest cam site platforms in the world, and it's particularly popular in the UK market.
Best UK Classifieds and Personals
Dating in the UK has moved heavily towards the online world over the last decade and singles regularly hit the internet personals for serious and casual dating.
In a survey conducted in 2014, 14% of Brits reported to use the internet for casual sex. That number has surely risen since then.
In addition to popular apps like Tinder, Once, Twindog, The Inner Circle and Sweat, these are our best picks for finding singles in the UK.
Free UK Classifieds
www.freeukclassifieds.co.uk/personals_and_announcements.html
As a free to advertise site there are no guarantees over the authenticity of the ads. There is also a tendency for these kind of classifieds to be abused by escorts and massage parlours to advertise their services. However, you do get genuine dating opportunities and it is worth bookmarking.
There are several categories to choose from including 'Desperately Seeking', 'Girls/Seeking Guys' and 'Adult Dating Agencies'.
Viva Street
www.vivastreet.co.uk/online/gb
Viva Street has a free personals category and currently has over 600 listings in the West Midlands area for adult dating. Again, there are some escorts and masseurs using the service but you can also find women available for NSA fun and casual dating.
UK Classifieds
www.ukclassifieds.co.uk/personals-b326.html
Another free to use service offering a range of personals, Classified Ads has a 'Women Seeking Men' category. As with Free UK Classifieds (above), you will find some professionals using the service.
The site receives over 360,000 hits per month but most of this traffic will be for other categories including second-hand goods, services and jobs.
You'll need to add the keyword 'Birmingham' into the search tool to narrow the results down to this area.
Randy Rabbits
Randy Rabbits is a freemium site which offers free sign up but whose features come with a paid subscription. Set-up to provide hook-ups for casual dating, Randy Rabbits has 000's of members in the West Midlands and receives over half a million visits each month.
A service with a genuine database of people, the best opportunities are available with membership.
Craigslist
https://geo.craigslist.org/iso/gb
The ubiquitous Craigslist has become synonymous with the hook-up and there is a casual encounters section which provides this opportunity. You can also find singles through the Women Seeking Men and Misc. Romance.
Free to use, Craigslist does attract escorts.
Guardian Soulmates
https://soulmates.theguardian.com/
The Guardian is a liberal newspaper and their soulmates service offers a way for like-minded singles to connect. The service isn't free nor are many advertisers only seeking casual dating, but it can provide an alternative for those looking for more serious dating.
The site receives over 1.4million visits each month with subscription fees starting at just £32.00 per month.
UK Adult Industry
The UK has a varied adult industry that incorporates the production of pornographic films, DVDs, magazines and television shows.
As well as a popular amateur network, the webcam industry in the UK is also thriving. Since establishing itself in the 1990s as a powerhouse to rival Los Angeles, the UK has experienced a huge growth in the adult entertainment sector.
You can find out more about the local adult industry in various UK cities by visiting our local guides:
See our guide: the best of Ben Dover
Porn is big in the UK and is worth an estimated $1billion a year to the economy, in fact, the British are one of the biggest consumers of adult content in the world.
Internet users in the UK search for the word 'porn' more than anyone else in the English-speaking world.
UK Porn Viewing Trends
According to the annual 'Year in Review' report published by the porn internet giant, Pornhub, UK users are the second most frequent visitor to their site, behind those from the USA. The average visitors spends 10 minutes and 1 second viewing video clips which is just 2 seconds longer than the global average.
The most popular search terms from the UK were:
Lesbian
MILF
Step sister
Step mom
Massage
Lesbians scissoring
British
Lesbian seduces straight
Real celebrity sex tape
Squirt
British chav (lower class person)
JOI (jerk off instructions)
The most watched porn came from the categories of 'Lesbian', 'MILF', 'Mature', 'Anal' and 'Big Tits'.
It's no surprise therefore that, relative to the rest of the world, Brits are 43% more likely to be searching for mature porn and 32% more likely to be searching for lesbian content.
The most searched porn stars in the UK were all American:
Kim Karadashian
Mia Khalifa
Lisa Ann
Riley Reid
Brandi Love
Trending searches on the rise included:
Fidget spinner (new entry)
Cheerleader (search traffic up 279%)
British amateur dogging (search traffic up 221%)
Real celebrity sex tape (search traffic up 95%)
British amateur (search traffic up 76%)
VR (search traffic up 65%)
BBW (search traffic up 63%)
The gender split for porn viewing traffic is slightly lower than the global average with 24% of the audience share being female (worldwide average is 26%).
The age-split of viewers in the UK is roughly average for the rest of the world with 60% of viewers being aged 34 and under.
| | | |
| --- | --- | --- |
| Age Range | UK | Worldwide |
| 18 to 24 | 26% | 29% |
| 25 to 34 | 34% | 32% |
| 35 to 44 | 17% | 17% |
| 45 to 54 | 12% | 11% |
| 55 to 64 | 7% | 7% |
| 65+ | 4% | 4% |
The most popular way to view porn is via a mobile device (64%) followed by desktop viewing (21%) and tablets (15%).
Interestingly, traffic to this popular tube hosting site fell in the UK by 8% on the night of the 'Strictly Come Dancing' finale but just 3% for the last episode of 'The Great British Bake Off'.
The viewing figures dropped 35% on New Year's Eve, 16% on Christmas Eve and 30% on Christmas Day. By contrast, the number of visitors to the site increased on Easter Monday and St George's Day by 9%.
During the 2017 snap general election, traffic to the porn site showed a marked increase in searches for the porn star, Teresa May – possibly due to porn parodies, like Hard BreXXXit!
One can only hope that this was a genuine intent to look up porn on the buxom brunette rather than the aging British Prime Minister. There is a subtle spelling difference and it seems laughable that the White House may have made the same mistake!
Of course, Pornhub is only one of the nation's top adult content websites and according to data secured via SimilarWeb, traffic to other websites shows that the nation visits the following sites more frequently than Netflix, Paypal, Instagram and Pinterest. Pornhub itself receives more British traffic than Wikipedia!
Pornhub is the 8th most popular website in the UK
XNXX is the 13th most popular website in the UK
XVideos is the 14th most popular website in the UK
XHamster is the 15th most popular website in the UK
Brits are consumers not just of porn, but of late night TV sex lines, too.
Flick through the late night TV listings and you'll find no end of sex shows popping up on the outer channels. One of the most famous being Babestation, but there are plenty of others!
Best UK Porn Sites
There is a plethora of websites that pander to the nation's taste in domestic porn and many enjoy a lot of international interest as well. It would seem that there is something about a British accent in porn which keeps us coming back for more.
Our top ten picks for best UK porn sites are as follows:
Truly though, this list is only scratching there surface of the massive British porn industry.
For a full rundown of the best sites to bookmark, check out our extensive guide to the Best British Porn Sites.
UK Adult Porn Studios
The UK has over 60 porn studios, some of which are no longer still in operation but have a large back catalogue of popular titles.
| | | |
| --- | --- | --- |
| · Adult Channel XXX | · Film Erotica | · Phil McCavity |
| · All Amateurs | · Footprint | · Poppy Morgan |
| · Anna Span | · Freddie | · Pornostatic |
| · Ben Dover | · HandjobHeaven | · Pumpkin Media UK |
| · Big Willy | · Harmony XXX | · Real Punting |
| · Bluebird Films | · Inexcess Films | · Red Hot Hard |
| · British Amateurs | · Johnny Rebel | · Relish XXX |
| · British Bukkake Productions | · Joybear Pictures | · Rob Stone Films |
| · British Extreme | · Killergram | · Rude Britannia |
| · British MILF Ent | · Lacey Starr Productions | · Sarah Young |
| · Bukkake Man | · Liquid Gold | · Simply Films |
| · Candice Paris | · Maxim Studio | · Spanking Tomato |
| · Candy Caine | · Melanie's Movies | · Strand Media |
| · Cinema Erotika | · Melon Juggler | · Sweetmeats |
| · Doll Theatre | · MiniskirtGirlz | · TelevisionX |
| · Double D Productions | · Mr Badger | · UK Porn Kings |
| · Dreamlight Studios | · MSS Interactive | · UK Sinners |
| · Erotic Artist | · Nectas Movies | · Undercover Lover |
| · Erotic Flesh | · Nerd Pervert | · Union Films |
| · Erotikara | · One Eyed Jack | · Viv Thomas |
| · Fantasy Blue | · Pascals Subsluts | · Wild Video |
Top UK Porn Stars
According to XVideos, the top ten porn stars from the UK are as follows:
| | | | |
| --- | --- | --- | --- |
| Performer | Total Video Views | European Ranking | World Ranking |
| Sophie Dee | 655,105,463 | 1 | 2 |
| Stella Cox | 236,116,426 | 14 | 72 |
| Jasmine James | 109,216,808 | 15 | 81 |
| Amedee Vause | 43,283,331 | 29 | 143 |
| Sydney Simpson | 5,518,696 | 39 | 209 |
| Jasmine Jae | 313,941,024 | 40 | 215 |
| Paige Turnah | 98,825,619 | 41 | 217 |
| Tanya Tate | 174,969,513 | 48 | 241 |
| Rayveness | 231,304,540 | 51 | 247 |
| Emma Butt | 133,894,910 | 53 | 253 |
It must be heartening for the Brits to know that they take the European title for most popular porn star in Europe; Sophie Dee is undoubtedly a worthy woman.
This Welsh bombshell has appeared in over 400 mainstream video titles, working with studios like Monsters of Cock, Brazzers Network, Team Skeet and Raw Vidz.
She has been nominated for more than a dozen AVN, XBiz and Urban Spice awards, taking home two titles in the last five years. Starting out as a lap dancer and topless model for the Daily Sport and The Sun, Dee moved to Los Angeles in 2005 to concentrate on her adult movie career.
Dee is best known for her ample ass, her 36F breasts and her anal and squirting scenes. Interestingly, she comes from a family of porn stars and her two step-sisters, Alyson and Dawn McKenzie, are both porn stars.
Now retired, Alicia Rhodes appeared in over 500 movies during her time at the top and she was famed for her love of anal sex and her ability to deep throat with ease. Often enjoying multiple partners in a scene, her most revered work is on the title, 7 the Hard Way 2 in which she has sex with seven men before a multiple CIF finale.
Working mainly in America, Rhodes was nominated for several AVN, XRCO and Ninfa Awards but only one two.
Let's not forget the men of the British adult film industry and no summary of this sector would be compete with a nod to the talents of Mark Davis, Long Dong Silver, Ben Dover and Ben English.
As well as being an acclaimed actor, Ben Dover has gone on to be successful adult film directors and producers. In 1999, Dover was named by the Hustler Magazine as one of the top 50 most influential people in porn. He has won plenty of awards including a Lifetime Achievement with the UK Adult Film Awards and an AVN Hall of Fame induction.
Ben English went into semi-retirement in the 2000s as he focused on his talent agency, LA Direct Models. The company specialises in facilitating the transfer of up and coming British porn stars to the U.S. market.
The UK has produced a lot of adult stars over the years, including plenty of topless models such as Samantha Fox, Linda Lusardi and Melinda Messenger. When it comes to porn stars, we must pay homage to these legends of the screen:
Hollie Wellin
Delta White, tattooed porn star and escort with 30G breasts
Michelle Barrett
Anna St John
Dani Amour
Sarah Jane Hamilton
Anna Lovato
Lolly Badcock
Hannah Harper
Kathy Harcourt
McKenzie Lee
Kerry Louise
Gaynor, the chubby blonde with HH cup breasts
Carmel Moore, voted Best Female Actress in 2007 for her role in Hug a Hoodie
See more: 21 of the Best British Porn Stars… Ever!
Prostitution Laws in the UK
Prostitution is legal in the UK but most activities surrounding it are not; effectively, the transaction of paying for, and selling, sex is fine, but the following is not:
Kerb crawling
Soliciting in public
Pimping
Owning or running a brothel
Carrying an advert for a known brothel
Though the age of consent in the UK is 16, it is also illegal to pay for sex with a prostitute under the age of 18.
It is thought that the prostitution industry is worth around $8.8 billion to the UK economy with around 80,000 prostitutes providing sexual services. Only around 28,000 of these are believed to be British with the remainder being of foreign descent and include Africans, Eastern Europeans and Asians.
Historically, prostitution in the UK has always been illegal and selling or buying sex has been seen as a moral corruption.
British society has always been regarded as a conservative one and the sex trade has operated very much in the shadows. Despite public opinion denouncing prostitutes as morally corrupt and the threat of prison, prostitution can be traced throughout the country's history.
A study conducted in 2014 by the Observer revealed that 11% of Brits had visited a prostitute. Of the remaining 89%, 7% said they would consider it. Overall, 62% of those surveyed agreed that prostitution should be legalised.
Interestingly, the same survey also reported that 42% of people would consider sleeping with someone for money.
LGBTQ Scene in the UK
Male homosexuality was decriminalised in England in 1967 but it wasn't until 1981 and 1982 that Scotland and Northern Ireland respectively followed suit. Lesbianism has never been a criminal act.
Before the 1960s, gay men were persecuted in society as well as in law with sodomy being punishable by jail and even death. The last men to be hung for buggery were James Pratt and John Smith in 1835.
However, jail sentences were common and as many as 1000 homosexuals were imprisoned each year during the 1950s.
High profile convictions such as Oscar Wilde in 1895, Michael Pitt Rivers and John Gielgud in 1953 continued to prove that wealth and fame could not outstretch the long arm of the law. Alan Turing, the famous cryptologist and logician was famously 'treated' with female hormones after being prosecuted for homosexuality but, sadly he committed suicide.
Though decriminalisation was introduced in 1967, it was restricted to men over the age of 21 and the social situation remained precarious for many gay men.
During the seventies, a number of advances were made in the visibility of the lesbian and gay community; the first gay Pride rally was held in London in 1972 and the first homosexual newspaper, Gay News was founded. Equality campaigners groups such as the International Gay Association, the Gay Liberation Front and the gays and lesbians TUC were all inaugurated during this decade.
Hysteria around the AIDs epidemic in the 1980s set the movement back and introductions of acts to not 'intentionally promote homosexuality or the acceptability of homosexuality as a pretended family relationship' in schools did little to advance gay rights.
It took a further decade to begin to see major change in Britain and a debt is owed to campaign groups like Stonewall for influencing political change. The age of consent for gay men was reduced in 1994 from 21 to 18 and was eventually equalised in 2001.
In modern Britain, LGBTQ rights are now among the most liberal in the world and has one of the highest public supports for equality and liberty in the world.
As well as having an equal age of consent, the UK's LGBTQ laws also include:
The right for transgendered persons to change their legal gender without the need for surgery.
Freedom to serve openly in the military regardless of sexual orientation or gender identity.
Civil partnerships have been legal since 2005 and same sex marriage since 2014 (not in Northern Ireland).
Joint adoption rights are granted for same-sex couples and has been since 2005 (England and Wales), 2009 (Scotland) and 2013 (Northern Ireland).
The country has comprehensive anti-discrimination laws to provide protection on the grounds of sexual orientation and gender identity. However, Scotland still has some conflict on this legislation with religious groups and the freedom of expression act.
Overall, the UK is widely regarded as one of the most gay-friendly countries in the world and has a thriving social scene for members of the LGBTQ community.
There are annual Pride marches in over 30 UK towns and cities including the popular London, Manchester, Birmingham and Glasgow marches. Whilst there are still incidences of discrimination and hate-crimes, diversity of gender and sexuality are mostly welcomed by the British public.