Want to know which of Germany's FKK clubs are worth a visit?
Germany is famous for a lot of things; sausages, castles, beer and cars to name but a few but perhaps the most interesting is the culture of Freikoerperkultur. Also known as FKK, this German movement is all about celebrating naturism. Over the last 120 years, FKK clubs have evolved to offer more of an adult style of entertainment. This means that in a lot of these sauna clubs you can now pay for erotic service.
In this guide, we'll provide you with a full directory of the best FKK clubs in Germany – broken down state by state. Let's get started!
---
---
German FKK Clubs by State
Germany is one of the largest European countries and covers a massive area.
From Hamburg in the north, Berlin in the east, Munich in the south and Cologne in the west, there are hundreds of FKK clubs to choose from.
These include small, boutique and independently run sauna clubs to the mega FKK complexes covering several thousand square m.
We've handily listed out the best FKK clubs in Germany by state – and selected a couple in each area which we think deserve to be shortlisted.
See more: What to expect at a FKK Club.
Baden-Württemberg
Situated in the Southwest of Germany and having a border with France, Baden-Württemberg is the third largest state in the country.
Incorporating Stuttgart, Mannheim, Freiburg im Breisgau, Heidelberg, Heilbronn, and Karlsruhe the region is home to around 11 million Germans.
So where do the locals like to go to get their fix of FKK leisure time?
FKK Club Paradise Stuttgart
Dieselstr. 25, 70771 Leinfelden-Echterdingen
We kick off our list with one of the most infamous day spa brothels in Germany with the FKK Club Paradise.
Located in Stuttgart, the venue was opened in 2008 and remains a hugely popular bordello in the area with up to 150 women working the venue.
Considered a flagship of the FKK movement in the area, the building was once a former warehouse and now offers a huge complex of modern and luxurious spa facilities over its five floors.
Styled with opulent touches of Moorish design, there is an of exoticism about the place from the moment you step inside.
And once you are naked and in your robes, this feeling increases as everywhere you look you'll be tempted by the sins of the flesh.
Sort of like being inside a big harem, the Paradise Club has plenty of private areas including a large Bedouin tent, roof terrace with day beds and huge lounge bar. Private and VIP rooms are also available to hire if you want something a little more discreet.
Admission prices at the club are charged at €69 for the day with individual service providers giving full service from €50 for 30-minutes.
It's a high-quality sauna club and one which attracts a lot of tourists as it gives you an amazing introduction to the uniquely German culture of adult FKK.
If you visit only one FKK when you go to Germany then is definitely one for the shortlist.
Club Paradise is open as follows:
Sunday to Thursday: 11.00am to 3.00am
Friday & Saturday: 11.00am to 4.00am
See our full review of The Paradise.
Flamingo Island
Ferdinand-Porsche-Str. 6, 76275 Ettlingen bei Karlsruhe
10km south of Karlsruhe you'll find the small town of Ettlingen and in the commercial zone is Flamingo Island.
An elegant and upmarket FKK designed around luxury, Flamingo Island is more like a gentleman's club than a simple nudist club.
The interior is all black steel and leather upholstery with neon strips and moody lighting. It certainly makes for an erotically charged atmosphere and the addition of dozens of naked women stalking the bar, lounge and spa make it a perfectly sexy retreat.
The main lounge is a split level, double height atrium with open spa baths looking out on the seating below. And the saunas themselves are glass fronted and open out onto the central wellness area.
The food here is exquisite and this is no sad buffet but a gourmet meal prepared by excellent chefs.
Facility-wise, the club has everything you'd want including a fitness centre, solarium, steam rooms, indoor and outdoor pools, VIP rooms and spa.
You can also pick up a professional massage daily from 5.00pm (extra costs apply).
As for the women, there is a great choice here and the feedback from regular guests is extremely complimentary. Standards for satisfaction are high and there are very few negative reviews about the service you get at Flamingo Island.
Prices here start at €35 for a quick entry up to €49 for a full day admission.
The club is open as follows:
Monday to Thursday: Midday to 3.00am
Friday and Saturday: Midday to 4.00am
Sunday: Midday to 2.00am
FKK Club Pirates Park
Industriestr. 8a, 76646 Bruchsal
Themed FKKs are nothing new but many sauna clubs have ditched the idea in favour of a sleek and modern club.
Pirates Park makes no apologies for its stylings and weighs in heavily with its piratical and nautical themes.
A visit to this club is like setting foot on a high-seas adventure with the bar and lounge designed to look like a port tavern. Private rooms and the spa area are also cut from the same cloth and its all good fun to get you in the mood for a swashbuckling adventure or two.
In fact, the pirate theme lends itself pretty nicely to some sexy fun and the addition of naked women (or wenches) around the place seems perfectly natural; just imagine you're in Tortuga or some such Caribbean island.
The outdoor space is the only area which sort of lets it down really and although there is a nice pool and terrace, it doesn't feel as 'piratey' as you'd like.
The place is pretty popular with tourists though and it can get pretty busy on the weekends but there are generally enough women to go around.
Prices for entry are €45 which includes food and some drinks but you will need to have cash to buy extras.
Opening times at Pirates Park are as follows:
Monday to Thursday: Midday to 2.00am
Friday and Saturday: Midday to 4.00am
Sunday: Midday to Midnight
Best of the Rest
With its close proximity to the French border and being a popular tourist area, Baden-Württemberg has dozens of FKK sauna clubs.
The following are all located in this state and offer some other options to explore:
FKK Club Aphrodite, Spittelbronnerweg 36, 78056 Villingen-Schwenningen
FKK Sauna-Club Monte Carlo, Am Badweg 1, 76532 Baden-Baden
FKK Monaco, Gottlieb-Daimler-Straße 5, 78048 Villingen-Schwenningen
FKK First, Werderstr. 88, 74889 Sinsheim-Elsenz
FKK66, Eichendorffstraße 66, 78054 Villingen-Schwenningen
FKK Point, Industriestr. 22, 76646 Bruchsal
FKK Club Morgenland, Steinbeisstr. 22, 89079 Ulm
FKK Stuttgart, Marienstr. 38b, 70178 Stuttgart
FKK Club Lancelot, Industriestraße 4a Industriegebiet North, D-77656 Offenburg-Elgersweier
FKK Palast, Tullastraße 79, D-79108 Freiburg
FKK Safari Pforzheim, Wilhelm-Becker-Str. 9, 75179 Pforzheim
Experior Beach, In der Breite 4, 89555 Steinheim am Albuch
Venus Sauna Club, Flugplatzstraße 13, 88046 Friedrichshafen
FKK Safari Stuttgart, Schlaflandstr. 11/1, 70736 Stuttgart-Fellbach
FKK Club Panorama, Schwenninger Straße 14, 78052 Villingen-Schwenningen
FKK Sakura, Wolf-Hirth-Str. 38, 71034 Böblingen
FKK Deluxe, Rheinstr. 143, 76532 Baden Baden
Bavaria
Situated in the southeast of Germany and with borders to Czechia and Austria, Bavaria is home to more than 13 million citizens yet is one of the least densely populated states.
From major cities such as Munich and Nuremberg to smaller towns, you can find a few dozen clubs in the area with our pick of the best being detailed below.
FKK Colosseum
Gubener Straße 13, 86156 Augsburg
www.fkk-colosseum.com
This impressive sauna club is one of many German FKKs which are designed around Ancient Rome. Perhaps there's something more erotic about Italian nudism!?
Whatever the reason for the theme, this club does it well and you get a real sense of grandeur when you enter this playzone.
From the murals on the walls and ceiling in the spa and pool area to the columns, olive and palm trees in the lounge and bar.
And the naked girls here look very much at home in this faux Mediterranean environment and all seem eager to entertain their very own Spartacus.
It has everything here that you'd expect from an FKK club including hot water spa, sauna and steam room plus indoor pool and therapeutic masseurs on hand. There's also a refreshing plunge pool.
Covering 2500 sqm, it's a sizeable place that can be a little echoey during the early hours of the week but soon fills up with a mix of locals (most of whom are regulars) and tourists. On weekends, there are often large groups in but there are usually enough women to provide full satisfaction for all.
In fact, though the place is impressive, it is definitely the ladies here that will keep you coming back. Hailing from all nations across Europe and even from Africa, Asia and the Americas, there is an excellent choice here.
Admission prices are €65 but there are reduced entry costs on Mondays (€50) or €45 if you enter the club after midnight.
The FKK Colosseum is open daily from 2.00pm until 3.00am (1.00am on Sundays).
Club Libido
Donaustraße 105, 90451 Nürnberg
This premium FKK in the centre of Nürnberg covers 1200 sqm of luxurious and modern real estate.
More of a boutique style of sauna club than the themed venues like Pirates Park or the Colosseum, everything here is designed to be sleek and stylish.
It might not be the largest of clubs around but it is an exclusive feeling one and tends to attract more sophisticated types. Yes, the atmosphere here is electric and erotic but this isn't a wild and heady party zone.
All your basics are covered with a sauna, whirlpool spa bath, bar, lounge and buffet plus sex kino area. However, there aren't any outdoor spaces and this is very much an after-hours. Sort of an evening retreat rather than a day spa.
Entrance is just €40 and the club only opens Tuesday to Saturday from 6.00pm to 3.00am (4.00am on Friday and Saturday).
FKK Hawaii
Steinheilstr. 6, 85053 Ingolstadt
www.fkk-hawaii.de
Famous for being the setting of Mary Shelley's novel Frankenstein, Ingolstadt is a pretty Bavarian city which attracts a large number of international tourists.
As a result, this FKK is pretty popular as a retreat for visitors looking for an authentic taste of Germany's FKK culture.
As the name would suggest, FKK Hawaii is themed around the stylings of the pacific island after which it was named and you can expect plenty of surfboards, palm trees, lei and tropical decoration.
With 4000 sqm of space, it's the largest club in Bavaria and offers a great range of facilities to keep guests entertained including:
Sauna
Indoor and outdoor jacuzzi
Erotic cinema
Sunbeds
Relaxation room
Solarium
Plus a large lounge and bar in which live sports are screened including Formula One, Bundesliga, Champions League and other major tournaments.
Professional masseurs are on hand for wellness treatments but the independent service providers are what its all about at Hawaii.
There's always a huge selection of naked women to watch, admire and choose from when you're ready for some hospitality.
Day prices are €75 but there are discounts available. If you come on Mondays or after 11pm then the rate drops to €50 (€55 on Friday and Saturday nights).
Opening hours here at FKK Hawaii are as follows:
Monday to Thursday: Midday to 2.00am
Friday: Midday to 4.00am
Saturday: 2.00pm to 4.00am
Sunday: 2.00pm to 2.00am
Other Bavaria FKK Clubs
Popular with tourists, Bavaria has a unique culture that is largely derived from its conservative and Catholic roots.
Despite this, FKK clubs thrive here, perhaps due in part to the reputation that Bavaria has of being a wealthy state.
For some options in this German state, you could also try these venues:
Berlin
The state of Berlin incorporates Germany's capital city and is one of the most populous parts of the country.
A popular tourist destination and host to plenty of international visitors, the FKK scene in Berlin is pretty small by comparison to other areas.
In fact, there are just a handful of sauna clubs in the city with the best of these being:
FKK Artemis
Halenseestr. 32-36, 10711 Berlin
www.fkk-artemis.de
Another infamous brothel/FKK club is the Artemis in Berlin.
Looming up out of the surrounding industrial area like a place of worship, this white Art Deco building is dedicated more to the sins and pleasures of the flesh.
Yet another German sauna club that prefers to offer up a themed experience than focus on a contemporary and stylish spa, the Artemis is an extravagant club. Lavish and, some might say, a little 'vulgar' in the same way that Las Vegas is.
A garish tribute to the Ancient Greeks and Romans, the walls are adorned with murals and decals which should evoke a classical age but actually jars with the modernity of the facilities.
Yet every room here is different and the private nooks are all designed around different themes; some are reminiscent of Arabian tents whilst others are more like space age tents. Oh, and then there's the sumptuous VIP suites with the typical reds and golds you'd expect to find in any brothel.
This is a massive club covering more than 4000 sqm and is one of the largest in Germany with a huge number of women. All offering personal services from €60 for half an hour, the choice of ladies is diverse and plentiful. In fact, there are usually around 80-120 women around at any given time.
Obviously as one of the iconic FKK clubs in the region the facilities here are abundant and there are several saunas, spas and pools as well as the usual buffet, bar and lounge.
It's definitely worth paying a visit but the admission charges here are pretty pricey at €90.
FKK Artemis is open daily from 11.00am to 5.00am.
Read our full FKK Artemis review.
Brandenburg
Situated in the northeast of the country, the FKK scene in Brandenburg is pretty weak and, unfortunately there are no clubs here of note.
This, despite the fact that (together with Berlin) this state makes up the 3rd largest metropolitan area in Germany.
There are some historical reasons why this might be the case and could relate to the post-war partition of the country. The northeast area of Germany was soviet territory and although FKK was universally practiced here, it did not evolve in the same way that it did in the rest of Europe.
FKK in this part of Germany remained a family-friendly nudist lifestyle that culturally seems to have remained unchanged even after reunification.
Bremen
Situated in the north of Germany, Bremen is the smallest of the country's 16 states and has a population of just 700,000 people.
Mainly located in the city of Bremen itself, this small state is surrounded by the much larger region of Lower Saxony.
As a result, there's just one sauna club of any note in this region which is the City Sauna. Unfortunately this isn't an FKK but a swinger's club. You can find it on Humboldtstraße 144, 28203 Bremen but don't expect there to be any commercial ladies for hire here.
Single men are welcome and you can definitely get some action here as well as enjoy some spa facilities but, be warned, this isn't a plush and modern club.
Hamburg
Situated in the north of Germany with the major port city of Hamburg at its core, this state is a densely populated area.
With around 2.5 million people living in the urban surrounds, there are just a couple of FKK clubs of note here as many people prefer to head out of the city to Lower Saxony for a more rural experience.
Atmos Sauna Club
Grossmoorring 1, 21079 Hamburg-Harburg

The Atmos Club is a great club and a pretty sizable one covering 2500 sqm. Inside this extends to an indoor pool, erotic cinema, massage rooms, spa and lounge areas with fireplaces.
There's also a pool and hot tub outside with a decent sun terrace.
It's a modern enough club with some basic facilities and a decent selection of women on the go but it's the parties here which make it a good place to go.
Offering live sex shows and a changing rota of themed events, its well worth checking out their website to find out what's on before you go.
You can expect a selection of events including living sushi buffets, cocktail nights, Harley Davidson rallys and Asian themed evenings.
Oh, and just be aware that they offer a discount to pensioners on Monday and Tuesdays so unless you WANT to see some old sausage then maybe avoid the start of the week!
Admission charges here are €65 for the day and include the usual package of free food and drink.
This FKK is open daily from 1.00pm to 4.00am.
FKK Club Babylon
Süderstr. 236-238, 20537 Hamburg
www.fkk-babylon.com
Babylon is a great club which is designed to evoke the feeling of being on a beach yet is situated right in the heart of Hamburg city.
A relaxing sauna club, there are sandy terraces, loungers and cabanas along with therapeutic massages, wet and dry saunas plus an ice-cold plunge pool.
Entry here is €65 and the prices for service are actually quite high in comparison to other FKKs but not too bad for the city. Expect to be paying €50-€80 for a single one-shot session although this can vary and rates are negotiable.
Overall, the appeal of Babylon is very much down to the fact of its location in Downtown Hamburg and the cool beach vibe which really sets a tone for a sexy holiday mood.
It also seems to attract a lot of very beautiful women to work there and although more expensive than some other clubs in the area, you are definitely getting quality for your money.
Babylon is open daily from 11.00am and stays open until 2.00am (4.00am on Friday and Saturdays).
FKK Romeo
Brookkehre 3, 21029 Hamburg – Bergedorf
www.fkk-hh.de
The, self-proclaimed, 'leading naturist club in Hamburg', FKK Romeo is a relaxing and comfortable spa in the city.
Covering three floors with a rooftop terrace, admission here is just €30 which makes this a very decent FKK destination on a budget.
There aren't that many spa facilities here (just a sauna really) but there's a popular sex kino, massage tables, mirrored playroom and private boudoirs for one-on-one sessions.
Romero is open daily from 1.00pm and closes between 1.00am and 2.00am (11.00pm on Sundays).
Hesse
One of the central states of Germany and incorporating a population of over six million people, Hesse (or, Hessen) includes cities such as Frankfurt, Weisbaden and Kassel.
The FKK scene in this part of Germany is thriving and owes much to the fact that the region is a big tourist destination both for domestic as well as international visitors.
You can find some of the best sauna clubs that Germany has to offer in Hesse and we've selected a couple of our favorites.
FKK World
Grüninger Weg, 35415 Pohlheim-Garbenteich
www.fkk-world.de
Covering an impressive 5000 sqm of space (inside and outside) FKK World is one the largest sauna clubs in Germany.
And it isn't just the size here which is impressive but the quality that this FKK club offers its guests.
The facilities here cover an impressive range of spa and wellness options including the usual range of saunas, pools, steam rooms as well as relaxation rooms, massage treatments and lounge bars.
But it's the outside space here which is the most exciting and in the summer there are plenty of Germans who head out to Pohlheim-Garbenteich simply to stay here at FKK World.
With cabanas, treehouse love nests and open fronted lodge houses guests can take part in swimming, volleyball, badminton and table tennis or just take a dip in the large pool.
This really is an FKK destination you want to spend a whole day enjoying your experience in and most visitors make full use of their all-day ticket.
As for the ladies here, this is yet another of the draws for FKK World and there are close to a hundred woman who make this club home for the day as they service happy customer after happy customer. Definitely one for the shortlist!
Open daily from 11.00am to 4.00am the entry charge here is €70 but is well worth every cent.
See our full FKK World review.
FKK Oase
Ober-Erlenbacher-Str.109, 61381 Friedrichsdorf Burgholzhausen
www.fkk-oase.de
This oasis of a sauna club is another of Germany's flagship FKK venues.
Offering guests an impressive range of facilities designed to look like an Ancient Roman spa, OASE is a modern and luxurious complex.
A short drive out of Frankfurt, the club is popular with the city locals as well as attracting a lot of international guests. And these visitors come as much to enjoy the expansive grounds and facilities as they do to sample the delights of the club's massive selection of sexy service providers.
The area itself is pretty rural and the outside space is really busy in the summer with guests taking full advantage of the garden, cabanas, loungers, sun terrace and swimming pool.
Inside, you get the usual array of spa facilities including steam rooms, sauna, plunge pools and hot tubs plus there's always a bevy of professional masseurs on sight to give you a therapeutic body rub.
But it's the ladies themselves who keep people entertained here and there can be as many as 100 of them at available during peak hours. And they do not disappoint!
€50 will buy you half an hour of private time and they can get up to some pretty dirty stuff in just thirty minutes.
This is club where you can spend all day; relax in the afternoon and maybe enjoy a couple of ladies before dinner and then recover in the spa before building up to the party zone in the evening.
An all day ticket will cost you €70 so make sure you make the most of your time here and really get your money's worth.
OASE is open daily from 10.00am and doesn't close until 4 or 5 in the morning.
See more: our full FKK Oase review.
FKK Club Darling
Siemensstr. 36, 61130 Nidderau-Heldenbergen
www.fkk-club-darling.de

With admission rates being just €30 for a full day pass, FKK Club Darling is a great option in this region for those of us on a tighter budget.
A smaller club than World and OASE, it has a more intimate feel and might also suit guests who are new to the FKK scene and may feel otherwise intimated by large numbers of other naked people.
It still covers a pretty sizeable 1500 sqm and is modern, clean and well kitted out with the basics (saunas, steam rooms, pools etc).
There are also less women than at some of the other clubs but what they lack in numbers they more than make up for in talent.
Usually offering a good mix of European nationalities along with the odd international model Club Darling has a really solid reputation for excellent service.
It is a quieter and more relaxed club that may not have quite the wild party vibe that some guests are looking for but is a decent alternative to check out if you prefer something a little more 'sedate' and grown up.
The club is open as follows:
Monday to Thursday: Midday to 2.00am
Friday and Saturday: 2.00pm to 5.00am
Sunday: 1.00pm to 2.00am
Other Hesse FKK Clubs
There's at least two dozen more sauna clubs to check out in Hesse, some in the city of Frankfurt itself with our pick of the remainder being:
Lower Saxony
The second largest state by area, Lower Saxony covers a vast region in the northwest of the country. It borders the Netherlands and the North Sea and incorporates several major cities including Hanover, Brunswick and Wolfsburg.
There are a few dozen sauna clubs in the region with most of these being situated on the rural outskirts of major cities and towns including Göttingen, Salzgitter and Northeim.
Sauna Club Harmony
Ramelsloher Allee 120, 21220 Seevetal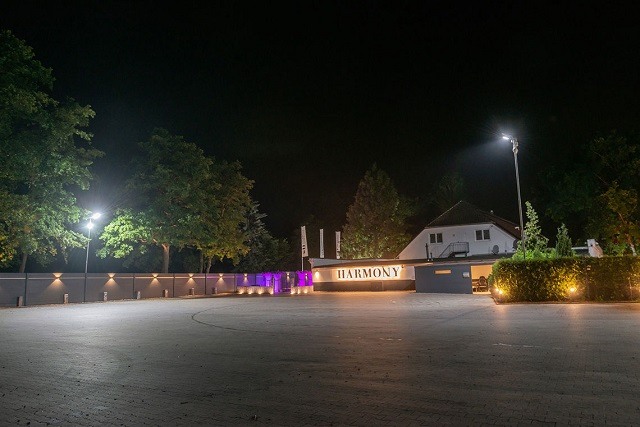 One of the top FKK clubs in Lower Saxony and covering an impressive 3000 sqm (indoors) and 2000 sqm (outdoors), Harmony is a modern sauna club.
The focus here is on offering the BEST spa facilities so you can find the latest bio sauna and steam bath plus Finnish sauna.
The whole place is set in a peaceful riverside setting in a pretty rural and private location. With huge glass conservatory lounge and dining areas, the scenery is pretty enough but it is definitely the ladies that will catch your eyes.
The club has several dozen women available to service the guests and they seem to attract a really sexy bunch. Often aged between 18 and 30, they are mostly Europeans but you can get the occasional international woman joining the ranks.
Harmony has plenty of play spaces to enjoy their company in but the porn cinema is always a popular spot for some hand and mouth action…and sometimes a lot more than that.
Admission here is €60 for the day and includes the usual buffet meals, drinks and use of facilities. But if you want a professional massage then this will cost extra.
Harmony is open daily from 11.00am until 1.00am (2.00am on Friday and Saturday).
Other Lower Saxony FKK Clubs
Be warned that there are a couple of family-friendly FKK clubs in the Lower Saxony region which are pure naturist camps. Yes, you can go skinny dipping here and enjoy some leisure time and activities in the nude but they are NOT adult only venues.
If you want to get an over-18s experience in this region then these other FKK clubs are worth visiting:
Club Palma, Ebkeriege 145, 26389 Wilhelmshaven
Le Passion,Gropiusstr. 10, 31137 Hildesheim
LaVita, Hullerweg 10, 49134 Wallenhorst
FKK Villa, Am Tönniesberg 1, 30453 Hannover
Casanova XL, Hallerstraße 35, 30161 Hannover
Saunaclub M2, Alfhausener Str. 21, 49565 Bramsche
Déjà vu, Osnabrücker Str. 211, 49324 Melle
Total Club, Am Wulfter Turm 1a, 49082 Osnabrück
Mecklenburg-Vorpommern
One of the smaller states of Germany, there is just one FKK club of note in Mecklenburg-Vorpommern.
An area to the far northeast of the country, the main town here is Rostock and this sauna club is within 30 minutes' drive of the state capital.
Saunaclub Relax
Hechtskuhl 9, 23992 Neukloster
With so little choice in this part of the country, you'll forgive us for saying but this really isn't the best FKK club in Germany. However, it is the only option you have unless you're prepared to travel.
Basic and dated, the facilities here are just functional enough to make your stay here pleasant but certainly aren't the reason why you would bother making the trip.
Admission is €50 which is steep for what you get but the one saving grace is that there are usually a lot of women available.
Open daily from midday until 3.00am this is more like visiting a friend's than paying for a professional service. But, if you like informal and homely then this could be right up your street.
North Rhine Westphalia
Situated on the western border of Germany with the Netherlands and Belgium, the state of North Rhine Westphalia is the most populous region in the country.
It incorporates major cites like Düsseldorf, Cologne, Dortmund and Essen and attracts millions of tourists from Germany itself as well as plenty of international visitors.
As a result, the FKK scene is the busiest in Germany and there are almost a hundred sauna clubs around the region.
We've selected just a few of the best which are well worth paying a visit.
Dolce Vita
Briedestraße 44, 40599 Düsseldorf
"The No.1 erotic adventure paradise for discerning gentlemen."
So says the marketing for Dolce Vita and there's plenty of evidence that this could be true.
More of an evening retreat than a day-spa, Dolce Vita is a perfect city sauna for gents about town.
As well as expansive indoor facilities which include bar, lounge and spa area there is a great outside terrace which has a great atmosphere after dark. In fact, in good weather this is where a lot of the action happens around the pool and hot tub.
For those who like to splash the cash, the club offers a limousine pick-up service from anywhere in the city as well as providing VIP service in the club itself.
Private rooms are available and these are pretty sumptuous and range from open air love nests to luxury suites.
But it's the girls here which are the main draw and Dolce Vita attracts some very sexy women, typically aged in their early to mid-twenties. They are definitely top quality and, by all reviews, offer a great service.
Prices vary but you should be able to pick up half an hour's worth of action for around €50.
Admission prices are:
€25 – 4pm to 7pm
€55 – after 7pm
€65 – 4pm to 5am
The club is open daily from 4pm until 5am.
Freudenhaus
Höltenweg 75, 48155 Münster
Freudenhaus has two FKK clubs in Germany, this one in Munster which opened in 2017 and another over in Dortmund.
Both are more like brothels but with spa facilities and they do follow the FKK format with guests being asked to pay an admission price (€30).
This includes the use of the jacuzzi, sauna and hot tub as well as lounge, bar and restaurant.
The club itself is pretty basic but modern, clean and stylish and is more like a budget hotel than a luxury FKK. However, there are always around 20 girls on site and they don't charge the Earth for some simple fun. In fact you can get some quick oral or manual action here for as little as €20!
Fully air-conditioned with a sex cinema, Sky sports bar and outdoor area with a whirlpool bath, this is a great club to visit on a budget. It's also a perfect way to get your first introduction to the FKK scene.
Open daily from 11am the club closes at 1.00am (3.00am on Friday and Saturdays).
Club Mondial
Hugo-Junkers-Str. 10, 50739 Köln
www.club-mondial.de
Cologne is a really popular place for plenty of leisure tourism but also for business travellers and the FKK scene here has a real international flair.
With so many to choose from, there is a lot of competition among the clubs but Mondial just about edges ahead as the one to choose in this great city.
The main reason for this is the diverse number and volume of women who visit the club. Whilst this does vary, it's estimated that between 50 and 100 ladies hit Mondial every day – which is a lot of pussy to choose from!
And for just €30 you can get yourself a day ticket and wait for these women to come to you.
Whilst you wait, you can relax in the spa, enjoy some free food and drink in the lounge bar and buffet or pay extra for some professional massage. There's also a lot of slot machines and electronic games to enjoy in the bar.
It's not the largest club in the world and has no outside space so this isn't an FKK which you can spend all day at but, for a city sauna club, it has a good reputation for excellent service.
Opening hours at Club Mondial are as follows:
Monday to Thursday: 11.00am to 3.00am
Friday and Saturday: 11.00am to 5.00am
Sunday: 3.00pm to 3.00am
Other North Rhine Westphalia FKK Clubs
There are dozens of great sauna clubs right across North Rhine Westphalia and pretty much every major is serviced by at least three or four good choices. Put it this way, you need not travel more than 30-45 minutes away from anywhere in this region to hit up a great FKK.
These are some of the more reputable ones where you can get a decent relaxing yet erotic experience:
Saunaclub Antalya, Am Rohrbusch 49, 48161 Münster
Freude39, Freudenbergstr. 39, 44809 Bochum
FKK Salome, Riemker Str. 110, 44625 Herne
Golden Gate, An der Hansalinie 18, 48163 Münster
Club Penelope, Westring 233 A, 44579 Castrop-Rauxel
Bernds Saunaclub/FKK Schieferhof, Schieferhof 28, 53773 Hennef
Acapulco Gold, Robert-Zapp-Str. 2a, 40880 Ratingen
Parksauna Residenz, Schlehecker Str. 45, 53797 Lohmar-Durbusch
Villa Romantika, Blitzkuhlenstrasse 109, 45659 Recklinghausen
SKY Saunaclub, Deutscher Ring 40, 42327 Wuppertal
Club Schlaraffenland, Wilhelmstal 1, 57482 Wenden
Süder Sauna Club, Im Reitwinkel 1A, 45661 Recklinghausen
Samya, Kirschbaumweg 26a, 50996 Köln
FKK Villa Erotika, Dröscheder Berg 4, 58638 Iserlohn
Mc Sex, Kamener Straße. 8, 59067 Hamm
M-Exclusiv,Weseler Str. 104, 48249 Dülmen-Buldern
Happy Garden Saunaclub, Butzenstraße 41, 47918 Tönisvorst
FKK Club Arabella, Lohrheidestr. 63, 44866 Bochum-Wattenscheid
Saunaclub Magnum, Heinrich-Hertz-Str. 24a, 40699 Erkrath
Babylon, Oststrasse 12, 50189 Elsdorf
FKK Club Heavensgate, Swebenring 36, 46286 Dorsten Wufen, Gewerbegebiet Dimker Heide
Villa Clasico, Dachsstr. 12, 53881 Euskirchen
Livingroom Saunaclub, August-Thyssen-Str. 4, 41564 Kaarst
Luder Lounge, Unterste-Wilms-Strasse 9, 44143 Dortmund
FKK Venus, Güterstraße 27, 46499 Hamminkeln
Römer Bad Köln, Mathias-Brüggen-Straße 10, 50827 Köln
FKK Verena, Kressenweg 6, 44379 Dortmund
Saphir, Niehler Str. 66, 50733 Köln
Goldentime, Heidweg 1, 41379 Brüggen
Saunaclub Harem, Zum Strothebach 1, 33175 Bad Lippspringe
FKK Saunaclub Vangoch, Benzstraße 26, 47574 Goch
Villa Venus, Konrad-Adenauer-Ring 17, 47167 Duisburg-Neumühl
Villa Vanilla, Bahnstr. 90, 47929 Grefrath
Saunaclub Diamond, Eurotec-Ring 51, 47445 Moers
FKK Oceans, Oberhausener Str. 17, 40472 Düsseldorf
FKK Luderland, Porschestraße 9, 51381 Leverkusen
FKK Finest, Gutenbergstraße 3, 53359 Rheinbach
Sauna Club Ka-Li, Moerser Str. 523A, 47475 Kamp-Lintfort
Rhineland-Palatinate
This southwestern German state is bordered by France, Belgium and Luxembourg and is home to more than 4 million people.
As well as its capital city of Mainz, the area includes Koblenz, Trier and Worms. It's a pretty rural area and is one of the country's largest wine regions with plenty of riverside towns and lush valleys.
There aren't that many FKK venues around the region as each town has a pretty small urban population. There are a couple of popular choices but it seems that more people in this area tend to travel to the nearby state of Hesse (and Frankfurt) where the choice is much better.
However, we've found a handful of sauna clubs that are worth a second look if you are staying in this part of Germany.
FKK Feigenblatt
Römerstr. 2a, 67547 Worms
www.fkk-feigenblatt.de
One of the oldest cities in Northern Europe, Worms is a small place and this FKK is situated right in the heart of the town.
In fact, the site itself has been home to a bordello of some form or another since the 1930s.
Covering just 900 sqm, it's not a big place but admission here is free and they have everything you want. A sauna, jacuzzi, bar and lounge with an assortment of hot ladies waiting to give you satisfaction.
We're not going to over exaggerate here and try to pretend that the facilities and choice of women even competes with those on offer across the border in Hesse but most guests are very pleasantly surprised by the service they get.
It might not be modern but it is comfortable, friendly and clean plus the locals really seem to like it.
The club is open daily from 10.00am until midnight.
Finca Erotica
Poststr. 20, 56269 Dierdorf
www.finca-erotica.com
A small rural town in the Westerwald, Dierdorf doesn't have much to attract the tourists but Finca Erotica does its fair share to entertain those that do venture into his part of Germany.
It's a tranquil sauna club with more than 2000 sqm of outdoor space and 1000 sqm of relaxing indoor facilities.
As with so many of the FKKs in Germany which aren't located close to the major cities, this one isn't ultra-modern or particularly memorable. But it is a perfectly clean, welcoming and relaxing place to spend a day.
The women here are also pretty decent lookers and there's usually a good choice of about 30 companions to opt for with many more than happy to negotiate for extra time.
As long as you aren't expecting a thumping party zone then Finca Erotica will suit most people's tastes for a discreet FKK experience. It is worth pointing out that the majority of customers here are all regulars and from the local area and there aren't that many tourists who hit the place up.
Entrance to the club costs €55 which includes full use of the facilities, food and soft drinks plus daily newspaper.
Professional massages are also on hand at a price of €30 for 30 minutes.
Finca Erotica is open daily from 9.00am until midnight.
FKK Hautnah
Heinkelstr. 3, 67346 Speyer
www.fkk-hautnah.de
Another small but ancient city in the region, Speyer is home to only 50,000 people.
FKK Hautnah is located in an industrial part of the town close to the River Rhine and easily accessible from the A39.
This is a bijou sauna club that is far more like stepping into someone's house than an FKK centre. There's a small garden that has a 6-person jacuzzi, a few cabana-style tents, hammocks and pop-up gazebos. Welcoming and comfortable though they are, you can never quite shake the feeling that you're at a friend's house rather than a customer.
The indoors is a little more modern and professional with a small bar, lounge and entertainment area with a wellness centre which has some spa facilities.
Entrance here is free but you do have to pay for the drink, food and girls.
It's very clean and the staff and locals are always very hospitable to newcomers but what we like about this club is that the choice of ladies here changes very frequently. A return visit would always mean a fresh selection of women and perhaps this is why the locals are keen to keep coming back so regularly.
FKK Hautnah is open daily from 10.00pm until midnight.
Saarland
The smallest of German states, Saarland in the far west of the country borders both Luxembourg and France and benefits from quite a lot of cross-border tourism between the two countries.
There are a couple of great FKK clubs in the area including these we've hand picked that are well worth dropping in on.
FKK Paradise
Matzenberg 141, 66115 Saarbrücken
Owned by the same management team behind The Paradise in Stuttgart, this premium FKK is very much cut from the same cloth.
Visitors here will be treated to an explosion of Middle-Eastern décor and Moorish stylings which evoke an Arabian adventure.
And this isn't a club that is all fur coat and no knickers!
In fact, the stylings here complement the excellent facilities which include:
Well-stocked bar and stylish restaurant (not just your usual buffet)
Well-stocked humidor
VIP suites, some with whirlpool
Sex kino cinema
Table dances
Sumptuous relaxation areas
SkyLounge
Spacious outdoor area
Wellness area with sauna, steam bath and extensive range of professional massages
And, unusually for an FKK, the Paradise is also fitted with an SM Studio.
As for the girls, this is where the club really comes into its own and customers here report extremely high levels of satisfaction!
Yes, this is a pricey sauna club but one which is well worth shelling out for if you are planning on a spending a day at a luxury spa retreat. Admission costs €70 but you can pick up a two-hour entry ticket for a reduced price.
The Paradise Saarbrücken is open daily from 11.00am to 11.00pm.
FKK Prestige
Betzenhölle 20, 66538 Neunkirchen
One of the largest clubs in the southeast of Germany, FKK Prestige is a pretty ordinary sauna club with some average facilities. There's nothing particularly memorable about the place but it is a highly regarded, clean and very serviceable spa.
So why is it on the list?
Well, the Saarland doesn't have a huge choice of FKKs and those you can select from are pretty small and the choice of girls can be quite limited.
Yet here at Prestige there is a good selection of women available and there are usually some international options to choose from.
Indoors is where the action is at and there's a really nice bistro lounge and bar as well as spacious wellness area. Here you can find the usual sauna, whirlpool baths and massage tables for a professional Thai body rub. There's even a Finnish sauna, caldarium and Roman steam bath as well as an ice fountain.
Plus, there are a load of private rooms to use for your personal sessions. Some are themed and the mirrored room and Oriental love room are particularly popular.
By far the busiest part of the club is the erotic cinema where voyeurs can get their kicks as other guests indulge themselves in some oral and manual action or sometimes more.
Outside there's a small terrace and beer garden which you'll be lucky to catch any sun in but does mean you can get some air. It is small, though I think the management describe it as 'cosy'.
Entry to this club is €60.
FKK Prestige is open Monday to Saturday from 11.00am to 11.00pm and on Sundays from 1.00pm to 11.00pm.
Saxony
Bordering both Poland and Czechia, Saxony on the eastern edge of Germany has over four million inhabitants.
Similar to other eastern states like Brandeburg and Berlin, the FKK scene in this part of the country is much more family-friendly.
As a result, there are just a couple of sauna clubs aimed at adults only with our choice of these being accessible from Leipzig and Dresden.
FKK Saunaclub Leipzig
Torgauer Str. 246, 04347 Leipzig
Located right on the northeast edge Leipzig and in a commercial area, this ultra modern FKK is spacious and plush.
More like a gentleman's club than a simple sauna, there are elegant spaces to relax including a bar/lounge and restaurant as well as a sex cinema, spa and wellness area plus an inviting outdoor playground.
Spread over three floors and finished to a high standard, the club has dozens of discreet rooms and hideaways to enjoy private sessions with your choice of lady.
It's a really popular club for locals right across Saxony and attracts a lot of tourists who visit the area. As a result, it can get quite busy, particularly on the weekends and late into the evenings.
Admission is €60 but the cost of personal services (including massage) is charged on top.
The FKK Leipzig covers a total internal floor space of 2,000 sqm and has a plentiful supply of sexy ladies waiting to entertain visitors.
Opening times are as follows:
Sunday to Thursday: 11.00am to 3.00am
Friday and Saturday: 11.00am to 5.00am
Saunawelt Römer
Kolbestr. 2-4, 01445 Radebeul
www.saunawelt-roemer.de
Located about twenty minutes outside of Dresden the sauna club Römer is a small FKK themed around an Ancient Roman spa.
Covering 1,500 sqm, the club welcomes men, women and couples and has a reputation for sexy swinging.
In addition to the Mediterranean vibe, the wellness area is themed around the Caribbean. It's an odd clash of styles but kind of works in a retro way.
It's not a modern club but does give you everything you need including a solarium, indoor swimming pool, spa baths, saunas and (of course) numerous themed and private rooms.
There is an outside terrace but this area is quite small.
Entry to the club is just €20 and though cheap, it does reflect the basic standard of facilities and very limited choice in ladies available within the club.
However, Römer remains pretty popular with locals and its proximity to Dresden makes it an appealing venue for a quick, cheap and easy adventure.
The Römer FKK is open as follows:
Monday to Friday: 2.00pm to 3.00am
Saturday: 6.00pm to 3.00am
Sunday: Closed
Saxony Anhalt
Bordered by the states of Brandenburg, Saxony, Thuringia and Lower Saxony, Saxony Anhalt's largest city is Halle.
Unfortunately, there are no FKK clubs in this region.
Schleswig-Holstein
The northernmost state of Germany is situated just above Hamburg and there are no FKK clubs of any note in this region. Most people who travel to this area will make a trip South to the Hamburg region where there are some excellent sauna clubs.
Thuringia
And finally, we have the state of Thuringia.
Though it's home to over 2.1 million people, this small central region is pretty unexceptional and not generally on many tourist's must-see lists.
The main cities here are Erfurt, Jena, Gera and Weimar and the FKK scene is pretty slow.
We've picked just a couple that are worth seeking out if you are heading to the area.
FKK Paradies
Am Stollberg 49, 99085 Erfurt
www.fkk-paradies.eu
A modern and fairly new club, FKK Paradies is based in the city of Erfurt and is one of the larger and more popular sauna clubs in the area.
Including all the main facilities you'll need, guests can use:
Sauna
Solarium
XXX Cinema
Professional Massage
Outdoor Swimming Pool
Spa
Restaurant
Bar
Unusually, there is also a gym on site and the fitness centre is pretty popular for a nudist venue!
This isn't a wild 'party' zone and the focus here is very much on sophistication and wellness with a gentleman's club kind of vibe. However, they do run larger events which can get pretty 'vibrant'.
There's a decent enough selection of women available for customers to choose from but at times there can be far too few to go around.
Though it has a great reputation with regulars, for us, the club is summed up by a visitor who said it did not compare to other FKK clubs but was great 'for Erfurt'.
The club charges €60 for an all-day pass but you can also opt for just a day or evening ticket for a price of €30. Draft beer, soft drinks and food are all included in the admission charges.
The club is open six days a week as follows:
Monday – Thursday: 11.00am to 2.00am
Friday & Saturday: 11.00am to 4.00am
FKK Traumland
Steinstr. 6, 99885 Ohrdruf
A more homely and traditional sauna club in Ohrdruf, the FKK Traumland (or 'Dreamland') is mainly known for its swinging activities.
For anyone who is seasoned at touring Europe for lifestyle clubs then this will be a familiar style of FKK.
More of a boutique sauna club, it certainly doesn't compete with the FKK Worlds of this list in terms of size, range of facilities or choice of girls.
However, this is a clean and friendly little place that has just enough of everything you need to make it a satisfying visit.
There's a great modern spa area, porn cinema, outdoor pool and plenty of lounge and private spaces to enjoy personal time in.
Though quiet during the day and week, it can get quite busy over the weekends and evenings and is pretty popular with locals.
A day ticket is just €50 or you can hit the club late for a two-hour pass for just €30.
FKK Traumland is open as follows:
Mon & Tuesday: 11.00am to Midnight
Wednesday to Saturday: 11.00am to 2.00am
Sunday: Midday to Midnight
Featured image via FKK Colosseum.