Want to know about sex in Barcelona?
Barcelona is a big city and attracts around 8.5 million visitors each year, many of whom are sex tourists looking to sample the treats of Spain's liberal prostitution laws. As well as brothels, street prostitutes and sex clubs, Barcelona is well served by a huge community of escorts. From those that specialise in domination to agencies that solely supply porn stars or Russian models, the choice is huge.
In this guide, we give you an overview of the sex industry in Barcelona.
---
---
Prostitution Laws in Barcelona
Prostitution in Spain is entirely legal and has been since 1995 when elements of the Penal Code were repealed after the transition to democracy following many decades of conservative rule under Francisco Franco. The law, strictly speaking, doesn't legalise prostitution but neither is it explicitly banned though pimping is outlawed in the Criminal Code of Spain.
Currently, Spain enjoys the second largest global economic income from the prostitution trade with only China creating more revenue from sex work.
Barcelona (along with Madrid) is one of the main players in the prostitution markets and the city has plenty of brothels, escort agencies and sex workers. To avoid falling foul of the law on pimping, brothels operate under a similar system to much of the rest of Europe and charge rooms out by the hour to paying guests. Guests are often visiting for more innocent principle activities such as a massage or private strip tease and paying for sex is more common at these establishments than in traditional 'brothels'.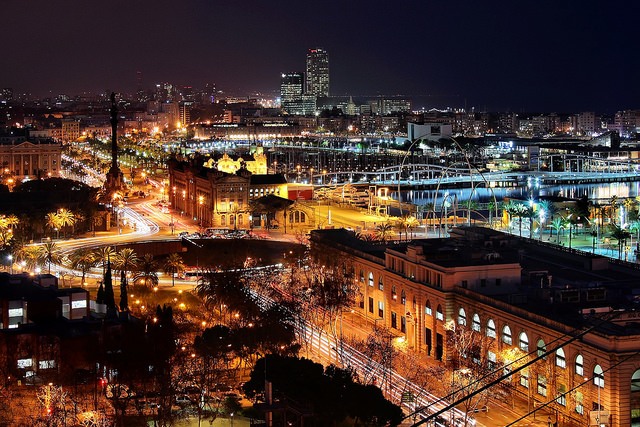 Barcelona Escorts Guide
Though customers can find sex on the streets of Barcelona for as little as €25, an escort (either incall or outcall) will cost more like €100-€300 depending on the type of agency, type of lady, and extras required.
The city is served legally by a whole range of independent escorts that represent most European nations as well as many international ones. There are also plenty of agencies operating in Barcelona who can provide escorts for one-off occasions or for longer durations and as travelling companions.
Some of the agencies are also brothels so an incall might not always guarantee you the lady of your choice so do check in advance.
Sex in Barcelona
Brothels
Barcelona has a huge choice of brothels including those that are run as bars, nightclubs and strip venues. From those that are open 24/7 and offering a range of themed rooms to simple parlour style venues that have just one or two girls working, brothels in Barcelona are a way of life and it is estimated that one in five locals have paid for sex in this way.
As mentioned, however, these brothels exist in somewhat of a legal vacuum — neither fully legal or illegal.
Swinging Clubs
Swinging is a big business in Spain and Barcelona has quite a lot of places where couples can meet up to swap partners and swing with singles. Though many of these are set up for the sex tourism trade and are open to the general public, some are members only clubs.
We've put together our favorites with some extras thrown in for good measure:
Oops Barcelona
Carrer d'Anglí, 69, 08017 Barcelona
Oops has several play rooms and is an elegant and modern club with excellent facilities.
Access to the club is for couples and single women only but trios are allowed. However, it is couples only on Saturdays. Oops is members only and you will need to apply via the website to get approved before attending their events.
Oops is open Friday and Saturday nights from 11.00pm until late. They are also open for special events such as New Years Eve; details can be found on the website.
Uhomo
Carrer de Puig i Xoriguer, 10, 08004 Barcelona
Open to the general public, Uhomo is a new club in Barcelona and is already proving a popular venue, styled in a modern manner with electric blue lighting throughout.
Open to couples and single females with single men being allowed on Thursday and Fridays, entry charges to Uhomo are as follows:
Couples – €20
Single men – €40 plus one drink
Single women – Free plus one drink
Uhomo is open as follows:
Thursday: 11.00pm to 4.00am
Friday & Saturday: 11.00pm to 6.00am
Sunday: 7.00pm to 3.00am
Best of the Rest
And here are some other swinging clubs that are worth checking out:
Erotic Massage Parlours
If you want an erotic massage in your own hotel room then all of the escort agencies can arrange this but there are more specialist venues in the city where you can go for an incall.
These parlours specialise in adult body rubs including Thai, tantra, nuru and fully naked body slides.
Strip Clubs & Sex Shows
A lot of Barcelona's strip clubs are also brothels so you can often find a crossover of punters who are coming and going vs those who are visiting simply for the shows. We've provided a list of the best strip clubs in the city as well as chosen two of our favourites:
Dollhouse
Av. de Sarrià, 44, 08029 Barcelona
A more traditional nightclub, Dollhouse provides table, pole and lap dancing for the general public. However, you can also book their VIP rooms for private parties or for body sushi.
A large venue spread over 1000 sq. m, Dollhouse has 50 performers who put on 50 shows a night. It is the biggest strip club in Barcelona and regularly receives five-star reviews.
Dollhouse is open Sunday to Saturday from 10.00pm until 4.30am (6.00am on Friday and Saturday).
Bagdad
Bagdad is more than just a strip club but is more like the erotic theatres of Amsterdam and Paris. Performances are fully interactive and the club has a reputation for the quality of its performances.
The first live sex show in Spain, Bagdad has been entertaining visitors to Barcelona for over forty years and has refined its offerings to be one of the best of its kind, not just in Barcelona, but in Spain.
The club is open seven days a week with shows performed at 11.00pm, 1.00am and 3.00am. Ticket prices are €90
Best of the Rest
If neither of these strip clubs float your boat then you can also try any of these:
Darling: Carrer de Casanova, 59, 08011 Barcelona
Blue Night: Carrer de Beethoven, 15, 08021 Barcelona
Baccara: Carrer de Bori i Fontestà, 25, 08021 Barcelona
Street Prostitutes
In Barcelona, the main red-light area of Las Ramblas is a notorious hotspot for prostitution and on any given evening the streets are lined with ladies of the night. As a single man or even in a small group, you will be approached for sex without having to ask around or make any of the first moves.
Sex Shops
Like much of Europe, some of the sex shops of Barcelona combine the sales of erotic bedroom accessories with peep shows, porn cabins and sex cinemas. However, most are mainstream, bright and modern stores that welcome browsers.
We've put together a list of the best sex shops in the city along with two recommendations:
The Luxury Love Sex-Shop
Carrer de les Basses de Sant Pere, 18, 08003 Barcelona
More of an erotic boutique than your usual back alley sex store, the Luxury Love Sex-Shop has a really eclectic range of sex toys, many of which are unique or unusual but all are premium quality.
The staff have excellent knowledge of their products and most speak excellent English. The shop is certainly worth a visit even if you don't buy anything.
Open Monday to Saturday from 12.00pm to 2.00pm and 5.30pm to 10.00pm.
Love Sexing
Gracia: Calle Bonavista 28, 08012 Barcelona
Aragó: Calle Aragó 475, 08013 Barcelona
www.lovesexing.com/sexshop-barcelona
There are two physical stores to this online sex retailer in Barcelona and both are sleek and stylish shops offering a great range of toys, accessories and sex aids.
More like an Apple Store than a sex shop with its clinical white environment and sparse displays, the staff here are friendly and can assist you with any enquiry.
Both stores are open Monday to Saturday from 2.30pm to 9.30pm.
Best of the Rest
And here are some other sex shops to try out:
D'Angelo Sex Shop
Sestienda: Calle Rauric, 11, 08002 Barcelona
Climax Susanna: Carrer del Dos de Maig, 225, 08013 Barcelona
Only IS Love: Carrer de Casanova, 43, 08011 Barcelona
La SexShop en Casa: Calle Pallars, 88, 08018 Barcelona
Vibracions: Carrer de la Indústria, 341, 08027 Barcelona
Erotic Palace Sex Cinema and Shop: Carrer de Sants, 225, 08028 Barcelona
Orion: Travessera de les Corts, 231, 08028 Barcelona
Lovestop: Carrer dels Escudellers, 12, 08002 Barcelona
You can find out more about Sex in Spain by reading our country guide.
Featured image via Omnia Escorts.