Want to know more about sex in Amsterdam?
There are few places in the world that have such famous red light areas as Amsterdam and the city has a long association with tolerance and liberal mindedness.
In our essential guide to the Amsterdam Red Light District, we take a look at the history of the red light area, the legalisation of prostitution windows, and some of the highlights that the city has to offer: from sex theaters and live sex shows, to Amsterdam escort services and erotic massage parlours, to the strip clubs that pull in tourists throughout the year…
---
---
The World Famous Red Light District of Amsterdam
The main red light district in Amsterdam is known as De Wallen or, simply, 'The Wall' and has been a major part of the city centre make up since as far back as the early 13th century.
This nickname refers to the fact that the original site of Amsterdam was fortified by large earth walls.
As the city has grown, the original site continued to be referred to as The Wall and, because of the links with prostitution, the phrase has become a euphemism when paying for sex.
Sprawling out from the original location of the docks, De Wallen is a network of small passageways and alleys connecting the two main streets of Oudezijds Voorburgwal and Oudezijds Achterburgwal which run alongside the canals.
The many buildings and houses in the area have a long history of associations with the city's trading and religious past with former merchant houses and monasteries now being part of the window brothel trade.
Blood Street (Bloedstraat) and Monk Street (Monnikenstraat) for instance were so called due to the number of Franciscan monks who lived there and being the site of a blood (torture) chamber of a former monastery.
Throughout the history of the city, including times of religious fervency and social prudence, sex in the city has always been tolerated and even 'winked at'; the trade went on with full public knowledge but as long as it occurred in De Wallen without attracting attention the city's residents didn't mind.
More recently Project 1012 has seen the government begin a clean-up of the seedier aspects of Amsterdam's red light district. A crackdown on organised crime, and efforts to support victims of human trafficking, has seen the city council reconsider how De Wallen will look moving forward.
Window Shopping Begins
The characteristic window hookers began to appear in the early 20th century. 'Street daisies' (or hookers) began to use a quirk in the law which prevented them from approaching customers by using their windows as a way of advertising.
As long as the curtains were drawn (or enticingly half drawn), the girls could give a fabulous preview of what they were offering without breaking any public decency or solicitation laws and the art of window shopping was born.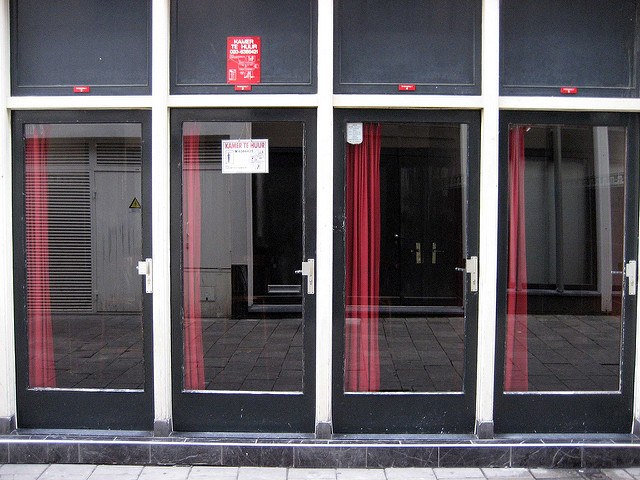 The Origins of Red Light Amsterdam
It's unclear why it is exactly that red lights have become an international symbol of prostitution.
Some believe that the practice derives from the lamps carried by railway workers being left outside a brothel whilst others believe the term comes from the use of red lights by prostitutes to illuminate their chambers.
The claim goes that the red lanterns would conceal blemishes and signs of disease better than natural light. Some believe that the term refers to red Chinese paper lanterns or the drawing of a red line around districts that were known for their association with the sex trade.
Whatever its origin, Amsterdam embraces the tradition of the red light and De Wallen area is characterised by the window brothels which still use red lights to signify their trade (as if a half-naked prostitute leaning up against the window isn't sign enough!).
Blue lights are used to signify shemales and transsexuals.
Local Prostitution Laws: From Tolerance to Legalisation
Despite its reputation for being the world capital of the sex industry, prostitution has only recently been legalised in modern day Amsterdam.
Prior to a change in the law in 2000, it was illegal to operate a brothel but being a prostitute was legal. The way in which this quirk was gotten around lead to the rise of single cabin window 'brothels' and private houses.
By remaining independent and renting space for one, window girls could legally operate as they were not technically plying their trade publicly but being approached in a private way. Of course, the reality of this is far from the truth but the city authorities tolerated the practice of sex tourism.
In fact, the broad policy of 'complicit ignorance' towards prostitution in the city allowed many brothels to continue trading by defining themselves as 'private sex clubs' or 'private houses'.
The changes in 2000 were brought about largely to protect workers in the trade and to prevent trafficking and other illegal activities which had become associated with this liberal policy of 'overlooking' the industry.
Of course, legalising the trade also meant instituting greater control of taxation and regulating finances.
As a result, several of the more famous venues in Amsterdam were closed due to links with criminal dealings and accounting 'anomalies'; Jan Bik and Yab Yum being the two most famous causalities of the act.
Today, prostitution is fully legal but all brothels and independent prostitutes must hold a state license to operate with the minimum legal age for prostitutes now being 21.
The authorities continue to provide protection for its sex workers in the form of 24-hour surveillance on the city streets and offering full police assistance. Frequent health monitoring and testing of professional standards are all ways in which the industry is being regulated.
Sex Tourism in Amsterdam
As a result of the historic tolerance and liberal mindedness towards the sex industry by the Dutch in general, Amsterdam has thrived as a tourist destination for people looking to sample what the city has to offer.
Sex services are on offer throughout the city and not just in De Wallen and, unlike many red-light areas, the types of activity are not just restricted to stripping and prostitution.
The city recognises its rich and colourful history with the sex trade and there is a large number of museums, cafes and shops dedicated to preserving Amsterdam's colourful past.
Tourists who come to the city will visit De Wallen whether they are actively looking for services or not as the area defines much of what Amsterdam is about. At any time of the day, the passageways will be full of tourists experiencing the voyeuristic delights of the red light spilling from windows.
However, for the sex tourist to the city there is a lot more to modern day Amsterdam than just the bright lights.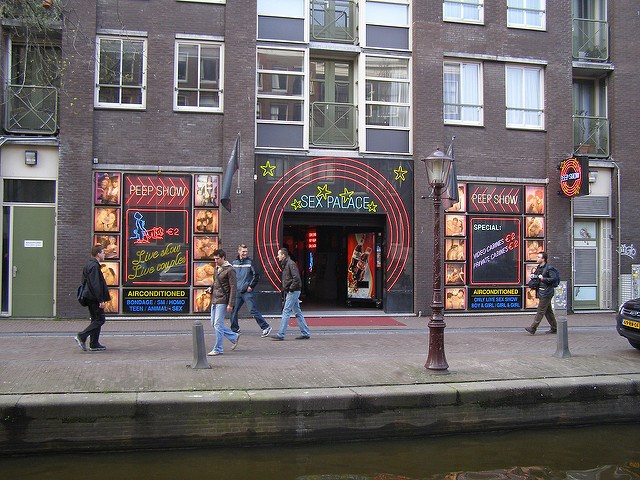 Types of Adult Services in Amsterdam
The city of sin has an abundance of ways to keep adults entertained from erotic sensual or kinky massage to a variety of ways to hire a prostitute. Saucy shows and museums dedicated to sex rub alongside BDSM venues and swinger's clubs to bring an eclectic mix of all things naughty. In a city where anything is possible we take a look at some of the ways you can make your dreams come true.
Window Girls
A must-see feature of the city, if not an essential experience of street prostitution in Amsterdam, the window girls of the red-light district are unique to the area. Though it is a very public way to conduct business, it is unlikely that you will draw any negative attention but it is not an activity that guys who want anonymity will enjoy.
Customers can pay around €50 for a quick 30 minutes (by quick, we mean that includes getting undressed, showered and with an elastic view on time) with one of the girls but the pleasure is very much in the process of window shopping, doing some negotiating and catching the admiring glances of guys who are too shy to follow your example.
Mostly found in De Wallen or the smaller red light areas of De Pjip, Singelgebied and Ruysdaelkade, there are around 300 window cabins around Amsterdam, mostly occupied from around 4pm through to the very early hours.
Amsterdam Brothels & Private Houses
The brothels of Amsterdam are also known as private houses (or 'privehuizen') and vary in size from those that have just a handful of girls working to larger venues with up to 40 girls registered.
Historically, most of these houses have been located outside of the central De Wallen area and, as such, offer a good degree of privacy and discretion (compared to the more public negotiations with window girls).
With as many as 2000 prostitutes in Amsterdam, many working independently as window girls or escorts there are still a good number of working girls to help you experience a traditional Amsterdam welcome.
We've put together our guide on some of the best Amsterdam brothels to help make your decision easier.
Are Brothels Legal?
Yes.
Since 2000, sex work in brothels has become fully legal in the City of Amsterdam but, as such, now requires brothels (and independent prostitutes not working from home) to hold a license. In addition, the minimum legal age for prostitutes was raised from 18 to 21.
Following some of the changes, the city has tried to regulate more and more of the industry which has resulted in a decline in the number of brothels including the world famous Yab Yum and Jan Bik.
However, there are still a good number of private houses and brothels offering a first-class service in the city but first we take a look at the etiquette for visiting a brothel in Amsterdam.
Visiting an Amsterdam Brothel: Best Practices
There are two types of brothel in Amsterdam; the private house and the sex club. Though both offer the in-house services of prostitutes, they are each a very different kind of establishment.
Simply, a private house tends to be smaller and operates a discreet service where clients are shown to a private waiting area on arrival. Once settled they can leisurely peruse the 'menu' and receive a line up of available girls. Though most private houses do not have bars as such, they will usually serve drinks during this selection process as well as room service. The privacy is maintained as you are escorted to and from your room by a host who keeps the corridors free of other clients.
Sex clubs on the other hand are more like big city gentleman's clubs and often have large lounges and bars where customers can soak up the atmosphere of music and entertainment before selecting from a service. Some sex clubs specialise in particular areas such as swinging, fetish or provide other services as well as, or instead of, intercourse.
A Guide to the Best Amsterdam Brothels
Crystal Club
Stadhouderskade 64, Amsterdam
Located in a converted canalside mansion house between the Heineken Brewery and the Rijkmuseum, the Crystal Club is a popular brothel. Halfway between the De Wallen and the smaller De Pijp red light districts this modern bordello has several luxuriously appointed rooms each with a jacuzzi, king size bed and flat screen television. Each as individual as the girls who work them, these spaces are comfortable, clean and erotically decorated.
The club operates a range of services from basic massage with oral to full GFE and has 16 ladies to choose from.
Open daily from 8pm to 5am bookings can be made online or by contacting the club using the details below.
Contact for pricing.
Phone: 020 671 8282
Website: http://www.crystalclub.nl/
License Number: ASD1072AD/B004
Club Luxury
Buiten Wieringerstraat 3/5, Amsterdam
Operating from the former premises of the famous Jan Bik, Club Luxury is as a high-end brothel with eight rooms, bar and lounge area.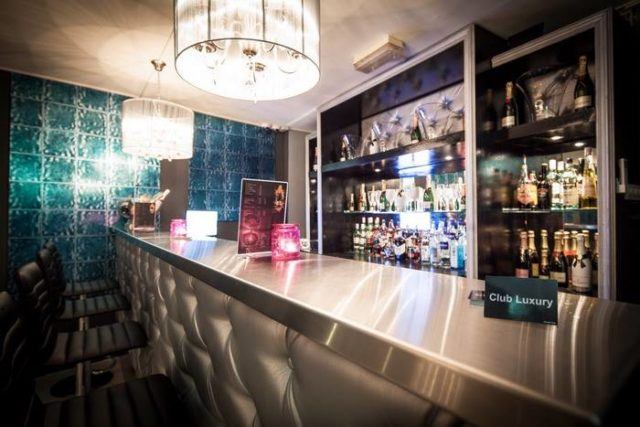 The rooms are modern and decorated in five star hotel style with three having a jacuzzi included. All have a king size bed, bath and shower with air-conditioning and provide room service.
Close to the Central Station, the club has eight regular girls working, details of which can be found on their website.
Opening hours are seven days a week from 10pm to 7am.
Contact for pricing.
Phone: 020 362 76 26 or 06 2868 7898
Website: www.clubluxury.nl
Email: luxury@clubluxury.nl
License Number: ASD1013GH/B016
Club LV
Middenweg 144, Amsterdam
Club LV is one of Amsterdam's oldest luxury brothels and is situated in a residential area. The entrance is private and discreet with limited off street parking available.
There are eight rooms at Club LV each with a private bathroom and hot tub.
You can take your time browsing their menu of services at their well-appointed and comfortable lounge bar.
The ladies have a reputation for having a high standard of skills being intelligent, attractive and attentive. Details of the current stable of girls can be found on their website where you can also arrange for an outcall service via their Valentines Escort company.
Opening hours are seven days a week from 8pm to 5am.
You can stay up to date with news from Club LV by following their social media presence:
Contact for pricing.
Phone: 020 663 6662
Website: https://www.club-lv.com
Email: info@club-lv.com
License Number: ASD1097BV/B012
Park 118
Sarphatipark 118, 1073 ED Amsterdam
Park 118 has a reputation for providing excellent standard services but with a penchant for the kinky. The venue has a dedicated room in its basement for BDSM play including:
Mistress Throne/Leather bondage chair in the shape of a high-heeled shoe.
Large double bondage bed (black leather)
Sex Sling
Luxury fucking machine with dildos and artificial vagina (masturbator)
Black Leather Andreas bondage cross.
Steel Doggy Bench Deluxe with optional dildo holder
Pictures of the ladies can be found using the Dutch website and feature a whole selection of images. Ladies range in age from 21 to 45 with plenty of variety in between to choose from.
Fees are charged as follows:
30 minutes: € 65
45 minutes: € 80
60 minutes: € 95
If you have a bath, then you will need to add an extra €30 and €55 for a sauna (needs to be booked in advance).
An hour of BDSM will cost you €175.

Rondleiding privehuis 118 amsterdam from Privehuis118amsterdam on Vimeo.
Opening hours are seven days a week, Monday to Saturday from 11am to midnight and Sunday from midday to midnight.
Phone: 020 672 3022
Website: http://privehuis118amsterdam.nl/
Email: info@privehuis118amsterdam.nl
License Number: ASD1073ED/B006
Asmara Sexclub
Willem de Zwijgerlaan 70, 1056 JT Amsterdam
Asmara's is located a short drive away from the central area of Amsterdam and is situated in a quiet residential area. A private house, this brothel has around 30 girls working for them all between the ages of 21-25.
As a private house, discretion is (almost) 100% assured and the escorts and staff go out of their way to make sure that clients don't meet each other. You can select from a line up of available ladies in a private waiting room before being escorted to one of the marbled floor rooms to have a shower before your service.
Prices are charged for a standard service which comprises of a fully nude massage with oral sex and intercourse.
€80 for 30 minutes.
€110 for 60 minutes.
€160 for 60 minutes including 69.
The club is open seven days a week from 10am to midnight.
Phone: 020 618 40 69 or 020 618 13 31
Website: http://www.asmara.nl/
License Number: ASD 1056JT/B001
Prive 42
Haarlemmermeerstraat 42, 1058 KB Amsterdam
Situated close to the Andreas Ensemble, Prive 42 is a discreet brothel some way out of the main crowds of the central area of Amsterdam.
This small private house has several themed rooms including a 'luxury' VIP suite with jacuzzi bath.
The girls of the house are of various origins including Romanian, Russian, Thai and, of course, Dutch. Ages range from 22 to 36 and each has their own speciality and skills. The website does not have all of the details but you can enquire about the current menu selection when you make an appointment.
Prive 42 has seen better days but is clean and licensed plus the prices are very reasonable
Services are charged by time and are as follows:
| | |
| --- | --- |
| Duration | Cost |
| 30 minutes | €65 |
| 45 minutes | €85 |
| 60 minutes | €110 |
Or you can book a VIP room for €130 per hour (with bath) and extend your stay for just €65 (30 mins), €110 (60 mins).
Prive 42 also runs a Saturday Trio special for just €100 for 30 minutes.
Open seven days a week as follows:
Monday to Friday: 10:00am to 11:00pm
Saturday and Sunday: 11:00am to 11:00pm
Phone: 020 615 5104
Website: http://prive42.nl/
Email: info@prive42.nl
License Number: ASD 1058KB/B016
Sexclub Vienna
Rijnstraat 224, 1079 HV Amsterdam
Offering full service and massage, Sexclub Vienna is situated in the south of the city a short walk from Martin Luther King Park.
The service is basic with little in the way of extras being negotiable but each girl differs so it is worth asking. The cost of a massage is just €85 with full service being €115.
Vienna has been running for over 25 years so they must be doing something right…other than just the low prices. It is a small establishment and there are usually only 4 or 5 girls available at any given time.
Open daily from 10am to 11pm.
Phone: 020 612 3444
Website: http://www.sexclubvienna.nl/
Email: info@clubvienna.nl
License Number: ASD 1079HV/B014
Salon Prive
Middenweg 89-1, 1098 AG Amsterdam
This private house in the east of the city has several rooms all fitted with air-conditioning, jacuzzi and flat screen TVs.
There are a dozen women working for the house and they range in age from 21 to 40 years old. They include Dutch and European girls as well as South American.
The house only accepts cash and charges are as follows (includes room fees and a free drink):
| | |
| --- | --- |
| Duration | Cost |
| 30 minutes | €65 |
| 45 minutes | €85 |
| 60 minutes | €100 |
Opening hours are as follows:
Monday to Friday: 11:00am to 11:30pm
Saturday: 12:00am to 11:30pm
Sunday: Closed
Salon Prive are very active on their Twitter account with roster details and offers.
Phone: 020 692 5207
Website: http://www.salonprive.nl/
License Number: ASD 1089AG/B008
The Golden Key Sexclub
Overtoom 294, 1054 JC Amsterdam
Located in the west of the city a few minutes walk from Vondelpark, The Golden Key Sexclub is a classic gentleman's club offering relaxed entertainment and bar services. Founded in 1987 the club caters for men looking for a few drinks and sexy company as well as those looking to make it an evening to remember.
With a discreet entrance under the emerald green and gold entrance canopy the club has a good reputation with locals as well as tourists.
Opening hours are as follows:
Monday to Friday: 8.00pm to 4.00am
Sunday: 9.00pm to 4.00am
Prices for services are available on request.
Phone: 020 612 4078
Website: http://www.clubgoldenkey.nl/
License Number: ASD 1056JT/B001
Erotic Massage Amsterdam
Amsterdam has several ways to get an erotic massage including dedicated erotic massage parlours, independent masseuses, escorts and at the private houses.
Some houses specialise in kinky massage with oral and/or intercourse included whilst others offer a manual happy ending with a rub and tug service. However, most outcall or escort services will be able to provide additional extras thrown in if required.
We've put together an essential guide on how to get the best erotic massage in Amsterdam to help you find the service you need. We've included therapists who specialise in tantric, nuru and prostate massage as well as those that provide a little light bondage as well.
Best Amsterdam Massage Parlours
Walaphan Thai Massage
Schipholweg 979, 2143 CG Boesingheliede
Operating for over 12 years, Walaphan Thai massage is a licensed massage parlour located 15km to the west of Amsterdam. The premises have their own parking and is relatively private, being set on a quiet industrial road.
Walaphan is open as follows:
Monday to Saturday: 11.00am to 10.00pm
Sunday: 11.00am to 8.00pm
The team consists of eight Thai girls ranging in age and experience, each providing erotic massage in Amsterdam at the following prices:
| | | |
| --- | --- | --- |
| Duration | Erotic Massage | VIP (with Intimate) |
| 30 minutes | €55 | €100 |
| 60 minutes | €75 | €120 |
| 90 minutes | €120 | €150 |
Phone: 023-555 22 85
Website: http://www.walaphan.nl/
Asmara Sexclub
Willem de Zwijgerlaan 70, 1056 JT Amsterdam
A private house in the south west of the city, Asmara has a number of ladies working for them who specialise in erotic massage. The benefit of using Asmara's is that they are a fully licensed brothel and include oral and penetration within their standard service cost.
Massages are performed nude and are full body-to-body with oils being priced as follows:
€80 for 30 minutes.
€110 for 60 minutes.
€160 for 60 minutes including 69.
The Asmara Sexclub is open seven days a week from 10am to midnight. You can find out more about this venue by reading our full guide on Asmara's Sexclub.
Phone: 020 618 40 69 or 020 618 13 31
Website: http://www.asmara.nl/
Dam Square Babes
An escort agency providing ladies who specialise in massage services, Dam Square Babes offer outcall services to most Amsterdam hotels.
They offer a range of techniques and special services including Tantric, Nuru (body slide), four hands and standard nude, erotic massage therapies.
The women working for Dam Square Babes are selected based on their high standard of looks as well as their technique and skills putting them in demand. The website has a full menu of the ladies available, along with their rates and specialist skills.
Prices start at around €150 per hour and go up to €500 per hour depending upon your choice of masseuse.
A minimum of one hour advance notice is required for bookings.
Phone: 06 448 522 68
http://www.damsquarebabes.com/massage
Massage Company
Available seven days a week between the hours of 2pm and 5am, the Massage Company provide ladies that guarantee a happy ending of your choosing. An outcall service to your hotel room in and around both Amsterdam and the airport, there are a range of packages and services available including Tantra, four hands and sensual touch. Your massage will be performed either topless or nude depending on your preference and can include a full service if you wish.
You can select from a 60, 90 or 120 minute service with prices available on request.
Phone: 06 111 449 33
Website: http://www.massage-company.nl/
24/7 Massage
Providing a range of massage services in your Amsterdam hotel room, 24/7 operate a round the clock service with a choice of treatments.
Thai massage
Tantra massage
Prostate massage
Four hands massage
Erotic massage
Body2Body massage
Tantric massage
Tie and Tease massage (light bondage)
Happy endings (manual) are a part of the service and are performed by your choice of masseuse. Additional services can be performed by mutual agreement including oral, kissing and showering.
The website provides full details of all of the girls available with accompanying vital stats and photographs.
Phone: 06 303 020 00
Website: http://www.247massage.nl/
Tantra Retreat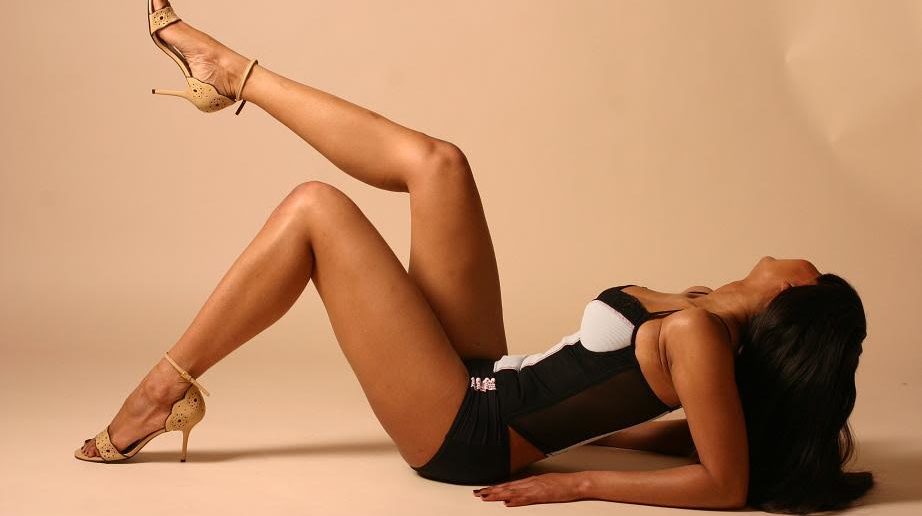 An outcall-only service.
From the website:
Delivering a mind blowing outcall tantra massage services to men visiting The Netherlands. I Katherine from Tantra Retreat crave physical contact and that is exactly what I offer pure tantra massage. Complete contact, connectedness, the warmth of touch and the power of an elegant artistic tantra massage. My innovative concept of sophisticated tantric massage fills that emotional and physical void, it stimulates all your senses and makes you feel Special. We all love to be pampered and to be made to feel special. It makes us feel more content and confident.
Phone: +31 6847 668 92
Website: https://tantraretreat.nl/
Darling Strings
Darlings in Strings offers high end girls for topless massage services in the Amsterdam area. The ladies provide:
Erotic massage
Sensual massage
Four hands massage
Tantric massage
Couple massage
Nude body massage
Outcalls are usually arranged within 30 minutes to your hotel room and the girls arrive in discreet clothing.
Call for price information.
Phone: 06 151 318 00
http://www.darlingsinstrings.com/
24/7 Massage Amsterdam
Because of the fact that the sex trade is legalised in Amsterdam, a lot of women prefer to remain independent and offer outcalls for escort and massage services. Finding these women can be tricky without the aid of a website or classifieds listing. Fortunately, this website has plenty of advertisements to choose from.
Each profile has several photos as well as details of the services they provide including additional information about the masseuse herself.
Bookings can be made for 30, 60 or 90 minutes and are available 24 hours a day, seven days a week. Rates vary depending on the lady you choose, what massage you require and whereabouts you require your outcall booking.
Phone: +31 646 454 948
Website: http://www.massageamsterdam247.nl/
Sex Clubs in Amsterdam
Differing from brothels, sex clubs are more speciality venues and Amsterdam has a couple which cater for swingers or those that are into BDSM.
Some clubs are based more on strip joints and lap dancing bars where you can get a private dance from as little as €10. Each venue is unique and offers guests something different from the high-energy vibes of the famous Banana Bar club to the chic 1930's French styled La Vie Deux there are plenty to choose from.
Amsterdam Swinger Clubs
Club Paradise
Schaafstraat 26, 1021 KE Amsterdam
Situated in a discreet location to the north of the city, Club Paradise welcomes single men, women and couples to their swinger's parties.
The large venue houses a full sized heated pool as well as a sauna, Turkish bath and large relaxation area. There are several private play rooms, small bar and smoking areas.
It's an intimate and cosy club despite the size with many local regulars as well as out of town visitors (some returning and some new to the scene).
Prices are charged as follows:
Couples: €50
Single ladies: €25
Single guys: €80
Opening hours are:
Wednesday and Thursday: 8.00pm to 1.00am
Friday and Saturday: 8.00pm to 3.00am
Sunday 4.00pm to 1.00am
Sameplace
Nassaukade 120, 1052 EC Amsterdam
An open minded and liberal café/bar, Sameplace is a swinger's club in the west of the city, a short walk from the Anne Frank House.
There is a dungeon equipped with toys and furniture for group play including a glory hole and sling. The usual house rules apply at Sameplace but anything goes with mutually consenting adults.
New visitors are welcome but must pass the scrutiny of the door staff so the right dress code is essential (sexy not casual – for men, smart black is fine).
Monday: 7.00pm to midnight (gay men only)
Tuesday to Thursday: 8.00pm to 1.00am
Friday and Saturday: 8.00pm to 3.00am
Sunday: 10.00pm to 3.00am
Events are run throughout the week so check the website for details of the schedule as themed nights might require more effort on the dressing up front.
Showboat
Lagedijk 328, 1544 BX Zaandijk
Located 18km north of Amsterdam, Showboat is a swinger's venue for couples and singles. The two-deck venue is a former ferry moored at the De Zaan quay and offers an erotic night out of the city.
The lower deck is equipped with a dungeon, sauna/steam room and jail cell with a shop selling naughty toys whilst the upper deck features a huge dancefloor and bar.
Couples and single ladies get to enter free of charge with a minimum bar spend whilst single men pay a cover charge on top, as detailed below:
| | | | |
| --- | --- | --- | --- |
| Day | Men | Women | Couples |
| Thursday/Friday | €50 plus (€17.50 bar) | €17.50 bar only | €17.50 bar each |
| Saturday | €55 plus (€25.00 bar) | €25.00 bar only | €25.00 bar each |
| Sunday | €55 plus (€17.50 bar) | €17.50 bar only | €17.50 bar each |
BDSM Clubs
Wasteland
Running a twice annual event this fetish party in Amsterdam attracts visitors from across the world all 'daring to be different'.
Held at Hemkade 48, the event takes place in 2017 on April 8th and will be held across four dance floors, six stages and have a fully equipped dungeon. International DJ's provide the soundtrack to a night of debauched behaviour with a strict dress code of fetish, punk and burlesque.
Pre-sale tckets are €49.50 with the doors opening at 10.00pm until 6.00am.
Regular events are held in other European destinations.
Strip Clubs and Lap Dancing Bars
La Vie Deux
Thorbeckeplein 22, 1017 CS Amsterdam
The little sister club of the famous La Vie en Proost, La Vie Deux is a lapdancing and strip bar with topless waitress service. Based on the French bars of the 1930's the place is small and intimate, Refurbished in 2011, entrance fees are €5 which includes a free shot and lapdances start at just €10.
Situated south of the red light district a short walk from Rembrandt Square, La Vie Deux operates a unique traffic light system over the bar which indicates a dancer's current status:
Green light: She is dancing for everyone.
Amber light: She is available for a lap dance for €10.
Red light: You can pay for her panties to come off for a €20 dance.
Opening hours are as follows:
Thursday: 8.00pm to 3.00am
Friday and Saturday: 8.00pm to 4.00am
Banana Bar & Club
Oudezijds Achterburgwal 37, 1012 DA Amsterdam
The Banana Bar, in the heart of the red light district, is an iconic venue offering strip entertainment and scantily clad waitress service in its upstairs club.
The entertainment on the first floor bar is dominated by gyrating dancers on table tops and around poles. The bar is energetic and vibrant attracting a young crowd, often including bachelor or bachelorette parties.

BANANEN BAR PROMO VIDEO 2012 from Peter Diablow on Vimeo.
Because the club is a small venue but very popular there is an entrance charge of €60 for the bar and €25 for the club (includes free drink).
Opening hours are as follows:
Sunday to Thursday: 8.00pm to 2.00am
Friday and Saturday: 8.00pm to 3.00am
Sex Shows
Casa Rosso
Oudezijds Achterburgwal 106-108, 1012 DS Amsterdam
The Casa Rosso is one of the best known venues in Amsterdam. With its iconic neon 'Pink Elephant', you can't miss this theatre in the heart of the red-light district.
With 180 seats, the erotic shows are designed to titillate and entertain with performances changing all the time. From exotic dancers to naughty tricks and some light BDSM, the Casa Rosso knows how to put on a sexy show.
Open seven days a week from 7pm to 2am (3am on Fridays and Saturdays) entrance is just €35 or you can but a drinks package for €50 which includes four free drinks tokens. The club is very popular with stag and hen dos with hens being admitted for free if they are dressed up.
The Sex Palace Peep Show
Oudezijds Achterburgwal 84, 1012 DT Amsterdam
The last remaining traditional peep show in Amsterdam, the Sex Palace still offers rolling peep show cabins for just €2 per minute.
With new performers every 10-15 minutes, the sexual poses and acts viewable from the main cabins aren't as explicit as those you can see from the private cabins where customers can give the performers instructions. Though the content will never be as hardcore as online pornography (to which peep shows are the precursor), the act of spying on someone live in this way is hard to compete with.
Fully air-conditioned, the Sex Palace has the air and feel of an Amsterdam from days gone by and is a really retro venue that must be experienced.
You can get a tour of the venue if you are interested in the history and a behind the scenes look but it's worth visiting…if you can get in.
Moulin Rouge
Oudezijds Achterburgwal 5-7, 1012 DA Amsterdam
http://www.moulinrougeamsterdam.nl/
Situated in an historic canal side house in the red light district, Amsterdam's Moulin Rouge erotic sex theatre is home to the world famous 'Banana' show. With an intimate seating arrangement you will be close to the stage wherever you are.
Shows change daily and include couples sex, vibrator show and female striptease.
Entry costs are €25 or €35 with four drinks tokens.
Opening hours are as follows:
Monday to Wednesday: 8.00pm to 2.00am
Thursday to Sunday: 2.00pm to 2.00am
The Amsterdam Escorts Guide
Need to find an escort in Amsterdam?
Working girls in Amsterdam are as synonymous with the city of sin as the coffee shops so there are plenty to choose from. Not everyone is comfortable with the public nature of using the window girls and would prefer a more discreet hotel room service. However, because there are so many services operating in the city, it can sometimes be difficult to find the best fit for your needs.
In our essential guide to the escort services of Amsterdam, we take a look at those legal agencies that have high levels of customer satisfaction as well as some more traditional ways to find an escort.
Lady Valentine
The escort service operated by the Club LV brothel, Lady Valentine's has around twenty escorts on their books. Their website has all of the details of each of the ladies including photographs, videos and stats. They are one of the longest running escort services in the Netherlands and provide a high class standard of girl.
Fully licensed, Lady Valentine operates a speedy service with most bookings being fulfilled within half an hour. Most escorts can provide their services to hotels as well as private residences (check individual escorts page for confirmation of this).
Discretion is assured and the ladies arrive in suitable attire (joggers etc.) making unwrapping your escort a part of the pleasure.
Escorts are available between the hours of 8pm and 5am, seven days a week.
Prices are available on request.
Phone: 020 577 1100
Website: https://www.valentine-escort.com/
Dreams and Desires
A high-class escort agency that provides escorts for a minimum duration of one hour, Dreams and Desires offers a huge range of packages including the 'Virgin' deal; a two-hour special with a new girl to the escort business, you book without photos for €600.
This elite agency specialises in providing escorts for longer durations to provide clients with continuity of service for longer stays in Amsterdam. They can even provide their escorts to accompany guests with them on international trips.
Standard rates are detailed below with some of the more in-demand ladies being available for a minimum duration of two hours (check the website for details):
| | | | |
| --- | --- | --- | --- |
| Duration | For a man | For a couple | Two escorts (Duo) |
| 1 Hour | €350 | €450 | €650 |
| 2 Hours | €650 | €850 | €1,250 |
| 3 Hours | €900 | €1,200 | €1,750 |
| 4 Hours | €1,100 | €1,500 | €2,225 |
| 5 Hours | €1,400 | €1,800 | €2,725 |
| 6 Hours | €1,600 | €2,000 | €3,100 |
| 1 Day | €3,600 | €4,300 | €7,000 |
| 1 Week | €11,000 | €13,000 | €20,000 |
The website has all of the details of each escort including a search facility allowing you to filter the girls on age, origin and physical characteristics such as height, cup size and hair colouring. You can also select from the type of services offered including GFE, PSE and strap on active.
There is no doubting that the rates charged are among the highest you will pay around the city but the quality of the experience is reputedly just as high.
Bookings can be made by contacting Dreams and Desires with payment being made by credit card or bank transfer (note: American Express is not accepted).
Phone: 06 426 576 86
Email: info@dreamsanddesires.nl
Website: https://www.dreamsanddesires.nl/
Dutch Delight
Offering VIP services, Dutch Delight is a licensed escort agency in Amsterdam providing girls across the Netherlands and Europe. Operating in conjunction with a concierge service, Dutch Delight brings a luxury level of experience to the escort game and can book high end hotels, restaurants, shows and flights to make your stay in Amsterdam of a five star standard.
Each lady has their own rate, details of which can be found online, and vary along with their minimum duration. You are looking at a minimum of two hours at rates of €700 so this is not your quick fix if you are looking for a hotel outcall.
A specialist agency, Dutch Delight won't suit everyone's budget but you can always dream…
Phone: 020 491 90 69 or 06 46 83 39 97
Website: http://www.dutchdelightescort.com/
Girls Company
With rates starting at €145 per hour, Girl's Company has a selection of 33 ladies working their books, each having a different selection of skills and specialities. Rates go up to €300 per hour and can include roleplay, submissive and dominant escorts.
Available 24/7, escorts work across the city to provide outcall hotel (and home) services and will travel up to 30 minutes (or additional charges apply).
Reviews for the agency are good and consistently rate the girls as being friendly and skilled.
Bookings can be made using the contact details below.
Phone: +316 41568413
Website: http://www.girlscompany.nl/
Escorts Elegance
With around 20 girls on their books, Escort Elegance offers a variety of escorts in terms of age, body type and experience.
The company was founded in 2006 and has been providing call girls across Amsterdam for over a decade. Details of the ladies available can be found online along with photos, stats and reviews. They offer a range of services between them including BDSM and fetish, role play and extreme.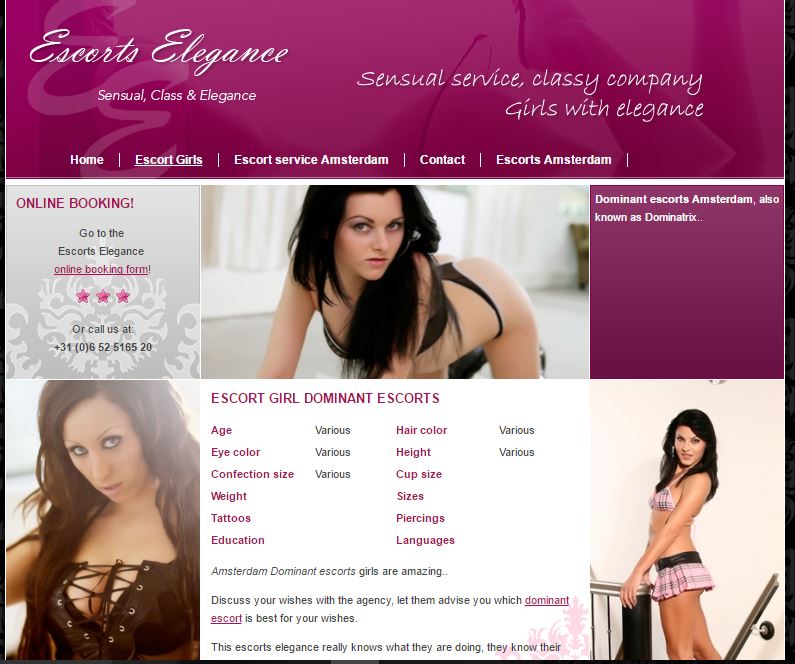 Bookings can be made online or by contacting the agency directly using the details below.
Prices are available on request.
Phone: 06 52 5165 20
Website: http://www.escorts-elegance.com/
Pleasure Escort
Offering more than just a standard escort service in Amsterdam, Pleasure Escort can provide call girls to entertain with a strip tease, massage or even provide a Hummer limo service. This novel way to explore the city with an escort in tow is priced as follows:
| | | | |
| --- | --- | --- | --- |
| Duration | Hummer H3 Limo | Hummer H2 Limo | Cadillac Limo |
| 1 Hour | 475 | 525 | 600 |
| 2 Hours | 800 | 850 | 950 |
| 3 Hours | 1100 | 1150 | 1250 |
The rates include the hourly cost of your escort and you will be collected from your hotel with the girl of your choice waiting in the limo for you. Champagne is charged at €70 per bottle to give your experience an extra touch of extravagance.
Standard outcall services can be arranged to your hotel at rates starting at €140 per hour depending upon the postcode of where you are staying.
Their range of ladies can be viewed online and features a search facility making finding your choice of call girl much easier.
Bookings can be made using the following contact details:
Phone: 06 20 100 200
Website: http://www.pleasure-escort.nl/
Escort Amsterdam 1
With a few dozen girls working for them, Escort Amsterdam 1 operates a 24/7 service with a 30 minute target arrival time within the city.
Rates are detailed below and include travel costs within Amsterdam:
1 Hour: €150
2 Hours: €300
3 Hours: €400
4 Hours: €540
You can make an advance booking online or by contacting the office below:
Phone: 06 265 696 28
Website: https://www.escortamsterdam1.com/
Escort 4U
Offering standard and VIP escorts, this agency can provide call girls starting at €150 per hour for a minimum of two hours within the Amsterdam area.
From their stable of 40+ models, Escort 4U claims a 92.7% satisfaction rate though its unclear on what basis this has been calculated. However, reviews are very consistent and commend the quality of the girls as well as the prices.
Bookings can be made directly using the contact details below:
Phone: 077 224 20 81
Website: http://www.escort-4u.nl/
Desire Escort
Able to supply an escort within 30 minutes, Desire is open for business 24 hours a day, seven days a week.
Standard rates start at €140 per hour with discounts being available for durations over 3 hours (€390) or 4 hours (€500). Payment can be made by credit card or cash (USD, GBP and EUR are acceptable).
There are 28 girls working for Desire and you can browse their profiles online to see details of what additional services they can provide. Not all will provide kissing or do Greek style so be sure to check before requesting a particular escort.
Bookings can be made using the online form or by contacting the office directly using the contact details below:
Phone: 06 382 563 57
Email: info@desire-escort.nl
Website: http://www.desire-escort.nl/
Tender Moments
Tender Moments offers standard services from its escorts at rates of €140 per hour. Extras such as Greek, golden showers and threesomes will incur additional charges.
Bookings can be made using the online booking form or by contacting Tender Moments directly.
Phone: 06 571 847 51
Website: http://www.tendermoments.nl/
Escort in Amsterdam Agency
With almost 30 models to choose from, Escort in Amsterdam offers a wide range of choice when it comes to selecting a call girl. The website has photos of the ladies with very brief descriptions as well as rates (starting at €150 per hour).
One of the swiftest responses available, the agency reports to be able to have an escort with you in 20 minutes.
Phone: 02 0241 0834
Website: http://www.escortinamsterdam.nl/
Amsterdam Escorts: Independent Listings
For those men who want to go direct and look for an independent escort, you can sometimes save some money by cutting out the middle man. Here we've found some classified listings and escort directories which take you straight to the stable yard.
Escort Directory
This easy to use and simple to navigate directory contains the details of over four hundred escorts in the Netherlands, most of whom service the Amsterdam area.
You can select from agency or independent escorts and filter the results by price, age or distance from you.
The major selling point of the site is that each escort has reviews available to read so you can see in advance whether they come recommended.
Prices start at just over €100 per hour and range up to €900 per hour with a wide mix of women available.
The site offers users the option to show results on verified adverts only. Free to browse, the Escort Directory is a useful way to browse the quality and range of Amsterdam's escort network.
http://www.escortdirectory.com/escorts-amsterdam-131
AmsterdamEscorts.Me
Offering a comprehensive directory of agency, independent and new escorts in Amsterdam, this website also verifies many of its advertisers.
This makes using the site that much more secure and offers a degree of assurance about quality.
Rates are similar to those charged via an agency due to the fact the girls must pay to advertise on here but the range and quality is great.
The problem is choosing one…so why not choose two?