Want to know more about one of Germany's most famous mega brothels?
The Paradise in Stuttgart has gained international prominence as one of the world's busiest and largest brothels. Opened in 2008 and covering a space of 5,500 sq m, the venue is a luxury day spa/bordello which is home to up to 150 self-employed prostitutes.
In this Paradise Stuttgart review, we take a look at the Paradise world including what to expect, prices and where to find this famous mega-brothel.
---
---
The Paradise City
The Paradise is the largest brothel in Stuttgart and is considered the flagship of the FKK clubs which are so popular throughout the country.
Opened in 2008, the building was a former warehouse but is unrecognisable since its €6 million conversion. Spread over five floors, the luxury spa facilities offer a range of ways to entertain the estimated 56,000 guests that visit the premises.
The club is responsible for an estimated €5 million in annual sales and is a popular FKK club for locals as well as sex tourists to Germany.
Styled with an opulent Moorish design, the main lobby is double height with balconies overlooking the main bar and lounge. It is a sumptuous environment filled with comfortable seating, deep scarlet and rich golds.
The Paradise is a modern sauna club that invokes a traditional harem setting to get guests into a relaxed mood.
The Paradise Girls
With up to 150 girls working at The Paradise, there is a vast range of body types, ages and ethnicities to choose from.
The majority of women seem to be German and Eastern European, but the Paradise often has international prostitutes including South America, Australian and Asian.
The Paradise – Stuttgart from SpringPictures on Vimeo.
Most of the girls provide standard full service which includes massage, kissing and multiple-positions. However, it is worth checking in advance whether they accommodate any extras; not all will provide anal, oral or light-BDSM. Most guests should find most requests are catered for and the girls are quite good at offering recommendations if they don't provide what you want.
The girls also have to pay to enter the club as well as a standard daily rate of tax to the government meaning they are all keen to break even and head into profit.
The club is well monitored by security and a good management team who ensure that the atmosphere is safe for all and guests remain respectful of the girls.
Overall, the experience of the ladies at The Paradise is very good with feedback from customers highly recommending their services and very few negative comments.
What To Expect at Paradise Stuttgart
The format of Germany's FKK clubs are different to many brothels you can experience in other areas of Europe and certainly from those you find in the USA or Australia. Also known as sauna clubs, FKK stands for Fauler Kiffer Klan which translates as 'free body culture'.
Unlike traditional bordellos, at an FKK you pay an entrance fee for which you can enjoy free access to a club's facilities. Any sexual activities you take part in are paid for separately to your entrance fee.
When you first arrive, you will be directed to the locker room where you can get changed into a bathrobe and slippers (provided with entry fee) and then you can access the club. You can leave your personal belongings in the secure lockers with most guys taking a 'man-bag' into the club for cash (see Prices, below).
Apart from the obvious, the Paradise has plenty to offer by way of diversions and you can enjoy the day spa facilities which includes a steam bath, hammam, ice room and plunge pool, whirlpool and massage. There is also a restaurant and bar on site as well as erotic cinema, TV lounge and cigar lounge.
A Bedouin tent screens live sports and the roof terrace has an array of large day beds and, in good weather, hosts barbecues.
VIP suites are available at an additional charge or you can relax in an exclusive suite.
There is even an erotic dance area where some of the girls perform pole or table dances for guests.
Guests freely roam the communal areas, relaxing and socialising with each other as well as the many prostitutes and, when you are ready for more serious action, you can head to a private room.
Rooms are individually styled and decorated and thoroughly cleaned between every visit.
Prices at The Paradise
Entry to the Paradise is charged on a day-ticket costing €79 which allows you full access to all of the spas facilities and includes:
Breakfast
Snacks
Dinner
Soft drinks
Locker (with safe)
Use of bathrobe, towels and slippers
You can leave the club during the day and return on the same ticket before the club closes on the same day.
There are a couple of other options for entry with a two-hour pass (valid until 4.00pm) costing €50 or a quick room-only pass without club facilities being €30.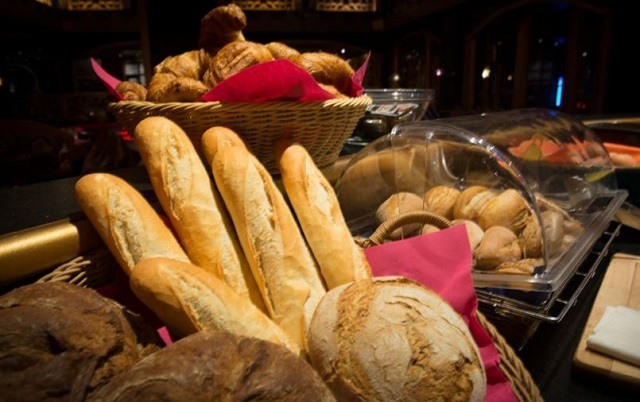 Regular visitors can choose from a 5-day or 10-day pass for €340 or €650 respectively.
Extras such as alcoholic drinks, cigars, massage and, of course, sex are charged on top of your entrance fee.
Use of the hammam including exfoliation, massage and washing is charged at €50 for 45-minutes, €65 for an hour.
Medical massage with no sexual services is performed by professional masseuses and costs €35 for 30-minutes.
When it comes to the time spent with the ladies, the rates for sexual services is negotiated with the individual but is usually a standard rate of €50 for 30 minutes. This covers most 'vanilla' tastes with any special requests costing more.
Handily, there is a cash machine on site but you can pay entrance fees using a credit or debit card.
How To Get To The Paradise
You can find the Paradise at Dieselstraße 25, 70771 Leinfelden-Echterdingen. It's about a 12km drive south of the city of Stuttgart but just five minutes from the airport.
There is plenty of parking on site and the surrounding area is largely an industrial zone making it relatively discreet.
Paradise Stuttgart Opening Hours
The Paradise is open as follows:
Sunday to Thursday: 11.00am to 3.00am
Friday & Saturday: 11.00am to 4.00am
Breakfast is served from 11.00am to 4.00pm with dinner available from 6.30pm and snacks served in between.
Getting In Touch
You can find further information about the Paradise FKK Club via the website or contact the bordellos management as follows:
Tel: +49 711 722 4600
email: info@the-paradise.de
Featured image via The Paradise website.