Want to know who the biggest players are in the European porn industry?
Porn is legal across most of Europe and is a multi-billion Euro industry with some of the world's biggest producers operating from both inside and outside the EU. Despite competing with Asian and North American markets, the demand for Euro-porn is high including some niche fetish content as well as huge budget feature films. European companies like the Private Media Group are ranked in the top ten adult entertainment companies in the world today.
In this feature, we take a look at the largest adult film studios and porn producers in Europe.
---
---
Video Art Holland (V.A.H.) BV
Best known for being the company behind the biggest premium teen site in Europe, Club Seventeen, Video Art Holland is a Dutch pornography company chaired by Arthur Martin since 1979. Though the company originally made its name with dirty magazines like Chick, Chick Extreme and the Seventeen Club, they began making porn videos in the 1980s. Specialising in gonzo pornography, which uses more close up shots and places the camera directly into the action, Video Art Holland produces material which is popular in the UK, the Netherlands and Germany.
According to SimilarWeb, ClubSeventeen.com is ranked the 2,636th most visited adult site on the internet and receives an estimated 1.15million hits each month.
John Thompson Productions
Founded in 1997, John Thompson productions is a German pornography studio best known for its popular bukkake site, German Goo Girls. The company also produces a lot of exclusive hardcore titles for their other sites which include gangbangs, BDSM, rough sex and golden showers.
The flagship site, German Goo Girls [read our review here] receives around 400k-600k visitors each month and ranks 6,815th in the global adult website rankings.
In general, John Thompson Productions has a reputation for extreme pornography and its sites and content are banned in a lot of countries. Series filmed under the 666 studio which focuses on urolagnia and urophagia ('watersports') are banned in Switzerland, Canada, Australia and New Zealand.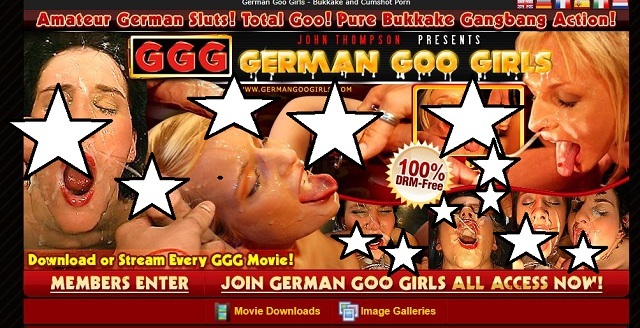 Other brands of note, include:
Sexbox
Mädchenmund
German Goo Boys
John Thompson
GGG-John Thompsons Casting Girls
GGG Das erste Mal / First Cumshot
Piss Box
GGG Devot
You can find all 1175 titles produced by John Thompson Productions via their Video on Demand website which includes some interesting behind-the-scenes films of the making of German Goo Girls.
Private
Europe's most visited multi-lingual porn website, Private is one of Europe's oldest adult film studios. A Swedish company that was founded in 1965 when it launched the world's first full-colour hardcore magazine, the Private Media Group now produces high-quality pornographic films for the Video-On-Demand markets as well as for Hotel Pay Per View, Internet Protocol Television (IPTV) and home DVDs.
The studio has earned itself over 130 adult industry awards including Best Foreign Feature at the AVN Awards from 1994-2000, 2001, 2003-2007 and 2009.
The most popular titles released by the studio include the big-budget two-part series Millionaire which cost $1.9million to produce and the Private Gladiator series.
The company's main website, private.com, is ranked globally as the 816th most popular adult site and receives more than 4.51million views each month.
Other sites in the Private portfolio include:
Dorcel Club
Named after the owner and founder, Marc Dorcel, a legendary star of the porn films from the 1960s, 1970s and 1980s, the Dorcel Club is a high-class studio based in France.
Although much of the back catalogue of the 1300+ videos feature the Hungarian born star himself, the studio is known for having exclusivity contracts with its female stars. Ambassadors of his brand include top adult performers such as Laurie Sinclair, Yasmine Lafitte and Melanie Coste.
Investing a lot of money into their production budgets, the Dorcel Club is a pioneering studio for 360o films, 3D and VR content. This approach to staying at the cutting edge of technology and with a flair for exceptional content, the studio has won plenty of awards over the years. They were also inducted into the AVN Hall of Fame in 2015.
The website has all of their new releases including the highly acclaimed Sex Games.
Rocco Siffredi Produzioni
Casting agency, Diva Futura was founded by the Italian porn legends Rocco Siffredi and Ilona Staller in 1983 and helped launch the careers of Moana Pozzi and Cicciolina. Since then, the studio and TV channel has pretty much gone to ground but Siffredi is still producing content via his own Hungary-based studio; Rocco Siffredi Produzioni.
Content out of his studios does vary but he is known for popularising rough sex and most of their titles feature the man himself. At present, there are over 2000 titles available on his website.
One of Europe's best-known male porn stars, Siffredi's sites receive close to a million hits each month and they are ranked in the top 4000 adult websites worldwide.
Paradise Film
Spanning all genres of porn, Paradise Film was founded in 2002 originally distributing DVD porn content. They launched their own production company shortly after and now operate several well known studios, including:
Red Heat
Lions and Roses
Paradise Film
Centauro
Paraphilia
Paranoid
Studio Pervers
Filly Films
Combat Zone
The company is German but they shoot with (mostly Eastern) European teens and have one plenty of awards including the 2007 eLine Award for Best International Series for Ass Drippers.
Magma Film
A German adult film studio originally founded in 1988 as MTC, Magma Film works with European porn stars as well as those from across the Atlantic. However, it is with their homegrown talent that Magma really excels and they have made a name for themselves as being the best source of German porn.
The company was sold in 2000 to a Swiss company called Mascotte Film AG and the headquarters are now in Zurich. Technically this means that the content is owned, licensed and distributed by the Swiss but the production remains very German. The type of porn is wide-ranging and includes some niche markets such as swinging and public sex.
They were the first European adult film production company to release their content on Blu-Ray with the title Porn Hard Art in 2007.
There are more than twenty sites in the Magma Film network, including
Pro Amateur
Strassenflirts
Magma Swingt
Pimmel Bingo
Dark Dreams
German POV
Hauptstadt-porno
Stadtficker
Porn in the USA
Magma Casting
Voted 'Company of the Year' at the 2007 Venus Awards, Magma Film has produced more than 700 titles with the website receiving more than a quarter of a million hits each month.
Harmony Vision
The biggest porn production company in the United Kingdom, Harmony Vision trading as Harmony Films was incorporated in 2005. They have also gone on to be a high street sex shop retail outfit and have their first flagship store on Oxford Street in London.
The company produces a lot of films featuring British porn stars but they don't limit themselves and you can find performers from across Europe as well as stateside.
They are a jack of all genres covering everything from softcore to hardcore, lesbian to anal, BDSM t interracial.
So far the company has produced about 150 titles with over 700 scenes and they also have deals to distribute content from other studios which you can watch on-demand via their website.
Abby Winters
Founded in 2000, Abby Winters is technically an Australian porn site but, since their move to Amsterdam in 2010, they could pass for Europeans, albeit dual-citizenship! The move was a piece of red-tape avoidance and followed problems with the Australian legal system and classification laws.
According to WikiLeaks, the site was apparently on a blacklist in Australia due to these issues.
Since its move to a more liberal climate Abby Winters has gone from strength to strength and produces regular high-quality content featuring some of the hottest amateurs from within Europe as well as from their homeland, Australia.
Their content is based on a natural focus with 'wholesome young amateur women alone, together, and with their boyfriends'.
Abby Winters has won several awards of note including the AVN Best Amateur Series 2008 for Intimate Moments and the 2012 XBiz Award for Adult Site of the Year.
The site receives over a million visits each month and is in the top 2000 adult websites in the world.
Other European Porn Studios of Note
Though not known for being prolific or profitable, the following European adult film studios are also worth mentioning for the contributions to the last 30 years of Euro-porn.
Puzzy Power
Puzzy Power was a Danish porn studio founded in 1997 and was a subsidiary of the mainstream company, Zenotropa. They were a pioneering outfit which wanted to place women at the centre of their manifesto and they worked with porn models, journalists, sexologists and production staff to produce a statement on women and sensuality. Their way of working became a model for other porn studios.
Innocent Pictures
When Puzzy Power closed in 2002, the task of making adult movies for the company Zenotropa fell to the newly incorporated Innocent Pictures. The studio went on to become an independent film producer and provided content for the late night Danish entertainment channel, Kanal København. Just like their predecessors, Innocent Pictures had an egalitarian approach to porn production with women and positive porn at the heart of their manifesto.
Their most popular and well-known title was the 2005 film All About Anna which starred Gry Bay.
Thagson
A Spanish studio that was producing porno movies in the early 1990s, Thagson is no longer making films but is, instead, a sex toy retailer.
They won several awards in their time including the 2007 Erotixxx Award for Best European Feature Film for Dog's World and Best Adult Film for Women for Five Hot Stories for Her.
There are around 30+ full length films to their name and though a small studio compared to the likes of Private, they do have some quality Spanish porn stars of note including Carol Vega, Sara Class and Samia Duarte.
Featured image via Wikimedia.