Fuck buddies, fornifriends, friends with benefits, casual encounters, one-night stands, no-strings attached fun – however you describe it, having a go-to booty call is a nice luxury to have after 18 months in lockdown!
If you're looking for casual sex in London, there are a few ways you can go about it. We're going to discount finding a relationship. Too much work! Thankfully there are plenty of sites and apps that cut to the chase and focus solely on no-strings-attached fun. Well hello there, Adult Friend Finder…
In our guide to London casual encounters, we check out the best apps, websites and personals for finding a regular hook-up.
---
---
London Casual Encounters: How to Get Laid!
London Casual Encounters: Online Personals
Online personals are notorious for scams and hoaxes.
While the following sites all have opportunities for a casual hook up, you should be careful when you are responding to any ads.
This applies to personal safety but also, and far more likely, is the quality of the respondent.
Oftentimes, women on the site will use a fake photo or no image at all.
Most of the sites are free to list and do not employ any authentication process so you will need to do your own quality control before arranging a meet up.
Backpage & Craigslist
Since April 2018, the ubiquitous website for personal classifieds, Backpage, has closed down.
The site is part of an ongoing investigation into sex trafficking and under-age sex.
The action follows the decision by Craigslist to remove the personals section from its pages in an attempt to comply with the Allow States and Victims to Fight Online Sex Trafficking Act (FOSTA); however, this is only in the United States.
The essential go-to for casual encounters that is offered by Craigslist is still (for the time being) alive and well in London.
With several thousand listings to browse through, there is no shortage of consenting adults who are seeking friends with benefits.
Unfortunately, there is no easy way to filter the ads on the site and instead you have to browse or search by keyword to find someone suitable. Plus the site does attract the attention of escorts who are offering paid sexual services.
So, what other online personals can you hit up for casual encounters in London?
Locanto
https://london.locanto.co.uk/Casual-Encounters/207/
Unlike Backpage and Craigslist, Locanto is very much still up and running to provide London's singles scene with plenty of opportunities to hook up.
The site is free to use, both to advertise and browse, but because of this it does attract some escorts who use the service to pick up clients. However, you can find plenty of hook up opportunities using the site, as long as you can read between the lines.
Listings are organised into one of several categories:
Women Looking for Men
Women Looking for Women
Men Looking for Women
Fetish Encounters
Men Looking for Men
Transsexuals for Men
Couples Seeking Women
Couples Seeking Men
Couples Seeking Couples
Viva Street
http://www.vivastreet.co.uk/adult-dating/london
Viva Street offers a similar service to Locanto but doesn't have the same number of sub-categories however there are better search facilities. You can filter the listings using age as well as gender plus likes/dislikes and interests.
Unlike Locanto, Viva Street also has a section for escorts which should mean that you get less ads for paid services.
Free to use, both to browse and to list, the site has a patchy reputation but there can be some good pickings on here.
Love Awake
https://www.loveawake.com/free-online-dating/United-Kingdom/state-of-London.html
Love Awake is an adult dating service that attracts over a million visitors a month. It is an international site and covers most European countries and has a good coverage in London. The majority of users are men but there are a lot of women registered too.; over 1700 at the last visit.
The site is not specifically designed for hook ups and covers a lot of dating opportunities so you may need to browse through matching profiles.
There are some good filters you can use on the site to narrow your results down including physical attributes, age and other personal information.
The site is a freemium service so registering won't cost you but accessing the features will.
See more options in our guide to Sex in the UK.
London Hookup Dating Websites
As well as personal ads listed on classified sites, there are also premium services that offer a range of hook up opportunities. Unlike the classifieds, you will need to pay a membership fee to access the contact functions.
Most of these websites have different categories of the types of relationship you are looking for and some specifically have casual encounters, hook ups or friends with benefits as an option.
Our top recommendation is the aforementioned Adult Friend Finder.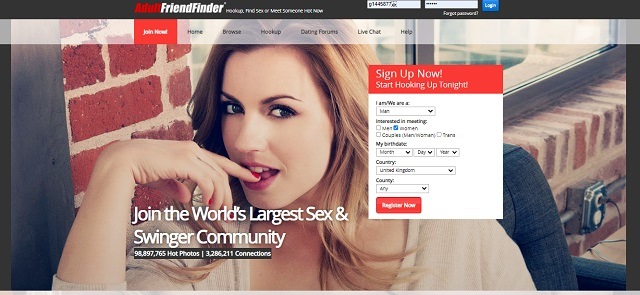 The site is synonymous with casual sex and has been around for many years.
It has a database of millions of members, including a very large contingent in the UK. You'll find a lot of UK swingers camped out on AFF, as well as many escorts and working girls looking to pick up clients.
Beyond that, there's a weird and wonderful mix of London members that you can try your luck with.
Another site that is perfect for established men in the capital is Seeking Arrangement.
If you are living the high-life on a London salary, but don't have the time to meet beautiful women… well, this site might be just the tonic.
It connects established men to beautiful women for a mutually beneficial arrangement.
Sure, you'll find plenty of casual encounters… but you'll have to be prepared to wine, dine and show each lady a slice of good living.
Other useful sites for hooking up in London include:
YMMV.
Mobile Apps for Hooking Up in London
Of course, there is no covering the art of hooking up in London without mentioning the game changer that is Tinder.
The first of a series of copycat 'swipe-right' apps, Tinder brought the convenience of a smartphone to dating; the result was an instant way to connect with people using the app in the immediate vicinity.
The market is now flooded with similar apps, each having a different focus for the singles scene; some, like Grindr is targeted at gay and bisexual men whilst Coffee Meets Bagel is more about serious relationships.
As well as Tinder, the following apps all offer an easy service for hooking up using your mobile phone and often are available free to use. As with Tinder, the premium version of these apps give you more features and are often well worth paying for.
Blendr – Popular with young professionals, Blender is the new Tinder when it comes to 20-somethings looking for casual sex in London.
Happn – Like the look of someone you pass on the street? A location based app that works just like Tinder.
Tingle – Almost exactly like Blendr but offers a discreet 'buzz' on your phone when you get 'winked' at.
Pure – A fast acting app that only shows your profile for an hour each time you activate it. Its more discreet and has a reputation for getting no strings sex now.
Bumble – Works exactly like Tinder only the women have to make the first move.
3somer – If you fancy trying a threesome then this app is for you. Popular with swingers, 3somer works just like Tinder.
Mimitate – The ultimate in Netflix and Chill, you post a selfie alongside what you are watching and women who are interested in both you and your choice of film could be sharing more than a bag of popcorn with you within the hour.
Whiplr – A Tinder for the kinksters, Whiplr is designed to match casual partners who share a fetish.
Hinge – works by letting you hook up with friends of friends on Facebook. It's a little too close to home for some people but does give you the benefit of having some degree of guarantees. You also have a mutual connection to discuss if you do hook up.
And lastly, if you are still not getting lucky using these sources then you could always try the old-fashioned way.
London has more bars and pubs than most European capitals and has more than 5000 venues to hit up.
With a population of almost 9 million people and almost 19 million tourists, the odds are always in your favour.
Our London Sex Guide is a good place to start. 😉