Can't get enough of the British accent? Looking for local UK cam girls to put on a live show?
Adult cam sites are international, featuring performers from all countries. This makes it tricky to find specialist British cam sites. After all, there isn't a reason to create them, since both UK models and viewers gravitate towards the platforms with the most choice.
Nevertheless, the UK camgirl category is an incredibly popular one. So, all the major cam sites have an active population of British hotties for you to indulge your English, Scottish, Welsh, or Northern Irish fantasies. If you're looking for the hottest live UK sex cams, we've got you covered.
In our guide below, we introduce nine of the best British cam sites in 2023. These are the sites with the best choice of British models, on cam platforms that are known for delivering red-hot live sex shows. We also take a look at the difference between global cam platforms and specialist British cam websites. Finally, we introduce you to some of the UK's fittest cam girls across the major sites like Chaturbate, StripChat, LiveJasmin and beyond.
Let's get started, shall we?
What Are The Best Sites for UK Adult Cams?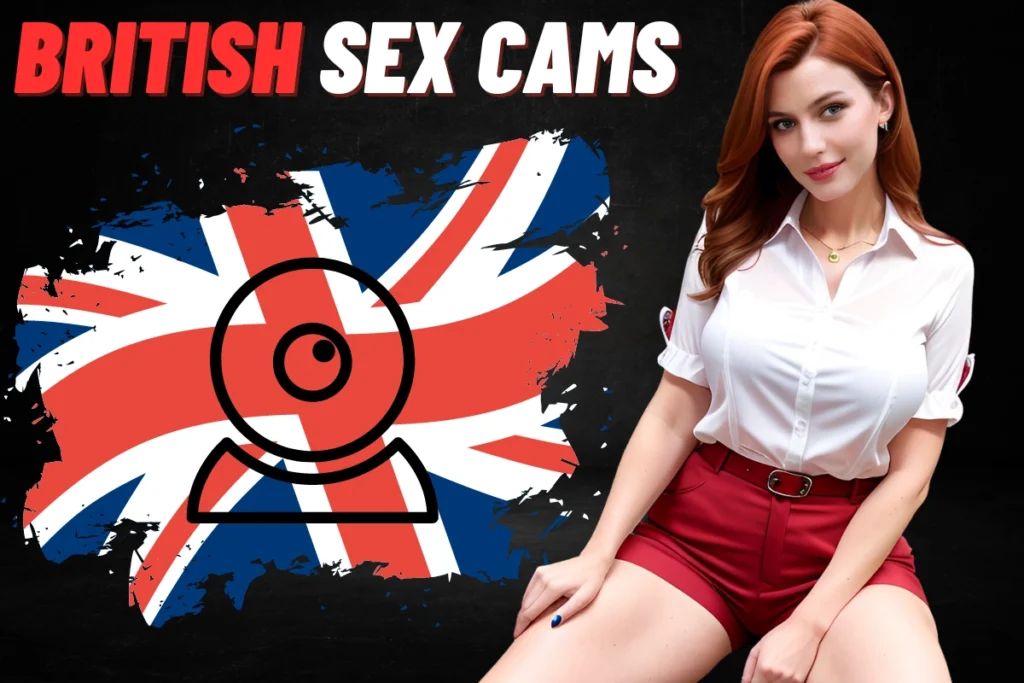 The nine best sites for British sex cams, as of August 2023, are listed below:
StripChat
BongaCams
Streamate
Cam4
Babestation
Chaturbate
Jerkmate
MyFreeCams
LiveJasmin
We have hand-selected these sites based on the number of UK cams available, video quality, ease of use, reputation, and cost. While you will find white-label cam sites that wrap themselves in the Union Jack and boast British-themed domains, very few of them can deliver the all-around quality that the sites above possess.
Let's take a closer look at why…
1. StripChat
https://stripchat.com/girls/uk-models
StripChat has roughly 400 cams from the United Kingdom, with an average of 50 ladies online ready to please your every whim at any time. You won't find many professionals on here, though. So if you're looking for well-known faces in the porn industry, this isn't the place to be.
But that doesn't mean you won't have a good time. The majority of these British cams have their sex toys connected to the tip jar — you tip, they'll quiver in pleasure, showing you just how much they appreciate you.
Some hotties are even up for sexting. And even though you'll pay for the privilege, you're bound to have a good time.
Perhaps the only thing a little off with this site is its filtering. As you'd expect, clicking "UK Models Cams" brings up a load of Brits. The problem, however, is that you won't find only Brits — Cypriot, Turkish, and German girls are frequently featured in this section. Granted, they're just as beautiful, but when looking for UK live cams, you might find it annoying having to scroll past the fake-Brits.
That said, StripChat has a lot going for it. It's one of the fastest-growing cam sites in the world, backed by a rapidly expanding selection of UK models, the sleekest interface in the business, and some really cool interactive features — like recordable private shows (for the eternal Wank Bank), and even virtual reality sex cams.
Most importantly, there are a bunch of good-looking British babes on StripChat. So many, in fact, you might struggle to pick your favorite. But we recommend taking a peek at the sizzling hot UK sensation DiamondJo_ (if she's online). This stunner is ranked 19th on the site's leaderboard, and you'll see exactly why.
2. BongaCams
https://bongacams.com/tags/english
BongaCams has 1,629 English-tagged rooms giving you loads of gorgeous UK women to choose from, but here's the problem: by English, they mean the language — not the nationality! The site operates a rather dozy regional tagging system where the UK camgirls are lumped in with models from North America and Australia. Not great for Brit-spotting…
When you trawl through the active sex shows, you'll see Bonga Cams is actually heavily skewed towards European cam girls (that is, cam models on the continent, not in Blighty). Still the English category does uncover a decent number of UK cam models, and the good news is they are NOT particularly shy.
Whether you prefer GILFs, BBW, skinny, muscle, brunette, or blonde performers, you'll find somebody in this site's English category who will ensure the blood rushes to all the right places.
Packed to the brim with amateur performers, BongaCams focuses on free-to-watch live cams, allowing you to satisfy your "me time" without splashing any cash. Although, the performers often have Token goals that you and other viewers will work toward to unlock some seriously spicy content — tit flashes, squirt shows, and more.
The only thing that costs real-life cash here is Tokens, which you can use for private, spy, and group shows, alongside tips, as mentioned above. As of August 2023, you'll pay:
€1.99 for 18 Tokens.
€4.99 for 60 Tokens.
€9.99 for 140 Tokens.
€24.99 for 370 Tokens.
€49.99 for 800 Tokens.
€65.00 for 1,050 Tokens.
€74.99 for 1,230 Tokens.
€500.00 for 8,400 Tokens.
€990.00 for 16,600 Tokens.
€2,500.00 for 42,100 Tokens.
Considering the default price of a private chat (i.e., just you and your favorite hot British model) is 60 Tokens per minute, it becomes costly very quickly. It's worth noting the site only accepts credit card payments, no crypto or PayPal, unfortunately.
You don't have to pay, though. You're more than welcome to sit back and enjoy the free live performances, even from top-ranking UK performers like Victoria68xx, who ranked seventh in BongaCams' Queen of Queens contest this week.
3. Streamate
Streamate has around 200 models online in the US/CA/UK/Australia category simultaneously. While that's great news if you're just looking for an attractive woman to fap to, it can be pretty annoying when searching for British girls only.
(Did somebody not tell the major cam site owners of the world that there's quite a difference between Brit, American and Aussie girls?!)
Thankfully, there's a saving grace — the flag. At the bottom right-hand corner of every stream, you'll see a small Union Jack if the model is from the UK, so it's easy to scroll to identify the Brits from the Australians, Canadians, and Americans.
One thing you have to appreciate about Streamate is that the site is extremely polished and easy to use. As one of the top premium cam brands in the world, it has to be really, doesn't it? Navigating the site is wonderfully easy. Click on the girl you like, enter their free live video, and type your message. Don't expect any free live British sex cams, though. All of the explicit action on Streamate takes place in private, meaning the girls won't be getting naked until you've entered a private chat.
You'll only be charged if you enter a paid chat. Before heading in, you'll see the model's per-minute prices in Dollars (or your local currency) so you can decide whether she fits your budget. Remember that you'll pay more for a private session with sought-after performers.
Unlike other UK cam sites, private chat doesn't mean it's just you and the performer. Other members can join in and watch, too. You must initiate an Exclusive Chat to keep it between yourself and your favorite lady, and this will cost more.
Despite not having a dedicated British category, it's easy enough to see who's from the UK. And the quality of the ladies you'll meet is pretty good (read: busty).
4. Cam4
https://www.cam4.com/female/united-kingdom
Cam4 isn't necessarily the place to go if you're looking for the world's most professional UK cam girls, but it has a varied selection — everybody from the naughty teacher to the girl-next-door.
Note that we didn't say the biggest selection (because that would be a lie). You'll find around ten online cams in the "United Kingdom Female Cams" section at most times, but you can improve your chances of striking it lucky by visiting in the prime UK camming hours of 8pm-11pm GMT.
They're all amateurs on Cam4, but some of the beautiful Brits would have you fooled; many put on such a good show you'll feel as if you're really there. Still, it's best to go in with low expectations if you're used to the highly 'efficient' cam girls found on sites like LiveJasmin or Streamate.
Most of the cams are SD quality, with only a select few being HD. This put us off initially, but the SD cams make surprisingly pleasurable viewing, featuring good lighting and small details that make up for the lack of HD. It's raw and gritty. Like watching live homemade British porn.
You can view the live shows and contribute to the general chat for free, like the other sites we've discussed. However, you'll pay for tips, private shows, and gifts.
Like BongaCams, Cam4 uses Tokens as currency. Models set their own per-minute prices for private shows but tend to hover around the 12 to 30 Tokens per minute mark.
Cam4 also boasts the rare status of having more cam guys registered on the site than cam girls. So, if you're looking for British sex cams with men, this is definitely a good site to shortlist.
5. Babestation
https://babestationcams.com/british
Babestation started over 20 years ago in the UK as a TV-based adult chat program, but it's safe to see it's reached loftier heights, adding an interactive cam site and internet TV site to its repertoire.
We're just discussing the camming spur of their brand here.
This UK-based adult cam website has around 1,657 British-tagged cams, showcasing the sexiest ladies the island has to offer — and a lot of them. The brand's reputation for customer-oriented services also encompasses the cam site, which makes the women even hotter as they're willing to do almost anything to please you.
You can sign up for a free account in a few minutes, but you won't be able to preview or watch any shows until you pay. In fact, the second you sign up you're prompted to part ways with your hard-earned cash.
Credit (i.e., the site's currency) is priced as follows:
220 credits = $300;
107 credits = $150;
75 credits = $115;
25 credits = $40; and
10 credits = $15.
Models set their own prices, and the award-winning ladies (like Kiki Daniels, April's 2nd-rated cam model, and Poppy May B S, March's number one cam girl) are more expensive than others (rightly so given the massive demand for their sex shows).
6. Chaturbate
https://chaturbate.com/tag/british/
Chaturbate is the fifth most popular adult site on the web, and the 57th most popular website worldwide. That's quite a feat. Widely considered the most famous cam site in the world, you'd expect a good selection of UK models, and that's exactly what you'll find on the British Chaturbate channel.
As for its UK population specifically, the number of British-tagged cams online at once varies drastically depending on the time. For example, we're writing this at 7:00am in the United Kingdom and only 15 performers are online. But later in the evening, there are 100+. Don't worry; we'll discuss navigating the time zone differences later.
The site is home to a boatload of amateur performers, so don't expect to see famous names in your recommended shows. They're still super sexy, though, and they're performing for "free" (although Chaturbate is based on the tipping structure). What's not to love?
However, many models save the raunchiest stuff for their private shows, which you'll need to pay to view (it's called a ticket show). As such, people on a tight budget consider it somewhat limited. But if you're willing to at least tip once to help performers reach their goals, you'll have a whale of a time and the model will give you some special attention too.
Chaturbate is a chaotic site to navigate. The chat rooms can get extremely busy (with thousands of viewers spamming the top shows). It's not the best site for an intimate cam2cam experience, but you can't top it for model choice.
7. Jerkmate
https://jerkmate.com/cams/girl/british
Jerkmate is a top-notch cam platform with a massive selection (900, to be precise) of drop dead gorgeous British girls showing you everything they've got. Boasting everything from porn games to public rooms to private live cams to cam2cam experiences, the site has about every form of adult entertainment you can imagine.
Oh, and just to be clear — we weren't lying when we said these ladies are drop-dead gorgeous. Jerkmate probably has the highest quality of performers on this list (bar LiveJasmin). From the tatted-up 29-year-old JessStarXX to the 47-year-old bodybuilder selenafit to the beautifully made-up 34-year-old MyaxJacie, they can really get your blood pumping.
We also love the pornstar section. The platform has regular broadcasts with some of the industry's favorite names. However, it's pretty hard to differentiate who's British and who isn't unless you already know them.
You can use the cam site for free but can't create an account unless you're willing to put your credit card information in. We think this should change, as many similar sites don't request this data until you want to access paid services. That's how it stands for now, though.
Like Chaturbate and most of the other platforms we've looked at, it's based on a tipping structure. That said, they make it way more enjoyable. Instead of just giving money, you can select from a tip menu that varies per model and can include anything from twerking to tit flashes to ten spanks. Expect to pay at least ten gold (i.e., $10) for this privilege.
Jerkmate offers private and exclusive shows, but they're pretty expensive.
Private shows cost $4.99 per minute, allowing you to take your chosen beautiful Brit to a one-on-one performance. But like Streamate, other people can still appear in the chat feature. You won't be the only person to get their attention.
Exclusive shows cost $9.99 per minute, ensuring nobody can disturb your sexy time. You'll get their undivided attention.
As you can see, it becomes pretty expensive, but there are many perks, and you even get 50% off your first private show as a new user — a great way to introduce yourself to the world of Jerkmate's UK cam girls.
8. MyFreeCams
MyFreeCams has a small but horny selection of UK camgirls, with an average of 20 online simultaneously.
Despite the lackluster, dated user interface, finding your way around is relatively easy. Not to mention, the video quality used by the models is particularly appealing and nothing like you'd expected based on the initial site aesthetic (ugly ASF).
The sign-up process is straightforward. All you need to do is supply your email address, username, password, and confirm you're over 18. That's it. And if you don't want to chat, you can watch without having an account.
Once you sign up, you can join in with the live streams, typing away to try and get the attention of your favorite British lady. Although, you'll need to get yourself some tokens if you want to really grab her attention. Many use teledildonics, which vibrate as soon as you send tips. She won't be able to ignore you once you start hammering away with your wallet in the other hand.
MyFreeCams is similar in style to Chaturbate. It's loud, chaotic and challenging to keep up with the live chat. But if you're looking for free British sex cams, you can see a lot of action here without paying, thanks to the tipping-based model.
9. LiveJasmin
LiveJasmin entices you with its deep-red color scheme, instantly recognizable from the thousands of pop-up adverts you've seen on various tube sites. Don't be put off, though, LiveJasmin has a stellar reputation for recruiting beautiful women who know exactly how to perform on webcam.
Unfortunately, LJ is another of the cam sites to group British babes with models from North America and Australia. And unlike Streamate, there isn't a saving grace. You won't find a flag in the bottom right-hand corner. Instead, you'll have to scroll through and hope whoever you click on fits the Brit bill.
However, they do live up to their reputation in the looks and professionalism departments. You can rest easy knowing when you find a UK hottie; they'll be just as sexy and 'efficient' as you imagined. LiveJasmin has an extensive model vetting system, meaning models can't just sign up and start broadcasting. They have to pass the quality standards first.
You can experience the LiveJasmin magic by creating a free account. However, the free services don't last long — you get just ten minutes of watching live videos without dipping into your bank account. After that, money will get you anything you want from these lusty UK cammers.
Speaking of money, it's one of the more expensive platforms out there. But it gets around its high price point by delivering on its premium recruiting promise; you're bound to find a British girl that is seriously too hot to handle. Some ladies even allow VibraToy to ensure lifelike interactions.
LiveJasmin isn't for you if you don't want to spend money. There are no free shows with nudity since it is expressly banned in public shows. But if you're looking for guaranteed attractive women in the United Kingdom and don't mind paying for their interaction, you've found your perfect match.
Are There Any Specialist British Sex Cam Sites?
Babestation is perhaps the closest thing to a specialist British sex cam site. But, as we said at the beginning, such sites rarely prosper, and if they do, they're white-label spin-offs of existing major brands — with international databases of models from all over the world.
Take SexyUKCams, for example. Despite its clearly British theme, it just uses the same database as BongaCams. The same goes for BritishBabesLive. You can use these sites if you're looking for a "specialist" adult cam site in the sense that the branding is British. But in reality, you might as well join Bonga Cams for access to a wider selection of models — including the same UK camgirls.
At the end of the day, neither the camgirls nor you (i.e., the viewer) would benefit from a truly Brit-only cam site. Why? Because performers would be purposefully limiting their shows to one region, when they could have access to the globe. And the same for you.
Where Can You Watch Live Cams of British Porn Stars?
Since there aren't any specialist British sex cam sites, you won't be surprised to learn that finding live cams of genuine UK porn stars is also tricky. While not impossible, you'll need to dig to find them.
CamSoda has a fairly large pornstar cams section showcasing many major names in the global industry (like Brandi Love, for example). The site doesn't have a UK filter, though. The only way to determine whether you're looking at a British star is to click through to their profile. We won't lie; it gets a bit tedious. But anything for the sexy accent and British sense of humour, right?
In addition, Jerkmate provides regular porn star broadcasts featuring over 50 big names in the space. Again, you won't know whether they're from the United Kingdom until you look at their profile.
Aside from those, your quest for live British porn stars will abruptly halt. Although you can check out LiveJasmin. Granted, they aren't actual porn stars, but the platform is famed for its highest-quality recruiting standards, so the girls are more professional than the average cam sites we've talked about.
Which Site Has the Most UK Sex Cams?
Generally speaking, we wouldn't have trouble answering a question like this — Chaturbate takes the cake here time and time again. But that isn't the case here; the UK market, in all its sexy glory, boasts a much more even distribution. You'll find a decent selection of online cams on most of our recommended sites.
But if you're dead set on finding the site with the most cams, head to LemonCams. The site aggregates live shows from many top-rated platforms, letting you get a pretty good idea of which has the most at any time. For instance, at the time of writing, it appears that StripChat has the most live British cams, closely followed by MyFreeCams.
Who knows which site it will be when you take a peek? You'll have to let us know… if you aren't too busy of course (*wink wink*).
What Is The Best Time to Chat with UK Cam Girls?
The likelihood of finding a vast selection UK camgirls at 4:00am their time is slim. So, you've got to time it right if you want to get intimate with these ladies.
Generally speaking, British cammers will start their streams around 8:00 pm GMT (Greenwich Mean Time). This means you'll have the largest selection if you log on at 4:00pm EST (Eastern Standard Time).
Of course, every model has a different schedule. When you find your favorites, predicting when to go on these sites will be much easier. But until then, your late(r) afternoon is their nighttime, a.k.a., their prime streaming time.
Do UK Cam Girls Block British Viewers?
UK cam girls sometimes block British viewers through a regional blocking feature. Why? To prevent people from their native country from seeing their streams.
They do this for two reasons:
To stop their family members or people they know from stumbling across their online activities.
To reduce the chances of their regulars bumping into them in the street and all the negative consequences that can arise from that.
So, if you're in the United Kingdom and want to see Brits getting dirty online, you may need to use a VPN (virtual private network). That way, you'll appear to be viewing from a different country, and the regional blocking won't stop you from pitching a tent.
That said, not every UK cam girl blocks their region. Although, many choose to once they start gaining popularity.
Who Are The Top UK Cam Girls?
If you don't know where to start with UK camgirls, these ladies are the sexiest, highest-ranking ladies you can meet. We've scoured the top rankings on several popular cam sites to bring you a bucket list of sexy Brits to admire.
Let's take a look:
---
That wraps up our list of the best British cam sites and live UK sex cams in 2023. Are there any British beauties that deserve a spot on our list? Any other sites that are great for tuning in to sexy webcam shows?
Drop us your suggestions and recommendations for consideration!