Emmanuelle is an iconic piece of softcore film history and has spawned many sequels, parodies, adaptations and other related material.
Originally a book published in the 1950s, the name Emmanuelle has become synonymous with an age of pornography that has been lost to the modern age of high definition, on-demand adult movies.
As plot is sacrificed for more explicit content, we take a look back at the story of Emmanuelle and how this collection of erotic fantasies became an institution in the world of cinema.
---
---
Emmanuelle: The Novel
Attributed to the writer Emmanuelle Arsan, the book was originally published in French but enjoyed such a popular reception that it was translated into English in 1971. Emmanuelle  is widely reported to have first been written in 1967 but anonymous copies of the novel were printed in 1959. Entitled The Joys of a Woman, this precursor to the novel was also based on a character called Emmanuelle whose sexual adventures caused the book to be banned at the time.
Emmanuelle Arsan is a nom-de-plume and the real name behind the book is that of Marayat Rollet-Andriane, a French-Thai actress. It is often believed that the story of Emmanuelle is semi-autobiographical but Rollet-Andriane has always denied this to be the case. However, it is thought that both herself and her husband Louis-Jacques Rollet-Andriane penned the novel together.
The novel had two print sequels.
Plot
The plot of the novel Emmanuelle is a simple one that explores the themes of love and lust against a background of East meeting West.
The book starts with the 19-year old protagonist flying to Bangkok to join her French husband, an engineer who has relocated to Thailand for work. On the plane, Emmanuelle has two sexual encounters with random male passengers which sets the tone for the rest of the film; ostensibly an extended series of adventurous extra-marital sexual exploits.
Whilst in Bangkok she joins a community of expats whose principle leisure activity seems to be sex and Emmanuelle falls into this crowd without much hesitation. Firstly, she befriends two female friends; Ariane de Saynes (an older French Duchess) and Marie-Ange. The trio enjoy some Sapphic scenes but it isn't until Emmanuelle meets Bea at a tea party that a full lesbian scene ensues. Emmanuelle seduces the slim red-head and the pair have sex in the shower and then again in the bedroom.
Despite professing her love for Bea, the couple never meet up again and Emmanuelle is heartbroken. She is comforted by her husband and her friend, Marie-Ange.
In an attempt to 'cure' Emmanuelle of her obsession with sex instead of love, Marie-Ange introduces Emmanuelle to an Italian friend, Mario.
Emmanuelle wishes to take him as a lover but Mario, a homosexual, turns out to be a better mentor.
The final scenes of the book culminate in a trip taken by Mario, Emmanuelle and an Englishman called Quentin to an opium den and then a temple. The visit is an attempt to expunge Emmanuelle of her confusion between eroticism and love by embracing the freedom of pure sexual hedonism. Emmanuelle seems to take this in her stride as she gives Mario a hand job and fellates another man. Quentin disappears and the two return to Mario's home in a rickshaw.
To demonstrate her liberation of love in place of lust she goes topless and performs oral sex on Mario in the rickshaw. Perhaps to preserve his sense of homoeroticism or just because he feels like it, Mario invites the rickshaw driver into his house and the three couple in a final scene of mutual ecstasy; Mario penetrating the rickshaw driver who is in turn penetrating Emmanuelle at the same time, orgasming (as luck would have it) at the same time.
Emmanuelle: The Original Films
It wasn't long before the novel was adapted for the screen and the first such production was in 1974 and directed by Just Jaeckin.
With a screenplay written by Jean-Louis Richard, the film was Jaeckin's debut though he found his niche and went on to direct other softcore films including Histoire d'O (The Story of O) and Lady Chatterley's Lover; neither met with the same commercial success as Emmanuelle.
Though the screenplay largely follows the narrative of the novel, there are some deviations including that of Mario's sexuality. In the book, Mario is either homosexual or bisexual but the film portrays him as a straight character and one that Emmanuelle continually seeks to gain the (sexual) favour of.
Emmanuelle's husband is a diplomat in the movie version and not an engineer.
The conclusion of the film is not centred around the trio of Mario, Emmanuelle and the rickshaw rider but is, instead, a scene where Emmanuelle is given as a prize to the winner of a local boxing bout.
Famous Scenes
The infamous scenes which Emmanuelle recounts to Marie-Ange as she is on a plane bound for Bangkok provide fodder which may have started the 'Mile High Club' phenomenon. Though more a fantasy than reality, she accepts the advances of a flirtatious fellow passenger, having sex with him (quite noisily) in her seat, watched by another amorous male traveller. Barely recovered from her first experience of adultery she is then picked up (literally) by the second man and taken to the toilet where she is penetrated sitting on the small sink unit.
Another famous scene which provides a lot of controversy is that of the lesbian encounter she experiences on a squash court (and locker room) at the hands of Ariane. The much older women virtually forces Emmanuelle into having a sexual encounter with the scene bordering on rape. Critics of the novel and the film have long called into question the double standards shown here with aggressive lesbian sex somehow being consensual yet a heterosexual version of the same event would undoubtedly have been banned.
The arty scenes as Emmanuelle swims naked in a pool were shot underwater and are iconic to the film.
In a scene shot on the veranda of Emmanuelle's home, 17 year-old Marie-Ange masturbates in front of Emmanuelle over a magazine featuring the face of Paul Newman. Wearing only a tiny pair of denim shorts, the close ups of her erect nipples with her eyes closed in ecstasy feature a classic blurred lens and soft music that really evokes a sense of this golden age of mainstream cinema pornography.
But, perhaps, the most famous scene in the film is that of the unattributed actress who blows cigarette smoke out of her vagina. Believed to be the work of a stripper named Samantha, the Asian performer places an unlit cigarette to her 'lips' and lights it with a second (lit) cigarette before taking three drags and then blowing a long plume of smoke from her pussy. Interestingly, Jaeckin denies ever filming this scene, claiming that the first time he saw it was when he was previewing the whole edit in a theatre.
The Original Cast
Starring in the title role for five out of the seven Emmanuelle films (I, II, III, IV and VI), Dutch model Sylvia Kristel was also known for her portrayal of Lady Chatterley in a 1981 adaptation of the infamously saucy book. Not that she was typecast but Kristel also played the role of several other seductresses including Mata Hari.
Other roles in the original film were filled by:
| | | |
| --- | --- | --- |
| Role | Actor | Nationality |
| Jean, Emmanuelle's husband | Daniel Sarky | Yugoslavian |
| Bea, French archaeologist | Marika Green | Swedish-French |
| Mario | Alain Cuny | French |
| Gaby Brian | Gabriel Briand | French |
| Marie Ange | Christine Boisson | French |
| Arianne | Jeanne Colletin | French |
Two additional actors known only as Samantha and Gregory are also credited as appearing in the movies but no further information is given on their background or other film credits.
Subsequent movies include Italian actor Umberto Orsini (known for the 1969 film, 'The Damned'), Chinese born French actress Olga Georges-Picot (also starred in the 1973 film 'The Day of the Jackal') and the Belgian screen star, Patrick Bauchau (1985 'A View to a Kill', and various American TV Series).
Reception
The film reached wide audiences in France with over 8.8 million people visiting the box office during the initial release; 3.2 million of these were in Paris alone. The film also secured 3.6 million viewers in Spain and 4 million in Germany.
Released into mainstream cinemas in the UK, extensive cuts were employed by the BBFC which essentially eradicated any of the sex scenes. The UK video release in 1990 also featured major cuts including the smoking vagina and the scene where Emmanuelle is raped.
It was the first X rated film released in the USA by the mainstream distributor, Columbia Pictures.
At the time of its original release, reviews for Emmanuelle were mixed; some audiences appreciated the liberal and feminist approach that it offered whilst others saw it as an exploitative piece of film, focusing on Emmanuelle as an object of male desire.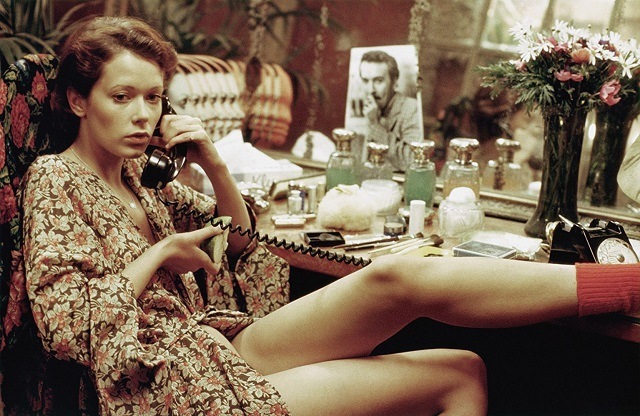 Where Western feminists were appalled at another softcore movie pandering to male fantasies, Japanese feminists actually applauded in the movie houses at the scene where Emmanuelle mounts her husband.
Perhaps with the rose-tinted glasses of nostalgia, Emmanuelle has earned more of a reputation as the years have passed and the original now enjoys something of a cult celebrity status. Though Total Film only awarded the movie three out of five stars, it accurately portrays many of our sentiments about the film when it summarised its review thus:
… the film is daft, camp, over-oiled and dubbed to death, and yet… it's still a thrill.
Since its initial release, it is estimated that Emmanuelle has generated revenue of more than $650 million.
Emmanuelle: The Spin Offs
There is no doubting that Emmanuelle rightly deserves its place in the annuls of adult movie history but much of this is owed to its prolific serialisation. Since the original movie was released in 1974, no fewer than 43 Emmanuelle films have been made with a further 40+ related titles also available.
The franchise includes a parody by the much-loved British Carry On team, the Black Emmanuelle series and even an erotic video game. The name 'Emmanuelle' has also become a byword in Japan for having an erotic love affair; 'emanieru suru' literally translates as 'to do Emmanuelle'.
The main Emmanuelle series was to spawn six sequels, each getting more graphic in nature. Emmanuelle 4, 5 and 6 had some hardcore scenes including penetration, ejaculation and fellatio.
Jaeckin was not called back to direct any of the sequels with Francis Giacobetti stepping in for the second and François Leterrier taking the reins for the third
The second (Emmanuelle 2 (1975)) and third (Goodbye Emmanuelle (1977)) films loosely followed the plots of the print sequels with subsequent movies taking on a new life of their own.
Emmanuelle 4 (1984)
Emmanuelle 5 (1986)
Emmanuelle 6 (1988)
Emmanuelle 7 (1993)
To avoid copyright issues but to capitalise on the success of the original, Italian producer Mario Mariani created the equally popular Black Emanuelle series of films (note: the slight change of spelling in the name):
Black Emanuelle (1975)
Black Emanuelle 2 (1976)
Emanuelle in Bangkok (1976)
Emanuelle in America (1977)
Emanuelle Around the World (1977)
Emanuelle and the Last Cannibals (1977)
Emanuelle and the White Slave Trade (1978)
The series follows the exploits of Mae Jordan, an investigative journalist who is known as 'Emanuelle', possibly due to her insatiable appetite for getting the story at any cost as long as it involves sex.
French-American producer, Alain Siritzky, has been one of the most prolific holders of the Emmanuelle franchise and produced the Emmanuelle in Space series which included:
Emmanuelle: First Contact (1994)
Emmanuelle 2: A World of Desire (1994)
Emmanuelle 3: A Lesson in Love (1994)
Emmanuelle 4: Concealed Fantasy (1994)
Emmanuelle 5: A Time to Dream (1994)
Emmanuelle 6: One Final Fling (1994)
Emmanuelle 7: The Meaning of Love (1994)
Emmanuelle 8: Queen of the Galaxy (1994)
Siritzky's production company was also responsible for creating a range of made-for-TV films in France including:
Emmanuelle's Secret (1992)
Emmanuelle's Revenge (1992)
Emmanuelle's Perfume (1992)
Emmanuelle's Magic (1992)
Emmanuelle's Love (1993)
Emmanuelle in Venice (1993)
Emmanuelle Forever (1993)
The company also produced these American straight to TV films:
Emmanuelle 2000: Being Emmanuelle (2000)
Emmanuelle 2000: Emmanuelle and the Art of Love (2000)
Emmanuelle 2000: Emmanuelle in Paradise (2000)
Emmanuelle 2000: Jewel of Emmanuelle (2000)
Emmanuelle 2000: Intimate Encounters (2000)
Emmanuelle 2000: Emmanuelle's Sensual Pleasure (2000)
Emmanuelle 2000 (2001)
Emmanuelle 2000 Emmanuelle Pie (2002)
Emmanuelle in Rio (2003)
Emmanuelle Private Collection: Emmanuelle vs. Dracula (2004)
Emmanuelle Private Collection: Sex Talk (2004)
Emmanuelle Private Collection: The Sex Lives of Ghosts (2004)
Emmanuelle Private Collection: Sexual Spells (2004)
Emmanuelle Private Collection: The Art of Ecstasy (2006)
Emmanuelle Private Collection: Jesse's Secrets Desires (2006)
Emmanuelle Tango (2006)
The most recent series of Emmanuelle movies stars Allie Haze in the lead role:
Emmanuelle Through Time: Emmanuelle's Skin City (2011)
Emmanuelle Through Time: Emmanuelle's Sexy Bite (2011)
Emmanuelle Through Time: Sex, Chocolate & Emmanuelle (2011)
Emmanuelle Through Time: Rod Steele 0014 & Naked Agent 0069 (2011)
Emmanuelle Through Time: Emmanuelle's Supernatural Activities (2011)
Emmanuelle Through Time: Emmanuelle's Sex Tales (2011)
Emmanuelle Through Time: Emmanuelle's Forbidden Pleasures (2011)
Other films which have been based on Emmanuelle (but were not produced by Alain Siritzky) include:
Io, Emmanuelle (1969)
Swap Meat at the Love Market: Emanuelle Meets the Wife Swappers (1973)
The Real Emanuelle: Amore libero – Free Love (1973)
Tender and Perverse Emanuelle, (1973)
Lust and Desire (1973)
Emanuelle's Revenge (1975)
Hot Acts of Love (1975)
La Marge (1976)
Laure (1976) (Forever Emmanuelle)
Néa (1976) (A Young Emmanuelle)
Annie: Teenage Emanuelle (1976)
Emmanuelle on Taboo Island (1976)
Black Emmanuelle, White Emmanuelle (1976)
Emmanuelle in Tokyo, Wild Emmanuelle (1976)
Emanuelle: Black and White: Passion Plantation (1976)
Yellow Emanuelle (Il Mondo dei sensi di Emy Wong 1977)
Sister Emanuelle (1977)
Vanessa (1977)
Hong Kong Emmanuelle (1977)
Blonde Emanuelle 3-D: Disco Dolls in Hot Skin (1977)
Felicity (1978)
Fury: La mujer de la tierra caliente, Musta Emanuelle (1978)
Emanuelle Tropical (1978)
Emanuelle and Lolita (1978)
Emanuelle and the Erotic Nights (1978)
Emanuelle y Carol (1978)
Carry on Emmanuelle (1978)
Emanuelle in the Country (1978)
Emanuelle: Queen of Sados (1979)
Emmanuelle & Joanna (1979)
Emanuele 3: An Erotic Journal of a Lady From Thailand (1980)
Emanuelle Goes To Cannes (1980)
Divine Emanuelle (1981)
Emmanuelle in Soho (1981)
Inconfessable Orgies of Emmanuelle (1982)
Kung Fu Emanuelle (1982)
Emanuelle: Queen of the Desert (1982)
Violence in a Women's Prison/Emanuelle Reports from a Women's Prison (1982)
Emanuelle Escapes from Hell (1983)
Voglia di guardare: Skandalöse Emanuelle (1986)
Lady Emanuelle (1989)
Emmanuelle: A Hard Look (2000)
Joe Emanuelle: Confessioni di Joe Orso Regina Pageant, (2014)
Emmanuelle: The Future
It's unthinkable that, after 40 years and almost 100 movies, we've seen the last of Emmanuelle. However, franchise owner Alain Siritzky died in 2014 and there is yet to be any confirmation over how the Emmanuelle franchise will be used but we wait with baited breath to see how this engaging character can be reinvented for a new audience.
Featured image via Pinterest.