Want to know more about the kind of strip clubs that Copenhagen has to offer?
As one of Europe's most popular city break destinations, Copenhagen has a great nightlife. From bars, clubs and restaurants to distinctly more adult venues, Denmark's capital caters for all. The thriving red light area is awash with erotic massage parlours, brothels and strip clubs all vying for attention from locals, visitors on business and tourists.
Whilst you can find out more about Copenhagen's sex industry in our separate guide, here we take a look at the best strip clubs in the capital city.
---
---
Madame Amour
Istedgade 28, 1650 Copenhagen
Located in the heart of Copenhagen, Madame Amour has been open for over twenty years and has a good reputation for high-quality dancers, friendly staff and great entertainment.
You can get solo dances in either the VIP lounge or in one of the private rooms with one of the 15+ dancers.
The main stage is pretty small and the club itself has an intimate feel.
With the red lighting kept low, plush furnishings and erotic art it's hard to forget you are in the city's red-light district so you should enjoy the experience. A full bar keeps guests refreshed plus they also run a table service
The club is open from Tuesday to Saturday between 8pm and 5am.
Don't forget that you can download a free entrance ticket from the website direct to your smartphone; it will save you the 100 DKK (€13.50) entry fee.
Kakadu Nightclub
Colbjørnsensgade 6, 1652 Copenhagen V
The Kakadu (cockatoo) is one of the oldest strip clubs in the city and dates back to the 1930s when it was known as 'The American Bar'.
The club is also one of the most popular night time venues being based right in the heart of the city and offering a good range of exotic and go-go dancers.
Kakadu is very much styled on a traditional English gentleman's club and features Chesterton style leather wing-back armchairs, dark wood bar and plush furnishings.
The Kakadu is open Monday to Saturday from 9pm to 5am.
Lady Love
Helgolands Gade 2, 1653 Copenhagen
Lady Love is an up-market and elegant strip club situated right in the centre of Copenhagen.
An award-winning club split over two floors, the standard entertainment on the main stage is high in quality and with live pole dancers and lap dances being performed throughout the evening.
The lower level is a more exclusive affair and is where Copenhagen's elite come for private experiences in the VIP area.
Having recently undergone a major refurbishment, Lady Love is looking very decadent with its plush new interior. From the studded leather wall behind the main bar to the drop chandeliers, swag curtains and leopard-print pole-dancing stages the club is at its best.
Lady Love is open from Tuesday to Friday from 9pm to 5am and Saturday, 10pm to 6am.
Mirage
Norregade 43, 1164 Copenhagen
Nestled in the Copenhagen V central area of the city, right next door to the luxury Hotel Skt. Petri, Mirage is a fine gentleman's club.
The club is styled with modern fittings and features dark red swag curtains to provide private dancing areas for its guests. Mirage attracts a more mature client with plenty of business dealings being conducted here as well as being a haunt for suave tourists and your more discerning locals.
The girls come from across Scandinavia including Denmark but you might also spot more international dancers in the mix. The common denominator here is that they are all very hot and have great talent. Someone at Mirage's quality control department clearly takes pride in their reputation.
Mirage is open as follows:
Tuesday and Wednesday: 10pm to 4am
Thursday: 10pm to 5am
Friday and Saturday: 10pm to 6am
7th Heaven
Hausergade 34, 1128 København
7th Heaven has more of a reputation as a poker venue than for its striptease shows but it is the combination of both which gives this club it's USP.
The small circular stage centres around a pole and is permanently occupied by one of many talented and beautiful dancers. Lighting around the edge of the room is kept discreetly low so you can enjoy an intimate lap dance. We'd like to see the lights turned up a little so you can really see what you are paying for but some people may prefer it this way.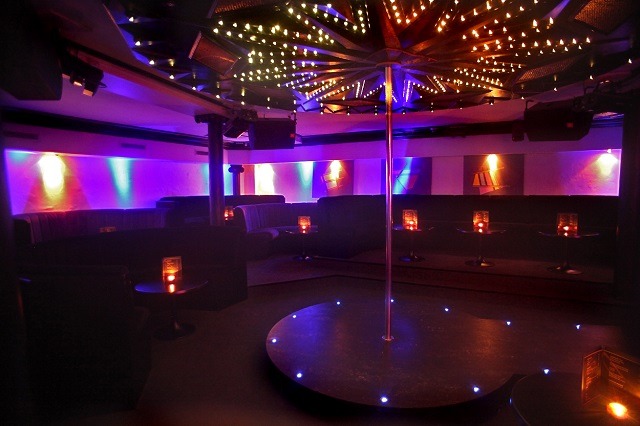 The prices here are good and you can get a lap dance from 200 DKK (€27) and a private dance for 400 DKK (€54).
Poker events run throughout the year so check the website for details but you can be guaranteed of at least one live poker night each week.
Situated right in the centre of Copenhagen's downtown, the club is open as follows:
Monday to Wednesday: 8pm to 3am
Thursday to Saturday: 10pm to 5am
Pleasure
Nyhavn 7, 1051 København K
Another centrally located strip club, Pleasure is a popular venue in Copenhagen and gets pretty busy.
As well as private dances in the VIP room, the main stage entertainment is hot and the club has a good selection of drinks including cocktails, beers, wines and spirits. There is even something called body tequila…we haven't experienced it first-hand but we hope it's where you get to lick the salt off something (or someone) more interesting than the back of your own hand!
Pleasure is open from 9pm to 5am, seven days a week.
Maxim Bar
Colbjørnsensgade 5, 1652 Copenhagen V
Just a five minute walk from the central station in Copenhagen you can find the Maxim Bar and strip club.
The experience at Maxim is a very traditional red-light striptease show. With neon lights enticing you in, you could be in Amsterdam or Hamburg. Inside, the styling continues with warm lighting, neon strips and an interior that takes some of us back to their first experience of striptease shows.
Maxim is a small club but one that has a good atmosphere with a reputation for great dancers and friendly staff.
The cover charge is 95 DKK (€13) and the club is open from Monday to Saturday between 8pm and 5am. Note: The door policy is for over-25s only and you may need to prove your age.
Angels
Nørregade 1, 1165 Copenhagen
A quintessential gentleman's club rather than a striptease joint, Angels is a classy venue decorated with green leather seating, dark wood furniture and brass low level chandeliers over the private tables. The whole look is reminiscent of an English club and it attracts a certain type of individual as a result; businessmen rather than bachelor parties.
The club can get busy but seems to maintain the balance between a comfortable intimate atmosphere and an electric ambience without getting rowdy.
Angels is situated in the heart of Copenhagen and is right next door to Denmark's exclusive nightclub,
angels_club from Angels Club on Vimeo.
Angels is open seven days a week from 9pm until 5am (7am on Friday and Saturday nights).
Waterloo Nightclub
Gammel Kongevej 7, 1610 København V
The oldest strip club in Copenhagen, Waterloo isn't the most upmarket of venues but it does benefit from being in a good location and has a good reputation. Don't get us wrong, this is no back-alley dive and is, in fact, one of the more popular clubs.
The interior is smart and welcoming but the dark lighting does disguise a myriad of ageing and the club may be overdue a bit of a fresh coat of paint.
The bar (Venus Bar) serves a full range of alcohol whilst totally nude dancers perform for your pleasure and the girls are good. You can get private dances in the fantasy rooms or just enjoy the main entertainment from the lounge.
Waterloo is open Monday to Saturday from 9pm to 5am.
Featured image via Lady Love website.