Looking for information on the escort and sex scene of Luxembourg City?
Capital of the only Grand Duchy in the world, Luxembourg City is home to a population of around 115,000 people. It is one of the smallest capitals in the world which is apt because Luxembourg is also one of the smallest nations on Earth. Nestled in between Germany, Austria and Belgium, the country can also lay claim to being one of the richest countries and most of this wealth is centred in its capital city. As a result, there is a lot of leisure activities to endure in Luxembourg City including quite a lot of adult entertainment.
In this guide, we take a look at the adult entertainment scene in Luxembourg City including escorts, strip clubs, erotic massage parlours and sex shops. We also look at the country's laws on prostitution and reveal the city's pint-sized red-light district.
---
---
Prostitution Laws in Luxembourg City
Prostitution is legal in Luxembourg although running a brothel and pimping is not. As a small country there are not that many sex workers in Luxembourg City and it is estimated that there are only 300 women working in the Grand Duchy; however, there are a good deal more than this listed as escorts on classified directories. Whilst some are native Luxembourgers, many are from other countries including Nigeria, Romania, Italy and Spain. The country also has a high number of Portuguese workers, some of whom also work as escorts.
As a wealthy nation, many European prostitutes work as high-class call girls and only service high-end clients in the top hotels. However, you can also find women working on the streets in the city's tiny red-light district (see below).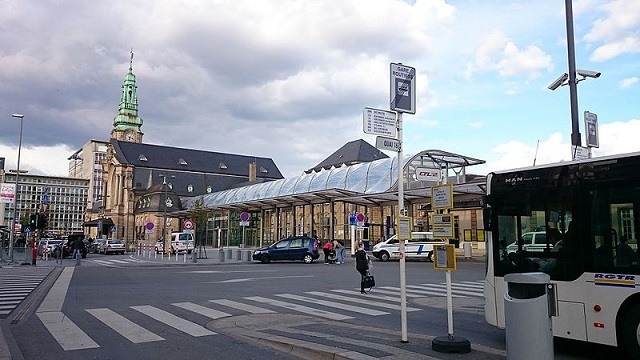 The price of sex in Luxembourg varies accordingly and you can pay as little as €50 on the streets to an average of €200 per hour for an escort. Elite escorts charge a lot more and some offer speciality services such as BDSM and fetish.
It is worth noting that the proximity of Luxembourg to neighbouring countries like Germany, Austria and Belgium means that engaging the services of an escort can be cheaper if you book cross-border or are prepared to travel.
Luxembourg City Escorts Guide
Though there are considerably less escorts in Luxembourg City than in most European capitals, there is still a good selection via the top directories. On average you are looking at paying between €150 and €200 per hour but there are some budget options available plus the more elite models. Some escorts specialise in fetish and BDSM services and you can find these by filtering via one of these keywords:
Sex in Luxembourg City
There is a good selection of adult entertainment venues in Luxembourg City from strip clubs and swingers clubs to erotic massage parlours and sex cinemas.
We've covered all the options below.
Brothels
There are no brothels in Luxembourg not only because it is illegal to run one but also because of the proximity to some exceptional facilities close by in Germany and Belgium.
There are several brothels about 50km in the border towns of Trier-Nord and Trierweller, Germany:
Swingers Clubs
There is just one main swingers group in Luxembourg, Sin Temptation. However, you can also find swinging contacts in Luxembourg for private meetings and dogging opportunities using the Adult Hub.
Again, the proximity to Germany, Belgium and Austria means that there are usually lots of alternatives across the border. You can find out more about sex in these countries by reading the relevant country guides on our site.
Sin Temptation
A secret libertine club, Sin Temptation is open to pre-screened members only. Parties and events are run at a stylish private address with elegant play facilities.
The group was formed in 2017 by a married couple who wanted to create a traditional but elite swingers' club.
The group also host regular social meetings at public bars, designed to offer members a flirtatious environment to network with other couples without play.
New members should contact the club's organisers via the website where you can complete a registration form.
You can also join the Sin Temptation club via their Facebook pages.
BDSM
There are several escorts in Luxembourg that specialise in the fetish and BDSM scene. There is also an active but small community that you can find through Fetlife.
However, there is also an active community that arranges munches in Luxembourg.
Fetish Temptation
Mainly organising social munches to help people connect with other like-minded people, Fetish Temptation was set up by a married couple with an active interest in the fet scene.
The site publishes details of forthcoming meets and events.
Erotic Massage Parlours
There are a couple of options for a sensual body rub (and more) in Luxembourg including the option of booking an escort directly to your hotel (see 'Escorts' above) or visiting a salon in the city. There is also a Tantric massage parlour about 30 minutes' drive to the north.
Massage Lounge
45 Avenue de la Liberté, 1931 Luxembourg
As well as offering a range of more traditional services including Ayurvedic, Hot Stone, Head and Classical massage, you can also get a more sensual treatment at this centrally located studio.
Part of a wider European chain, the Massage Lounge is one of several salons offering more than just massage. You can also enjoy live sex shows from a selection of performers.
Treatments include:
Bondage massage
Erotic lingerie massage
Blind massage
Body-to-body massage
You can contact the studio via the website to enquire about an appointment and current rates for service.
Tantric Massage
35 Grand-Rue, 9710 Clervaux, Luxembourg
A small salon about 35km north of Luxembourg, Tantric Massage offers a range of treatments starting at around €60 for 30 minutes.
The salon has recently had a refurbishment and its facilities have also updated.
Contact the salon via the website for an appointment.
Strip Clubs
There are a couple of big strip clubs in the city as well as a handful of smaller and less prestigious venues around the red-light area. As ever, the borders offer a good gateway to all the delights that are on offer in Germany with the town of Trier having one or two options that are less than an hour's drive away.
Saumur Crystal
13 Rue Dicks, 1417 Luxembourg
Saumur Crystal is the most popular strip club in Luxembourg and is a restaurant, night club and strip club all in one. Originally opening more than 30 years ago Saumur Crystal was recently refurbished and offers a stylish, modern and elegant setting for its classy strip shows.
The strip 'lair' is separate from the main bar and restaurant and has a range of comfortable private lounges and booths to enjoy the performers. A VIP mezzanine gives excellent views and offers a bit of privacy for one-on-one dances.
The club offers VIP limousine service and can host groups looking for a unique way to enjoy Luxembourgish hospitality.
The club is open daily from 8.00pm and shuts at 9.00am Monday to Saturday and midnight on Sundays.
Other Clubs
There are some other great clubs in the city, some of which have sexy girls dancing, including cabaret style clubs. Some have better reputations than others and some only have performances on the weekend.
Joy Night Club, 5 rue du Noertzange, Luxembourg
Showgirls, 57 rue Fort Neipperg, Luxembourg
Follie's Club, 59 Rue du Fort Neipperg, 2230 Luxembourg
Street Prostitutes & Red-Light Districts
There are two streets near the central railway station in Luxembourg that are authorised red-light zones.  street hookers may operate from between the hours of 8.00pm and 3.00am. The two zones are Rue du Fort Wedell and Rue de Hollerich. Incidentally (and by sheer coincidence?) there is a large government building on the latter!
There are also some girlie bars and clubs along these streets where you can pick up an escort.
Prices for sex from street prostitutes starts at around €50 for a quick (covered) service including oral. The rates can be lower depending on the class of hooker and can often be negotiated if you are looking for something longer. If you are looking for a higher class of call girl then the hotel bars are a good pick up spot, particularly between the hours of 9.00pm and 11.00pm.
Most of the women on the streets speak either English and/or French as well as Luxembourgish.
Sex Shops
There are three sex shops in Luxembourg City with two having a sex cinema on site. All three stock a decent enough range of the basics as well as some lingerie, DVDs and traditional print pornography.
Eva Lena, 60 Avenue de la Liberté, 1930 Luxembourg
Erotic Video Centre, 15 Rue de Reims, 2417 Luxembourg
Sexcess, 3 Rue du Fort Wedell, 2718 Luxembourg
All quoted prices are correct at the time of our review (June 2018) but it is recommended that you check the website for details of current pricing.
Featured image via Flickr.