Want to know more about adult entertainment in Riga?
Though the sex scene in Riga is on the wane following its heyday a decade ago, there are still a lot of ways to experience Latvian 'hospitality' in the capital.
We give you a run down of the most popular places in the city to enjoy an erotic evening out.
---
---
Prostitution in Riga
Prostitution in Latvia is legalised and controlled by the authorities. Effectively this means that paying cash for sex is not likely to end you in any hot water. The appeal of a free market has attracted lots of migrants to the country which makes it easy to find sex workers.
About ten years ago, Riga was mooted as the sex capital of Europe and the entire city was considered one huge red-light district. Street prostitution was rife and illegal brothels flourished with the high demand. However, the authorities have clamped down on a large number of illegal pimping activities and curbed the general influx of street sex-work. As a result, larger numbers of sex workers now ply their trade online through escort sites and using classified advertising.
However, you can still pick up a hooker in the city (see Street Prostitutes, below).
Licensed prostitutes are subject to regular health screens and carry a health check card that they can present to punters on request.
Fees for a prostitute in Riga vary with street hookers charging as little as €30 and escorts generally costing a minimum of €150 per hour.
Some prostitutes work in the strip clubs and whilst you can secure services from these establishments the prices are generally a lot higher than if you simply booked an outcall to your hotel.
Riga Escorts Guide
Lady Lux
Lady Lux's main selling point is the fact that it uses a tight authentication procedure to verify the identity of the women who advertise on the site. Girls that are marked 'VIP' are known personally to the directory with all other women have had their contact details and photos verified.
There aren't that many women listed but you can book one with the assurance they will be as you ordered them and not some bait and switch scam.
Rates vary by girl but start at around €150 per hour.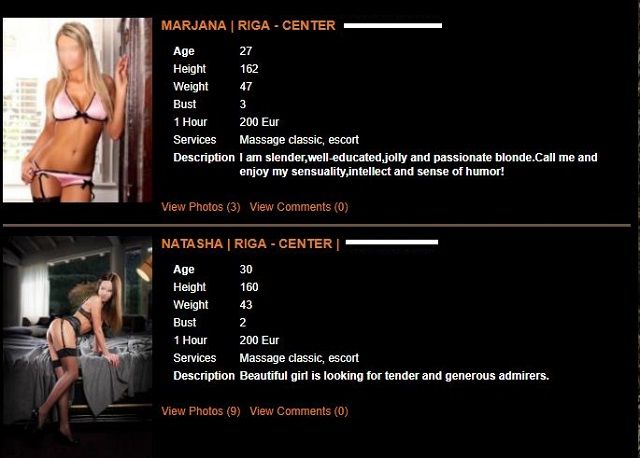 Escort in Riga
One of the largest databases of escorts operating in Riga, you can find the profiles of over 400 women here.
The service isn't free and if you like the look of a particular escort then you have to send an SMS for further contact information. Each text is charged at €0.60.
However, there are some real budget ladies on here and you can get an hour's service from as little as €50.
Sex Riga
The Sex Riga site is an online directory of independent escorts working in the capital. There is no verification procedure so it is not known how many of the 100+ ads are genuine. However, the rates start at around €100 and there are plenty of 'types' available.
Riga Escort Girls
A local website, Riga Escort Girls has over 400 profiles of women working in the capital providing sexual services.
The average rate on the site is €150 per hour with some providing fetish services.
The search function is easy to use and you can find girls that speak English as well as those that perform certain specialities.
Happy Escorts
www.happyescorts.com/escorts/latvia/riga
You can find the details of more than 160+ escorts in Riga on the Happy Escorts website. Ranging in age from early twenties to late forties, the majority of the girls on the site are charging between €200 and €300 per hour.
Euro Girls Escorts
www.eurogirlsescort.com/escorts/riga
Euro Girls Escorts has the details of 70+ women working in Riga.
The site has great filter facilities and you can search out an escort based on any number of key search terms including age, rate, ethnicity and many physical attributes.
The prices on the site vary from €100 to €300 per hour with the service being free to use.
Top Escort Babes
https://latvia.topescortbabes.com/riga/escorts
Top Escort Babes has over a hundred ladies registered in their directory. Most of them are verified users providing an assurance that what you see is what you get.
Rates vary but average at around €200 per hour.
Cracker
http://riga.cracker.com/FemaleEscorts/
Cracker is a free to advertise classifieds site with a dedicated escorts section. There isn't a huge number of women using the site but those that do are usually cheaper than using one of the agencies. Services that we found started at around €85 for a 30 minute in-call service.
Sex in Riga
Brothels
Brothels are not legal in Latvia but this has not stopped groups of prostitutes working together from the same location (often in an apartment block where rooms are rented to independent girls). As a result, there is no official information available on the location of these 'one-woman' brothels.
Most men in Riga use escorts or the massage parlours for sex (see below).
Swinging Clubs
Swinging isn't huge in Latvia and those clubs that do exist are more for local members than open to visiting tourists.
As a result, admission can be difficult and is usually restricted to acquaintances of members (over 25) and only if you speak Latvian.
These clubs are mostly private members only but if you speak the language you could make enquiries about attending an event:
Club Kamilla, Old Town – Tel: +371 26 403 780 – Events on a Friday night
Territory C, Old Town – Tel: +371 26 697 181 – Private parties, couples and single women only.
4×4, Old Town – Tel: +371 26 552 997 – Friday parties from 9.00pm to 3.00am
Club 911, Old Town – Tel: +371 26 374 062 – Friday (all) and Sunday (couples only)
Erotic Massage Parlours
Adult massage in Riga is one of the highlights of the sex scene in Latvia. Most of the parlours provide rub and tug with many also offering additional services. Used like brothels by the locals, a good erotic massage in Riga should always have a happy ending. Many do not advertise their services so asking a local like a cab driver may help you find a more local choice.
Indigo Studio
Stabu Street 62, Latgale Suburb, Riga, LV-1009
The main go to for erotic massage in Riga, Indigo provides adult body rubs starting at around €45. Extras are charged on top and must be negotiated with your masseuse directly.
Note: This salon now incorporates the former erotic salon of Barbaris.
Strip Clubs
There are a lot of strip clubs in Latvia's capital city but they are not a place to go if you are looking for a full service on a budget. As long as you remember that you are simply going for the titivation and not the titties then you will be fine. Some punters forget this and do fall foul of being extorted and end up very disappointed.
Most strip clubs are primed to cash in on tourists so it's worth staying clear-headed to avoid being taken advantage of. However, don't be overly alarmed by the swathes of bad press that Riga has had in this regard from several years ago; most of the offending clubs have since closed down. Just remember that plenty of big city strip clubs can overcharge and some dancers can always be too pushy; check your transactions and don't get carried away.
Jockey Club
49 Elizabetes Street, Riga
A Scandinavian style nightclub, the Jockey Club is a small venue but a popular one.
Running non-stop shows every night, the lounge bar is arranged around a central pole with ground level stage. The girls are hot and the club has a good reputation for the staff not being too pushy.
Drinks prices are reasonable and most of the dancers speak English.
The Jockey Club is open every day from 8.00pm to 6.00am.
Tutti Frutti
73 Terbatas street, Riga
Tutti Frutti is a gentleman's club forming part of the Royal Casino Hotel and Spa.
Shows are well-choreographed and set to light and music and are popular with visitors to the complex.
It's not the largest club in the world and if there is a big stag party in then the place can feel pretty crowded.
The club is open on Friday and Saturday from 10.00pm to 6.00am.
Nightclub Monroe
7 Skarnu Street, Riga
This new strip club in the Old Town has seven private rooms in which you can get some one-on-one entertainment.
Monroe isn't a big club but the shows are good and prices not too extortionate.
The Royal Gentleman's Club
Aspazijas bulvāris 32, Centra rajons, Rīga
Opening in 2010, the Royal Gentleman's Club in Riga is modern and bright and features plenty of good looking dancers as well as a full bar, pool table and lounge.
Entrance to the club is free and you can even arrange to be picked up in style with the club's limo service.
A tourist friendly place, the club receives reasonable reviews but is quite pricey.
Royal is open daily from 10.00pm to 6.00am (7.00am on Friday and Saturday).
Riga Stag Hotel/Candy Shop
Bišu Street 3, Zemgales priekšpilsēta, Rīga, LV-1002, Latvia
Offering its services as a stag weekend party central venue, the Candy Shop is the strip club for the Riga Stag Hotel.
You can stay in the hotel for as little as €30 and book entertainment such as paint balling or Go-Kart racing for during the day and a private strip show or 'pussy' dinner(nyotaimori) for the evening .
The club looks basic but with touches of elegance and the hotel has spa facilities. Extras can be arranged and the prices aren't bad either. A private shower with one of the girls will cost you €77 whilst an accompanied hour in the sauna is €69.
Street Prostitutes
Since a clampdown on street prostitution about a decade ago, there are very few hookers who take to the streets of Riga anymore. Where once you could find street hookers virtually all over the Old Town, now you can only find small pockets.
Remember though that prostitution in Riga is legal and during the busier summer months and weekends, you can still find working girls around. However, there are no red light districts in Riga.
The common hot spots are the bars and clubs around Old Town as well as the area around Ziedoņdārzs Park, namely Pernavas Street, Jana Asara Street and Tallinas Street. The route from Aleksandra Čaka Street along Tallinas Street towards Pērnavas Street is also a popular haunt for street workers.
Reports suggest customers can expect to pay around €30-€50 for a service (maybe slightly more in Old Town).
Sex Shops
Sexy Style
Krišjāņa Barona iela 33A, Centra rajons, Rīga, LV-1011
This mainstream sex shop in the centre of Riga sells costumes, lingerie and toys as well as a range of fetish accessories.
The business was started in 2006 but the store was opened in 2016 and is located in a busy retail area.
The Sexy Style shop is open seven days a week from 11.00am to 8.00pm.
Labi
Alfrēda Kalniņa iela 8, Centra rajons, Rīga, LV-1050
Offering more than just a sex shop, Labi has several stores in Riga, each providing additional delights including a bar, sex cinema, peep shows, private cabins and even saunas and a jacuzzi. Think of these venues as mini theme parks with the focus being on erotic entertainment.
Not every venue includes all services so if something takes your fancy then head to the website to check the location of individual facilities.
Kupidons
Aleksandra Čaka iela 31, Centra rajons, Rīga, LV-1011
Kupidons is also a sex shop with a difference, having eight small cinema rooms on site. Each seats between 4 and 10 people and has a different XXX movie showing.
Entrance to the cinema is €10 but you can come and go as you please (pun intended).
There is also a bar in the shop so you can have a seat and consider your purchases. And they have a good range. It's more your traditional stock of dirty magazines and DVDs with good old-fashioned accessories. Not designer and nothing out of the ordinary but plenty to keep you (and perhaps an escort) entertained for a weekend.
Featured image via the Jockey Club.