Want to know more about sex in Madrid? Looking for the best ways to hookup with a beautiful Madrileña?
The capital of Spain, Madrid is home to 3.3 million people and entertains almost 6 million visitors each year. This translates to a vibrant sex scene that is something of a 'Wild West' for adult entertainment options. Madrid women are known for their passion and intensity; and of course their classically beautiful Mediterranean good looks. But it's not easy to hookup in Madrid — and learning a bit of Spanish will go a long way! This perhaps explains why the Madrid escort scene is so popular.
In this guide, we show you the best ways to get laid in Madrid. From trying your luck in the hottest bars and clubs, to using the legal (but unregulated) adult industry, AKA Madrid escorts! Let's take a look..
---
---
---
Hooking Up In Madrid
Want to know how to get laid in Madrid?
Who doesn't?!
Spanish women are some of the most stunning in Europe, particularly if you are seeking that dark, Mediterranean beauty. Below we take a look at some of the best options for meeting women in Madrid – and how to hook up successfully. 😉
What Are Women Like in Madrid?
If you're traveling in Madrid, get ready for a lot of excitement and heat. In general, Spanish women are known for their beauty, their fiery temperaments, their love of dance and music, and their impassioned natures. But don't book a flight expecting the curves or round asses of Brazil. Instead, Spanish women are better known for their:
Classically beautiful faces (think models, not porn stars)
Long dark hair and olive complexions
Tight and slim bodies
Sharp features, strong eyebrows, and thick, pouty lips
While traveling in Madrid—the nation's capital—you'll find that most women pay a little more attention to their fashion and beauty than you'll find in other areas of the country. This is partly because Madrileñas are generally wealthier but also because they have more competition in the bigger city.
In Madrid, fashions skew toward loose fabrics that cling and drape over women's bodies, and don't be surprised to see unusual combinations such as t-shirts with fur coats, boots, and a mini-skirt. You'll also rarely see women wearing high heels unless it's for a formal or special occasion. And, when it comes to makeup, Madrileñas wear less than the Italians but more than the French.
In terms of personality, Madrid women are passionate and intense.
They're also very social creatures who love to dance, drink, and party. While they can be quite flirtatious, they're also quick to anger so it's best to tread lightly. They're also quite close with their families so watch out for their brothers if you upset a Madrileña.
How to Hook Up with a Woman in Madrid
Spain—and particularly Madrid—is a deeply Catholic country and you'd expect that its women would be conservative and shy yet this largely isn't true. Instead, expect women in Madrid to be flirty, fiery, and approachable. Of course, this all depends on whether you can match their beauty and passion.
While looks are certainly important to Spanish women, they're not the be-all and end-all. If you want to impress a Madrid woman, you'll need to have your game tight. This means being well-dressed, well-groomed, and well-spoken. You should also be confident, funny, and charming. If you can speak Spanish, that will definitely help.
Some specific things you can do to impress a Madrid woman include:
Dressing well: Spanish women are known for their sense of style so you'll need to up your fashion game if you want to impress them. Stick to classic, well-fitting clothes in neutral colors.
Being well-groomed: This means paying attention to your hair, your skin, and your nails. Madrid women take pride in their appearance and don't want to be seen with a slob (meaning you).
Being charming: Spanish women love a man who can make them laugh and feel special. Compliment them, make them feel special, and make sure you have good manners. Don't forget that you're in the Mediterranean and that their culture was built on emotion.
Being a good listener: Spanish women are passionate and opinionated so they love a man who can listen to them and engage in stimulating conversation. If you're ready for a debate over a bottle or two of red wine, start practicing now.
Being confident but also a gentleman: Spanish women appreciate a man who can treat them like a lady. This means opening doors, pulling out chairs, and being respectful. The Spanish still have a flair for machismo and chivalry so don't be afraid to be the man but remember that Madrid women are still fiercely independent.
Again, remember that Spain is a Mediterranean culture known for its passion, love, sex, and heat. Compared to a Northern European country, such as Denmark or Germany, Spanish women will be easier to talk to and engage with. But it will take some work on your part.
Best Places to Meet Women in Madrid
Before you can hook up with a woman in Madrid, you first have to know where to look. Luckily, we've got you covered!
Finding Women During the Day in Madrid
As intense as women can be in Madrid, don't expect to find easy pickings during the day. Just like anywhere, women have their own lives and jobs to go to during the day and you'll likely struggle to pick someone up in the middle of the afternoon. That's not to say that it's impossible, though—you just have to know where to look.
For the ladies-of-leisure, a daytime stroll through one of Madrid's major shopping centers will be a good place to start. The most popular options are:
Centro Comercial La Gavia
Plaza de Callao
Gran Vía
El Corte Ingles
While these places will be crawling with women, they'll also be surrounded by security guards and other people so it's not the best place to make a move. For a more low-key option, you can also try some of Madrid's many museums. The Museo del Prado is one of the most popular museums in the world and it's full of beautiful art—and beautiful women too.
Finding Women at Night in Madrid
Once the sun sets, you're far more likely to find women looking for fun, romance, and sex. After all, Spain is known as the country of nighttime adventures for a reason. To start your night, you'll want to head to one of Madrid's many bars or clubs. A good place to start is with the city's many rooftop bars.
These places are perfect for meeting women as they're full of gorgeous and high-class people, and they also have a great vibe. Some of the best rooftop bars in Madrid include:
Azotea del Circulo de Bellas Artes
Terraza Cibeles
Picalagartos Sky Bar
Radio Rooftop Bar Madrid
For something a little more low-key, you can try one of Madrid's many cocktail bars. These places are perfect for meeting women as they're usually full of young professionals and they have a more relaxed vibe. Some of the best cocktail bars in Madrid include:
Bodega de la Ardosa
47 Cocktail Bar
Macera Tallerbar
Café Madrid
Of course, no night in Madrid would be complete without a visit to a club where you can dance and grind with the city's most beautiful and wildest women. While there are many clubs to choose from, some of the best include:
Fabrik
Kapital
Otto Zutz
Teatro Barceló
Sala Riviera
Just remember to drink responsibly and don't forget that women in Madrid love a confident gentleman.
Top Tips for Dating Women From Madrid
Hooking up and dating are two completely different things and, if you want to date a Madrid woman, you'll need to be prepared for a very different experience. For starters, Spanish women are very family-oriented so you'll need to be comfortable meeting her parents, grandparents, aunts, uncles, and cousins.
You should also be prepared for large family gatherings where everyone is loud, passionate, and emotional. Of course, meeting the family is a big step and you shouldn't expect to do it on the first date. Instead, take things slow and get to know her first. Once you've been dating for a while, you can start to think about meeting the family.
When it comes to the actual date, Spanish women love a man who can take charge and be assertive. This means making the plans, picking the restaurant, and paying the bill. You should also be a gentleman and open doors, pull out chairs, and be respectful.
And, of course, don't forget that Spanish women are passionate so you should be prepared for a lot of emotion, both good and bad. Be ready for her to get angry, to cry, to laugh, and to shout—sometimes all in the same conversation.
Best Sites and Apps for Madrid Hookups
Like any major city, Madrid has a variety of hookup sites and dating apps. These can be used to improve your chances of getting laid in Madrid.
If your objective is getting laid, the best site to try is (predictably) Adult Friend Finder.
AFF is known for being the largest hookup dating site in the world, and its coverage in Madrid is pretty impressive. While you will undoubtedly bump in to plenty of escorts and freelancers looking to pad out their contact list, it it also the easiest option for filtering women who are looking specifically for hookups.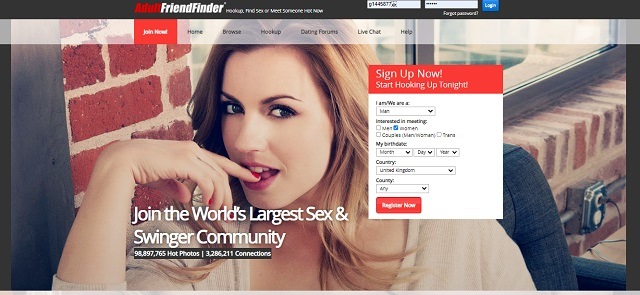 If all else fails and you're still struggling to find women in Madrid, do what everyone else does and download one of these top five dating apps:
Tinder: Just like anywhere in the world, women in Madrid are on Tinder. Simply swipe left or right, match with a hottie, send her a message, and pray that everything goes well. Be aware, though, that Spanish women do sometimes use Tinder to just make friends so be clear about what you're looking for.
Bumble: Bumble is similar to Tinder but with a twist. On Bumble, only women can message men first so it's your job to make a good first impression. This can be good or bad depending on your confidence levels but, either way, it's worth a shot.
Badoo: Badoo is one of the most popular dating apps in the world and it's also quite popular in Madrid. The app is easy to use and it's perfect for meeting new people. Just create a profile, add some photos, and start swiping.
Happn: Happn is a unique dating app that uses your location to help you meet people. The app will show you a list of people who have also been using the app in your vicinity and, if you like what you see, you can start chatting.
Lovoo: Lovoo is a German dating app that's quite popular in Madrid. The app is similar to Tinder and Badoo and it's easy to use. Just create a profile, add some photos, and start swiping.
Is Prostitution Legal in Madrid?
Yes, for now.
Prostitution in Madrid is legal and it is estimated that one in four men in the area have used the services of a hooker. However the industry is not regulated and Spain is currently looking at ways to reform or even 'abolish' the practice.
Working girls secure business in a number of ways including in brothels and clubs, as agency or independent escorts or on the streets of Madrid (see Street Prostitutes below).
Costs vary hugely depending on the calibre of the prostitute in Madrid with street hookers charging as little as €20-€60 for full service and VIP escorts starting at €400 per hour.
Running a brothel isn't illegal in Spain but pimping is and to avoid any confusion with the law, brothel owners operate a system of hiring rooms to their regular girls on the premises whilst running a separate business to front the set-up (see Brothels below).
You can find more information about sex in Spain here.
Madrid Escorts Guide
Madrid's escort scene is thriving and complements the city's many strip clubs, brothels and erotic nightclubs.
It's estimated that around 14,000 escorts are available for hire in Madrid with most advertising their services through an agency or online directory. We found a range of sites that you can explore for a better idea of the Madrid escort scene:
Erosguia
http://en.erosguia.com/escorts-madrid
The site isn't easy to filter and can make you feel a bit dizzy with choice but there are hundreds of escorts listed here and most are independent with many accepting payment by credit card.
Though you can't sort the results into age or physical features, there is a way you can filter by service including BDSM Mistress, deep throat, anal sex and BBBJ.
Starting rates are clearly displayed on each thumbnail with the lowest prices being around €100-€150 and going up to around €300 (some ladies are 'Price on Request').
Elegancy Models
www.elegancymodels.com/en/madrid-escorts
A high-end escort agency providing the services of some elite ladies working in Madrid, you can expect to pay at least €500 for an hour.
The women on their books are undoubtedly very beautiful with stunning figures but they also offer classy companion services. Intelligent and sophisticated, you are guaranteed good company both in and out of the bedroom.
Escort Por Madrid
A really eclectic range of escorts in terms of age, size/shape and specialities, the Escort Por Madrid site is also well priced.
Profiles are really detailed and include contact information, availability and prices. You can pick up a good looking and interesting lady (fully verified) from around €150-€200 per hour.
Most nationalities are represented here including Asian, African, European and South American. Of course, there are plenty of Spanish senoritas available so you can try the local delicacies.
Euro Girls Escort
www.eurogirlsescort.com/escorts/madrid
One of the largest European-wide sites, Euro Girls has almost 600 escorts advertising in their directory.
We've found that the site is one of the easiest to use and features simple filters including rates, age and physical attributes. Contact details are freely available without any need to register as a user and there are always a good range of images with the ads.
You can pick up an escort for under €150 whilst also finding a premium escort for €500+.
Happy Escorts
www.happyescorts.com/escorts/spain/madrid
Another of the big European directory sites, Happy Escorts is mainly an independent directory of working girls. They have the details of over 300 ladies providing sex services in Madrid most of whom are charging around the €200-€300 per hour mark.
A big selling point for this site is that only those girls who have been active on the site are shown up in the results meaning you can be sure that you are not wasting your time on an old ad.
Contact is made directly through the Happy Escorts site.
Best of the Rest
Sex in Madrid
Brothels
Many of the brothels in Spain double as a second venue such as nightclub, strip club or even bar. Not only does this help keep the owners out of trouble when it comes to the grey area of 'pimping' but it helps diversify their business interests as well as offer more than just sex to their customers.
Here are some of the venues we found which allegedly provide these additional services. YMMV:
Club Bombon
Calle de Antonio de Leyva 82, 28019 Madrid
Operating as a kind of nightclub, Club Bombon is right in the heart of the city and offers the services of a couple of dozen prostitutes. Most are aged between 18 and 28 and come from across Europe. The set-up is a large bar and dancefloor where patrons are encouraged to mingle with the girls and have a goodtime.
Treat it like a real nightclub but with your chances of a pickup being 100% guaranteed…at a price.
Private rooms are available for when you 'pull' and costs are negotiated with the individual but should be in the order of €100-€150 for an hour.
The club is open Monday to Saturday from 7.00pm until dawn.
Hotel Club California
Calle de los Metales, 3, 28970 Madrid
Another nightclub style brothel with an on-site hotel, rooms are rented by the hour and there are dozens to choose from, At the budget end you can still expect a comfortable and clean bed with modern facilities whilst larger and themed suites can be booked.
The girls take to the dance floor and bar in between clients and you can select from any of the ladies on show to get some private entertainment; however, rates are between you and your escort but expect to pay €100-€150 for a 60-minute, full service.
Best of the Rest
If you want more choice when it comes to brothels in Madrid, then why not try one of these:
La Faena: Calle de la Virgen del Puig, 2, 28027 Madrid
Pub Antlogia: Paseo de la Castellana, 129, 28046 Madrid
Swinging Clubs
There are some decent options for swingers in Madrid, including some VIP clubs where couples, singles and hedonists can meet for fun:
VIP Meetings
Calle Vicente Caballero, 14, 28007 Madrid
This swingers club in Madrid is a large play zone for couples and singles.
Modern in style and featuring an eclectic mix of styles including BDSM rooms, cages in the lounge area and a big bar, the club is fit for purpose whatever your tastes.
The club is couples only on Friday and Saturday nights but single guests are welcome at other times.
You can enjoy the facilities at the club every day from 2.00pm to 6.00am.
Fusion VIP
Calle Cardenal Siliceo, 10, 28002 Madrid
Couples and single girls are always welcome at this swingers club but men on their own are only permitted Monday to Thursday. Entrance prices change all the time depending on the event, day and whether you are in a couple or alone but you can expect to pay in the region of €30-€50 as a couple, €10 for single women and €50 for single men.
The club includes wet and dry play areas and the whole venue is dimly lit in ethereal blues and warm orange glows. The facilities are good and include a nice mix of private and group rooms in addition to a well-stocked bar.
The club is open as follows:
Monday to Thursday: 3.00pm to 5.00am
Friday: 3.00pm to 6.00am
Saturday: 9.00pm to 6.00am
Sunday: 5.00pm to 5.00am
Eden Parejas
Calle Londres, 12, 28028 Madrid
A reasonable sized club over 200 sq. m, the Eden Parejas is a friendly meeting place for swingers of all ages and backgrounds.
Facilities include a dungeon area, French corridor, massage tables and jacuzzi as well as a main lounge and bar plus large group playrooms.
They regularly run themed events so check the website for details.
The club is open Sunday to Friday after 9.00pm and after 10.00pm on Saturdays. Entrance to the club is €20 for couples, €5 for single women and €50 for single men (Thursday and Sundays only).
Erotic Massage Parlours
Most of the brothels and escort agencies in Madrid can organise an adult body rub with happy ending but if you are looking for something a little cheaper then there are places you can get a rub and tug service. There are also specialist massage parlours that provide good erotic massage including Nuru, Tantric and Thai.
Here are two of the services we found in our research:
Erotic Models Massage
Paseo de la Habana, 26, 28036 Madrid
http://eroticmodelsmassage.com
More of an escort service than a strict massage, you can book services in call or in your hotel, there are options for the masseuse to perform pseudo (sumata) sex to create happy endings or facesitting whilst performing lingham or even prostate massage. All masseuses are chosen for their looks and figure (hence the 'model' aspect) and rates start at €150.
Tantra Palace
Calle de María de Molina, 16, 28006 Madrid
Though named for its expertise in Tantra massage, the Tantra Palace has a huge selection of massage styles to choose from including Thai, erotic VIP, body chocolate and an extreme version of tantric massage.
Rates vary depending on what option you go for but you can get a gentle session from €50 for 30 minutes.
The salon's reputation is very good and customer reviews are plentiful and complementary.
The Tantra Palace is open Monday to Friday between 10.00am and 10.30pm and at weekends from midday to 9.30pm.
Massage Anais
3 Locations in Madrid – see website for details.
Specialising in offering oriental massage, Anais has three venues across the city providing tantric sessions. You can get a basic 45 minute session from €80 which includes a happy ending.
Best Strip Clubs in Madrid
Looking for the best Madrid strip clubs?
Be sure to check out…
New Girls Cabaret
Calle de Isabel la Católica 19, 28013 Madrid
One of Madrid's more popular and well-known strip shows, the New Girls Cabaret is right in the heart of the Gran Via entertainment district. As a result, the club can get very busy and it does get full of bachelor parties at weekends, particularly in the summer.
Spread over 800 sq. m and two floors, the club has private areas with table service, two bars and plenty of seating from which to enjoy the continuous shows. You can get private dances and lap dances here plus most of the girls are also escorts.
New Girls opens daily from 10.00pm to 6.00am.
Chelsea Cabaret
Calle de Silva, 6, 28013 Madrid
A real revue style cabaret club, the performances at Chelsea's are very popular with a real mix of customers. From those simply looking for an entertaining night out to those who are after an erotic private dance or simply to hook up with one of the performers.
The lesbian show in particular is very popular with guests and can leave some a little speechless.
It's a smallish club but this adds to the intimate feeling of the shows and really gives you a good view wherever you are seated.
You can get your own striptease in the VIP areas as well as enjoy private dances.
The clubs opens Monday to Saturday from 11.00pm to 5.00am.
Street Prostitutes
We highly recommend you avoid using street prostitutes — but you will certainly notice them if you are in the red light hot spots.
Street prostitution in Madrid is quite common and you can find women touting their trade in either of the three main red-light areas of the city. The largest and most popular of these is the area around the entertainment district of Gran Via, in particular Calle Montera and Calle de la Luna. After dark, women will approach most single men or those in small groups and even offer services to couples.
The park area around Casa de Campo is also a popular haunt for street hookers.
Lastly, the traditional red-light area of Chueca, to the north of Gran Via, is a popular location for street prostitutes in Madrid. This area of the city is also home to many gay clubs and shemale hookers.
Prices vary depending on the prostitute and how busy the night is but generally range between €20-€80.
Sex Shops
Most sex shops in Madrid are mainstream stores where you can buy a good range of bedroom accessories and sex aids.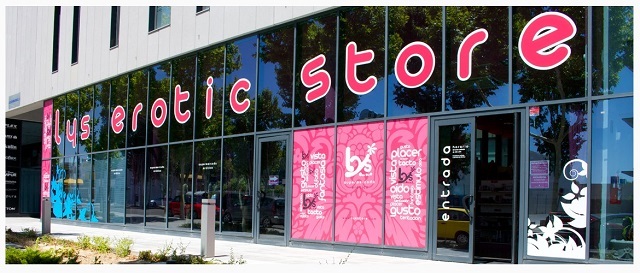 Many of them are boutique style shops that cater for vanilla tastes with a touch of 50 Shades of Grey thrown in. There are some that specialise in BDSM, bedroom furniture of DVDs but these are the best of the city's offerings:
Spain Features
Browse our latest blog posts covering the adult industry and hookup culture in Spain: