Sex in Geneva is just as accessible as in the rest of Switzerland and you can find adult services and thrills in many parts of the city.
Geneva is the second largest city in Switzerland and home to a population of just 200,000 people. Home to the United Nations, the Red Cross and World Health Organisation, the city is not just a popular tourist location but is also an important hub for business, trade and political visitors. In fact, this small city accommodates up to 2.3 million extra guests each year.
Whilst most of these visitors will be looking to enjoy heritage sites and cultural entertainment, some will be more than happy to sample the Swiss approach to adult hospitality. We take a look at the best places in Geneva to enjoy the sex industry.
---
---
Prostitution in Geneva
Prostitution in Switzerland is a fully legitimate and regulated part of the economy which nets over €3 billion each year. The law allows Swiss nationals the right to work as a prostitute whilst also offering EU nationals the opportunity to work in the country for up to 90 days a year.
There are around 600 registered prostitutes providing sex services in Geneva; 'registered' meaning that they are working within the regulated system, receiving health checks and paying taxes. However, like much of the rest of country, there are many more unregistered prostitutes plying their trade.
In terms of legal activities, registered prostitutes can work in brothels, as escorts or on the streets (see Street Prostitution below). You can also find sex workers for hire in other establishments like massage parlours, strip clubs and contact bars.
Since 2012, many prostitutes in Switzerland belong to a trade union which determines (among other things) the minimum rates to charge for a service. Generally, this is set at 100 CHF (or €85). However, customers can find hookers who charge less than this though these will likely be unregulated or non-union prostitutes, temporary EU nationals and migrants.
The population of prostitutes in Geneva is quite mixed and though you can find Swiss hookers in many of the established venues, you can also find other European nationalities as well as a predominance of South American women. You can find out more about sex in Switzerland by reading our guide.
Geneva Escorts Guide
Given the liberal attitude towards the adult industry, there are plenty of escort agencies and directories in operation around Geneva.
Here's a few we found on our searches:
Facegirl
Facegirl is a useful escort directory for all prostitutes working in Switzerland, irrespective of whether they are also working in other establishments. Most girls work as independent escorts and will do shifts at massage parlours and brothels but this site gives punters direct access for outcall service.
There are details of more than 380 escorts working in Geneva and the site allows you to filter your results beyond simple location information.
Rates vary but you can expect to pay a minimum of 200 CHF per hour (€172).
Jessica's VIP Escorts
Jessica's is an exclusive agency offering the services of some premium escorts working in Switzerland, most of whom will travel and can cover the Geneva area.
Many are fashion models, higher-education students or professional career women and all are stunning (in a high-end, Vogue cover model kind of way) and intelligent.
Prices are individual to the girls you are booking depending on how they are rated on the elite rating system but expect to pay a minimum of 450 CHF (€388) for a one hour appointment.
Geneva Escorts
With a flat rate of 600 CHF per hour all-inclusive the escorts on this site aren't the cheapest you can find in Geneva but the standard of the girls is pretty high.
There are twenty women to choose from and the website has full profile information available.
Top Escort Babes
https://switzerland.topescortbabes.com/fr/geneva/escorts
There are over 120 escorts listed with the European directory, Top Escort Babes, and you can search the results using various filters. Most of the girls registered with the site have been vefiried and some even include punter reviews.
Free to use, Top Escort Babes is a good site when looking for call girls in major European cities.
Rates vary a lot depending on who you are booking but you can expect to pay a minimum of 250 CHF (€215) per hour.
Be My Girl
This Swiss site has the details of escorts across the country but has 70+ escorts working in Geneva. The filtering on the site is very comprehensive and you can narrow your results by plenty of different keywords, services and physical details.
There's a nice selection of nationalities and ethnicities on the site in addition to a range of fetish and specialist services.
Outcall rates vary by escort but are in the order of 400-500 CHF (€345-€431) per hour.
QG Private Club
Offering private escorts for international travel, Club QC has been providing quality companionship services for over a decade. There are currently six girls working on their books, all are aged between 18 and 23 hailing from either Spain or France.
All of the girls on the books are charged out at a standard rate of 600 CHF per hour (€518).
Fatal Agency
Fatal Agency is a high-class solution for business travellers and VIPs visiting Geneva.
They currently have 25 premium models working for them ranging in age between 18 and over 35. The girls are all from across Europe and include British, Swiss, French, Italian and Swedish girls.
There are full profile details available online along with HD pictures and even videos.
Minimum rates for an escort booked through Fatal are 700 CHF or €650.
Girls 2 See
A directory of independent escorts working in Geneva, most are available for either outcall or incall services. There is a good mix of girls on the site and a similar level in variety as to services offered. Unfortunately, there is no way to search using any filters. However, as there are only 25 profiles to browse through, it's not a bad way to spend ten minutes, looking over the details of sexy ladies who want to service you.
All of the photos on the site have been taken independently and are 100% authentic.
Outcall services are around 400 CHF (€345) per hour.
Best of the Rest
In addition to those selected above, you can find independent escorts and agency girls using the following services. Rates and experience vary.
You can also book outcall services from any of the brothels listed below and many of the massage parlours we have detailed can also provide services at your hotel.
Sex in Geneva
Whilst Café Fellatio, the proposed coffeehouse where you can get a blowjob, is not yet a reality in Geneva, there are still plenty of adult venues where you can get serviced including licensed brothels, massage parlours and sex saunas. In addition, you could go cruising at one of the sex cinemas, visit a swingers club or simply pick up a hooker from the red light district.
Brothels
G Club
30, rue de Malatrex, 1201 Geneva
A brothel combined with a gentleman's club, the G Club has a bar and lounge and is for members and customers only.
Rates start at 200 CHF (€170) for a 30 minute service and includes 69, blowjob and covered sex. There is a 20 CHF (€17) additional charge for the room which also covers a free drink.
There are over 30 hostesses who work regularly for the G Club and brief profile details can be found online.
Overall, the G Club is a stylish and modern venue with a good reputation for excellent service.
The club's hours are as follows:
| | | |
| --- | --- | --- |
| Area | Monday to Friday | Weekends |
| Lounge | 11.00am to 12.00am | By Appointment only |
| Bar | 6.00pm to 12.00am | Reservations only |
Golden Sex Center
Rue Charles-Cusin 1, 1201 Geneva
Right in the heart of the red light district of Pâquis you can find the functional rooms of the Golden Sex Center. Clean but basic, they have air-conditioning and audio equipment but little else. The only room which is well equipped is the BDSM room which is located in the basement and includes cages, benches and a St. Andrew's Cross.
It's a reasonable priced brothel and covers 150 sq. m in a convenient position in the city.
The club is open 24 hours a day, seven days a week.
Venusia
Rue Rodo 2, 1205 Geneva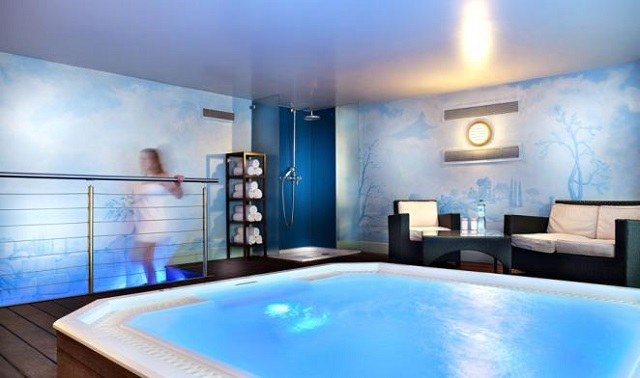 An erotic massage parlour and spa, Venusia is ostensibly a brothel that also offers massage. The venue is large and covers a space of 650 sq m in which you can find a cigar lounge, dungeon, whirlpool and bar.
The rooms are well equipped and all are themed in a specific style including romantic, oriental and even a motoring room; the back end of a pickup truck has been incorporated as a half-bed and tail-pipes provide modern decoration.
There are plenty of good looking girls to choose from and they all provide a standard range of services from covered full sex to anal, blowjobs and erotic massage.
Prices start at 135 CHF (€115) for 20 minutes and range up to 500 CHF (€428) for an hours full service in the whirlpool.
The club is open to the over 16s 24 hours a day, seven days a week.
GMB Seduction
Rue Cornavin 11, 1201 Geneva
Having recently reopened following an extensive refurbishment, GMB Seduction is looking good. The décor and facilities have all been updated and the place offers a modern and comfortable setting in which to receive full service.
It's a small venue and there are only about eight girls providing services, most of whom are French.
As well as the rooms, GMB Seduction also has a champagne bar, jacuzzi, massage table and domination room.
Rates are charged at a standard fee of 200 CHF/€ per half hour.
The venue is open from 11.00am to 2.00am seven days a week.
Villa 44
Avenue Louis-Casaï 44, 1216 Cointrin
A small bordello close to the airport, Villa 44 has five ladies providing services at any one time.
The house is a domestic residence that has been converted to provide basic rooms with some modern features including a two person whirlpool bath and lounge bar.
Villa 44 is open as follows:
Monday to Thursday and Sunday: 12.00pm to 12.00am
Friday and Saturday: 12.00pm to 2.00am
Angels Villa
Plan-les-Ouates, 1228 Geneva
Located just 15km south of the city, Angel's Villa is a brothel/massage parlour featuring a large BDSM dungeon.
Though there are only a few girls working here, all of them specialise in dominatrix services.
The place hasn't received the best reviews in the world with most of the punters comments we could find suggesting that the venue is overpriced.
Geneva Girls
Geneva Girls runs a selection of salons across the capital, each offering a range of girls. Full details of who is working where and when are available via the website.
Most of these venues are open from 11.00am to 1.00am with a 30 minute service costing around 150 CHF (€130).
Salon Geneva Girls I, 1st Floor, Rodo Street 4, Geneva 1205
Villa Royale, Geneva Girls II, Route de Lausanne 250, 1292 Chambésy
Villa Geneva Girls III, Avenue Louis Pictet 3, 1214 Vernier
Villa Geneva Girls IV, Chemin du Jardin Alpin 2, 1217 Meyrin
Lounge Geneva Girls V, Avenue de Sécheron 12, 1st floor, 1202 Geneva
Geneva Girls VI, 1st floor, Route des Acacias 6, 1227 Les Acacias
Swinging Clubs
Swinging is quite popular in Switzerland though many clubs are for couples only or restricted to small private groups. Some of the saunas in the area are perfect for swinging but this club is open for lifestyle followers. Also see Sex Saunas, below.
Club Duplexx
Rue Pradier 8, 1201 Geneva
Close to the Hotel Cristal and on the edge of the Pâquis red light area you can find the Duplexx spa.
A cosy, modern and classy swinging club, guests can enjoy a range of facilities spread over two floors, including:
Hammam
Sauna
Jacuzzi
Massage tables
Five small cabins
Gloryholes
Public shower play area
Peep show cabin
The club has plenty of HD televisions and a hi-fi installation fitted throughout in addition to refreshment room.
Entry is charged at 30 CHF (€25) for men, 10 CHF (€8.50) for women and couples 40 CHF (€33.50).
The club is open seven days a week as follows:
Monday to Thursday: 12.00pm to 12.00am
Friday: 12.00pm to 1.00am
Saturday: 2.00pm to 1.00am
Sunday and Public Holidays: 2.00pm to 11.00pm
They also run regular couples swap events – check the website for further information.
Erotic Massage Parlour
Thai Orchid
Rue de Fribourg 7, 1201 Geneva
Situated in the heart of the Pâquis red light area, Thai Orchid is open from early until late and walk-ins are welcome.
They have a range of Thai ladies working here and the reviews are very good for quality of massage as well as manual relief.
Kannokon Thai Massage
Bd. Pont d'Arve 22, 1205 Geneve
More of a brothel than a massage parlour, you can get a decent body rub here but you can also arrange for full service is a simple rub and rug isn't enough.
A 40 minute massage with full service costs 200 CHF (€171), double if you want to go Greek.
Kannokon Thai Massage is open 24/7.
Diva Institute
Place De-Grenus 4, 1201 Geneva
Also running an escort service, the Diva Institute has been operating since 2001 to provide VIP massage in Geneva.
You can get several varieties of massage including tantric, nuru and erotic. All services are provided in a sensual candlelit room and delivered by young masseurs (mainly students).
The parlour is open seven days a week from 10.00am to 1.00am.
Cocoon Massage
Henri-Veyrassat Street 2, 1202 Geneva
www.massage-relaxant-geneve.com
The sensual treatment you will receive at Cocoon Massage extends to a full body massage including genitals. For an additional fee you can also reciprocate and give your masseur some attention.
A one hour treatment starts at 200 CHF (€171) and ranges up to 500 CHF for a four hands massage (€428).
Best of the Rest
If none of the above floats your boat then there are several other places that also offer erotic massage in Geneva.
Strip Clubs
Sensi Strip
Rue de Fribourg 9, 1201 Geneva
Arranged over three floors and offering a selection of rooms in which their performers provide private table and lap dances, Sensi is a big club but with an intimate feel.
A modern venue, the club is right in the heart of the city's designated red-light area.
The ground floor hall and bar area is complete with a main pole dancing stage where topless shows are performed. The first floor is a smoking area and the basement is reserved for private performances.
The club is open Monday to Saturday from 9.30pm until dawn.
Pussy Cat
Rue des Glacis-de-Rive 17, 1207 Geneva
Originally opening its doors in 1968, the Pussy Cat club is one of Geneva's oldest adult venues. Completely renovated in 2011, performances are staged continuously and feature international performers. Though private dances can be arranged there are no extras here.
The Pussy Cat is open six days a week from Monday to Saturday, 6.00pm to 5.00am.
Crazy Paradise
Rue Franck-Martin 4, 1204 Geneva
Nestled on the outskirts of the old town area, Crazy Paradise was renovated in 2006 and is now a modern strip club.
The shows are cabaret in style and run non-stop from open to close and featuring around a dozen dancers. It regularly receives good reviews but their tagline of 'The Crazy Paradise Lounge Cabaret show won't leave you indifferent' could do with some work!
The club is open from Monday to Saturday between 9.30pm and 5.00am.
L'Aigle Noir
Rue Docteur-Alfred-Vincent 31, 1201 Geneva
Another club in the heart of the Paquis red-light area of Geneva, L'Aigle Noir (The Black Eagle) is more than just a strip club. Offering private rooms with beds and cabins for one-on-one dances, you can get other services. Not cheap, a table dance will set you back 80 CHF (€68).
The club is a dimly lit space with a big bar and stage area and has a good reputation for the quality of their strippers.
Coupole Avenue
116 rue du Rhône, 1204 Geneva
Incorporating a night club and strip club in one venue, Coupole Avenue is situated in Geneva's old town just a few minutes walk from the lakeside English Garden.
The club has an American piano bar theme with this style extended into the cabaret show. It is a stylish and elegant venue with the 'correct' attire required to gain entry. Patrons must also be over the age of 30.
Established in 2003, Coupole Avenue is considered one of the high-end strip clubs and has a reputation for producing 'incomparably classy' entertainment.
Both Coupole Avenue and the Glams Club are open Monday to Saturday from 10.00pm to 5.00am.
Velvet Club
Rue du jeu de l'Arc, 1207 Geneva
Situated in the heart of Geneva the Velvet Club has been entertaining visitors to the city for over 25 years.
A modern and stylish club featuring a fully ventilated smoking room and well-stocked bar, there are around 15 resident dancers; this changes monthly. Each renowned for their skills, the strippers hail mainly from the east of Europe including Lithuania, Romania, Belarus and Russia.
The Velvet Club is open daily from 9.00pm to 5.00am.
Secret Pearl
Quai du Général-Guisan 40, 1204 Geneva
Located just off the English Garden (Jardin Anglais), the Secret Pearl is an American style strip club running cabaret style entertainment.
Regular performances that are always popular include Chippendale and Dolly Doll routines. The club receives a high proportion of the city's hen and stag parties and weekends can get pretty busy.
It's a sexy venue with a lot of good old fashioned strip, pole and table dancing with the occasional special events.
Secret Pearl is open Monday to Saturday from 11.00pm to dawn.
Sex Saunas
Sex Saunas in Geneva range from those that are more like swinging clubs to those that offer prostitution on site. There are two main clubs to choose from.
Bains de L'Est
Rue de l'Est 3, 1207 Geneva
Situated in the heart of the Villereuse area of the city just a few minutes walk from the Natural History Museum, the Eastern Baths have been open since 1999.
The club is known for its swinging and cruising activities with gay events held separately to mixed events. Mixed evenings are held on Tuesday and Fridays with gay only afternoons throughout the month.
The club has the usual wellness spa, sauna, massage and jacuzzi facilities in addition to a lounge bar and play areas. Entrance to the club varies depending on the day and event but are generally in the region of 20-36 CHF (€17-€30).
The spa is open as follows:
Monday to Thursday: 12.00pm to 1.00am
Friday: 12.00pm to 5.00am
Saturday: 2.00pm to 5.00am
Sunday: 2.00pm to 1.00am
Club Delicious
Route du Pas-de-l'Echelle 2, 1255 Veyrier
Club Delicious is about 6km south of the city and takes about 20 minutes by bus to reach.
Covering 600 sq. m of space this large spa and sauna has a whole host of facilities to keep guests entertained. There are seven private rooms each with a jacuzzi and shower in addition to the main relaxation area and spa. A patio area is also provided complete with sub-beds and billiard table.
Entrance to the club is 50 CHF which includes two free drinks or you can simply pay to head straight to a room. Charges from the 'Pleasure Menu' are as follows:
20 Minutes: 150 CHF (€128)
30 Minutes: 200 CHF (€170)
60 minutes: 350 CHF (€300)
5 Minute Lap Dance: 10 CHF (€8.55)
15 Minute Strip Tease: 50 CHF (€42)
1 Hour Lesbian Show with Blowjob: 500 CHF (€427)
The club is open as follows:
Monday to Wednesday: 3.00pm to 3.00am
Thursday: 3.00pm to 4.00am
Friday and Saturday: 5.00pm to 6.00am
Street Prostitutes
The main red-light area in Geneva can be found in the Pâquis district of the city. The main street of Rue de Berne runs through the heart of the area and is one of the busier parts of the city, especially at night. Many of the side streets that run off this arterial road are good places to pick up street hookers with the walk down towards lakeside via Rue de Monthoux, Rue Sismondi or Rue Docteur-Alfred Vincent being particular hot spots.
Many of the city's adult entertainment establishments can be found in the vicinity of Pâquis and competition is high which can push prices lower. However, do remember that union prostitutes will charge a minimum rate of 100 CHF (€85) though oral or manual relief can be procured for around 30 CHF (€25), particularly if you can get out to the area around the Musée d'Art et d'Histoire. Some girls will provide a service in the Parc de l'Observatoire whilst others will only provide relief in a customer's car.
Sex Shops & Cinemas
Magic X
Rue du Mont-Blanc 30, 1201 Geneva
Magic X has 34 stores across Germany and Switzerland and offers a huge selection of bedroom accessories. Not only can you pick up basic sex aids, toys and novelty items but also choose from adult DVDs, magazines and books.
The Geneva store is pretty big and is considered one of their 'megastores'.
Magic X is open as follows:
Monday to Wednesday and Friday: 10.00am to 7.00pm
Thursday: 10.00am to 8.00pm
Saturday: 9.00am to 6.00pm
Cinema Splendid
Place De-Grenus 3, 1201 Genève
Cinema Splendid has two screens where cruisers and voyeurs can enjoy on-screen porn in addition to side entertainment. There are also several sex cabins where you can choose a private viewing of your choice from 300 titles.
The venue is open seven days a week from 10.30am to 11.00pm with entry costing 14 CHF (€12).
Best of the Rest
Despite the huge sex industry in the city, there aren't that many sex shops in Geneva. Perhaps the Swiss prefer to buy their bedroom accessories online? However, you can pick up a range of goods at either of these two stores.
Featured image via Flickr.