Looking for a good night out in Zurich with some XXX entertainment thrown in?
Langstrasse (or 'Long Street') is a road in the centre of Zurich known for being one of the city's red-light districts. A hub for night-time entertainment, you can find plenty of bars and clubs with some offering a more adult theme than others. Prostitution is a legal and regulated industry in Switzerland so you can find far more than just a rub and tug or lap dance to itch that 'scratch'.
In this guide, we'll give you a rundown of the best spots for adult entertainment in Langstrasse, what to expect when you visit this part of Zurich and what kind of services are on offer.
---
---
What is Langstrasse?
Located in District 4 of Zurich, Langstrasse (which translates as 'Long Street' runs north-east from the southern end where the district courts and Badenerstrasse are situated right up to the city's main station, Hauptbahnhof.
It is a notorious red-light district in Zurich and has historically been associated with the sex trade as well as industrialisation. It is heavily multicultural and has one of the highest density of foreign residents in the city. With an estimated population of 10,500 people, around 40-50% of them are believed to originate from outside Switzerland.
Covering an area of 1.13 sq. km, the district of Landstrasse actually refers to the general area and side streets which run off Long Street. This includes, but is not limited to:
Brauerstrasse
Kanonengasse
Dienerstrasse
Kanzleistrasse
Zwinglistrasse
Hohlstrasse
All around this area can get quite lively of an evening and there are plenty of bars, clubs and restaurants catering for visitors and residents of the city not looking to get laid, However, if you want to enjoy Zurich's wilder side then you've certainly hit the right spot.
Best Adult Entertainment in Langstrasse
Prostitution and other adult services have been fully legalised and regulated in Switzerland since 1942. One of the country's most visited cities, Zurich is a hub for sex workers and you can find a broad range of services on offer throughout the city including erotic massage, strip clubs, BDSM studios and even brothels and street prostitutes.
In total, it is estimated that there around 5,000 sex workers in Zurich.
Whilst we've focused this feature on the central district around Langstrasse, you can find a more comprehensive overview of adult entertainment in Zurich in our city guide. Don't forget to check out our feature on Sex in Switzerland so you can read up on local laws and the culture of sex.
All quoted prices are correct at the time of our review (January 2020).
Strip Clubs and Contact Bars in Langstrasse
Like may European cities, strip clubs aren't the cheapest of venues to spend a night and those in Zurich are no different, particularly if you are in the Lansgtrasse area.
Clubs offer a rolling show of half-naked dancers usually on a platform/stage or podium either with the aid of a dancing pole. Some venues offer lap and/or table dances but not much else besides.
Admission is typically free but drinks can be expensive as can the personal and private attentions of the dancers.
Contact, or 'Kontakt', bars on the other hand are like regular bars except these are generally populated with working girls looking for customers. The bars work in a similar way to a brothel with the women accepting drinks from paying customers and then either taking them to rooms on the premises or to a private apartment nearby. If you use the 'hotel' accommodation on site then you will need to pay the club for rental of a room in addition to the service fee being charged by your companion.
Red Lips Cabaret
Hohlstrasse 47, 8004 Zürich
Situated on the corner of Langstrasse and Hohlstrasse, Red Lips Cabaret has been one of the go-to adult venues in Zurich for many years. Recently refurbished, it now offers a more modern atmosphere.
It's not a huge club but it does have private VIP seating and a large and well-stocked bar.
A true gentleman's club, you can experience teasing strip routines from the intimately close podium pole and enjoy the company of the club's many hostesses.
From Sunday to Wednesday, the bar is not that busy and you can expect a relaxed atmosphere but fewer ladies. Whereas Thursday through to Saturday sees a rise in tempo with a live DJ and a busy party atmosphere.
As for the dancers themselves, the galleries show a selection of very fine figures and the club does have a decent reputation for putting on a good show.
The club is open daily from 9.00pm until 4.00am but stays open later on Friday and Saturday nights.
Gregory Nightclub
Schöneggstrasse 6, 8004 Zürich
Much more of a night club than Red Lips, Gregory's is a lively venue and one of the oldest strip clubs in the city.
It is a traditional style strip bar with podium, dancing poles and plenty of lap/table services on the go as well as private rooms for one-to-one encounters. All in all, the place is a little dated and wouldn't go down as the most memorable venue you've ever visited and it has had a reputation in the past for being very expensive for what it offers.
Again, its not a huge club so you will be getting up close and personal with the hostesses and dancers as well as to other guests.
The club also offers accommodation to its guests in the Hotel Gregory and you can get a 20% in-house discount if you use any of their rooms whilst you are a guest of the club.
Gregory Night Club is open as follows:
Monday to Thursday – 4.00pm to 4.00am
Friday and Saturday – 4.00pm to Late
Sunday – 6.00pm to 2.00am
Chillis Kontakt Bar
Müllerstrasse 92, 8004 Zürich
https://chillis-kontaktbar-zurich.business.site/
Chillis has one of the best reputations for adult venues in the Langstrasse area and has a welcoming and friendly atmosphere. Popular with locals and visitors to Zurich, the club has a large bar and disco that is always busy with contact girls and guests.
The club is usually busier at the weekends and after 10.00pm but they do open during the day which is a plus for a club of this kind.
They have their own accommodation on site and the girls don't charge an arm and a leg for their services but you can expect to pay around 150-300 CHF (€140-€280) depending on the length of your stay and what you are asking for.
The bar is open daily from 1.00pm until 4.00am but does stay open a little later on Friday and Saturday nights.
Best of the Rest
Some other clubs and bars which have an adult atmosphere in Langstrasse include:
New Crazy Horse Cabaret, Müllerstrasse 37, 8004 Zürich
Egoist Club, Ankerstrasse 115, 8004 Zürich
Lugano Bar, Langstrasse 108, 8004 Zürich
Brothels in Langstrasse
There are a couple of licensed brothels around the Langstrasse area and, typically, these have a reception which leads to studio apartments. However, there are also some private houses in addition to the contact bars and strip clubs which offer sex on site.
Our pick of the best brothels in Zurich's red-light district are listed below.
Club Aphrodisia
Stockerstrasse 62, 8002 Zürich
With an international staff of courtesans, Club Aphrodisia is a premier bordello in the heart of Zurich. It's located just east of Langstrasse a five minute walk over the River Sihl and into the city's financial and banking district.
As a result of its location and its exclusive service, prices are high here. You can expect to pay 280 CHF (€262) for 30 minutes, 380 CHF (€356) for 45 minutes or 500 CHF (€468) for an hour.
For such high-end prices you will expect high-class ladies and sumptuous surroundings; well, you won't be disappointed. The Aphrodisia Club is elegantly designed around a classic bordello and the suites are fitted with velvet, brocade and velour in reds, golds and dark woods. And the women are of an exceptional standard.
For those who are interested in the fetish world then the specially equipped dark room should suit fans of BDSM. Fitted with spanking bench, bondage bed, turnstile and love swing, there are plenty of kinky toys on hand to occupy even the naughtiest of guests.
Though pricey, the service here is excellent and the courtesans are all sophisticated and stunning.
Opening hours at Club Aphrodisia are as follows:
Monday to Wednesday – Midday to 2.00am
Thursday and Friday – Midday to 3.00am
Saturday – 4.00pm to 3.00am
Sunday – Closed
Club Pascha
Weststrasse 150, 8003 Zürich
Serving customers in the Langstrasse area since 1984, Club Pascha is a popular brothel in the city and has recently been modernised and redecorated.
There are usually between 6 and 12 girls available at this brothel depending on what time of day you arrive but this is a traditional bordello with a welcoming bar from where you can choose your companion.
Rooms are stylish and comfortable with a traditional décor finished with modern touches. S&M fans will enjoy the brand new sex furniture on offer and the dominas here have access to the latest toys, St Andrew's Cross and sex chairs. All in all, this is an elegant Swiss bordello that offers a comprehensive range of services.
Prices are competitive and are currently charged as follows:
15 minutes – 105 CHF (€98)
30 minutes – 160 CHF (€150)
45 minutes – 210 CHF (€196)
60 minutes – 310 CHF (€290)
You can book half an hour with two girls for 320 CHF (€299) or, if you visit on a Wednesday then you get a half hour full service for just 105 CHF (€98).
The girls offer a variety of extras including role-play, light BDSM and anal.
Opening hours at Club Pascha are as follows:
Monday to Wednesday – Midday to 2.00am
Thursday and Friday – Midday to 3.00am
Saturday – 2.00pm to 3.00am
Sunday – 2.00pm to Midnight
Eros World
Dienerstrasse 2, 8004 Zürich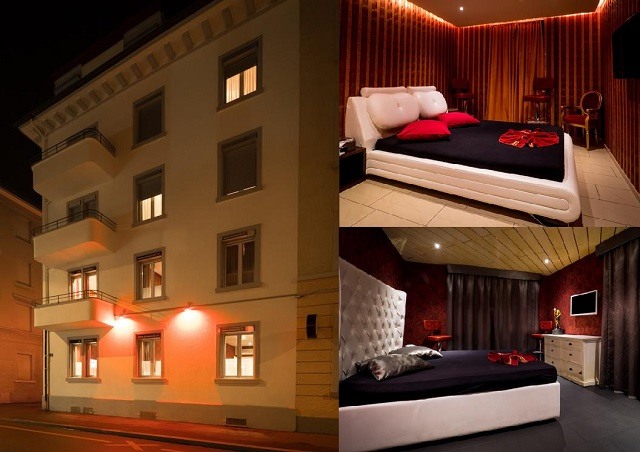 A modern and well-appointed brothel arranged over two floors Eros World is a standard Swiss bordello with a selection of independent courtesans.
It's a fully licensed venue, all the ladies are subject to the usual health checks and Eros World offer a high standard of companionship.
The brothel has around a dozen ladies on their books and who is available depends on the day you visit but you can a full listing of all the current women via their website.
Rates here are typical for Zurich and are charged as follows:
15 minutes -100 CHF (€93)
30 minutes – 200 CHF (€186)
60 minutes – 300 CHF (€279)
This is in addition to the room hire fee of 10 CHF (€10) with payment able to be made by either cash or credit card.
It's a smart brothel that has a good reputation and is clean, comfortable and discreet.
Eros World is open as follows:
Monday to Friday – 4.00pm to 6.00am
Saturday & Sunday – 4.00pm to 10.00am
Beatrice Privat
Konradstrasse 50, 8005 Zürich
Situated a few hundred yards away from the main station, this brothel has a dozen seductive ladies available. It is popular with business travellers to the city and is only open during working week days.
The women who work at Beatrice Privat are of a premium standard and most, as well as being stunningly good looking, speak multiple languages and are well educated.
An elegant club, the prices here are higher than you will find on offer in other parts of Langstrasse and are currently charged as follows:
20 minutes -170 CHF (€158)
30 minutes – 230 CHF (€215)
45 minutes – 350 CHF (€327)
60 minutes – 430 CHF (€401)
The rooms at this brothel are sumptuously decorated and incredibly comfortable bedrooms are stylishly accessorised with modern facilities. There is also a small lounge bar where guests can get a drink before or after their booking and relax with the girls.
Club Beatrice is open Monday to Friday from 10.00am to 10.00pm.
Casa della Seduzione
Zentralstrasse 64, 8003 Zürich
This 'house of seduction' is situated just south of Langstrasse and offers a full brothel and erotic massage service.
Though not a 'premium' venue like Beatrice Privat, Casa della Seduzione has comfortable rooms that are clean, stylish and come complete with all the usual modern facilities.
There are a nice selection of ladies working here, full details of which can be found via their website, but includes women from Asia, Europe and even the Middle East. Covering a range of ages, looks and experience, there is sure to be someone to suit your tastes on roster when you visit.
Prices for full service at Casa della Seduzione are currently being charged as follows:
20 minutes -100 CHF (€93)
30 minutes – 150 CHF (€140)
40 minutes – 200 CHF (€186)
50 minutes – 250 CHF (€233)
60 minutes – 300 CHF (€280)
As well as providing erotic massage with happy ending, clients can also receive extras which include some BDSM options, anal, lesbian, oral and GFE.
Opening hours are as follows:
Monday to Saturday – 10.00am to 2.00am
Sunday – 10.00am to Midnight
Erotic Massage in Langstrasse
Most erotic massage studios in Zurich will provide a happy ending included in the price as well as signature services which can include full sex.  Prices are typically around 150 CHF  (€140) for 30 minutes but this varies by venue.
The best salons situated in the heart of the Langstrasse district are:
Massage 27a
Köchlistrasse 27a, 8004 Zürich
With an eclectic mix of ladies on their books including women from the Caribbean, Italy, Brazil and France Massage 27a provides a range of services from their clean and well-appointed studio.
Situated to the rear of the property, you can find the entrance in a discreet back yard and off the main street.
Prices start at around CHF 100 (€93) for 20-minutes which includes a massage, full sex and oral.
Popular treatments include:
Erotic Massage
4-Hand Massage
Body to Body Slides
Intimate Shave
Shower Fun with a Hot Finish
Mutual Massage
You can find a full schedule of who is working when from the website.
Opening hours at Massage 27a are as follows:
Monday to Friday – 11.00am to 8.00pm
Saturday – 11.00am to 6.00pm
Sunday – Closed
Beauty Latinas
Heinrichstrasse 99, 8005 Zürich
The offer, and price, of services at Beauty Latinas is very similar to Massage 27a with all of the ladies having a Latina heritage and a 20-minute session starting at CHF 100 (€93).
The main difference is the modernity of the venue and opening hours. Beauty Latinas is slightly more up to date in design but just as clean and comfortable with an excellent reputation for satisfaction being guaranteed.
Extras are available and include various full sex and oral.
Opening hours at Beauty Latinas are as follows:
Monday to Friday – 10.00am to 8.00pm
Saturday & Sunday – 10.00am to 7.00pm
Please note that Sunday sessions are by appointment only.
Best of the Rest
There are only a couple of erotic massage parlours located in the heart of Langstrasse itself but you can find several situated at the southern end of this district on the other side of Badenerstrasse.
These include:
BDSM in Langstrasse
The Swiss aren't well known for their love of BDSM, not in the same way as the Germans or the Dutch and Zurich's brothels do cater for kinksters who want a bit of S&M. However, Langstrasse does have a specialist S&M studio for more particular fet-fans.
Atelier V.I.P.
Rotwandstrasse 66, 8004 Zürich
The Atelier studio offers the services of dominas, slaves and fetish ladies right in the heart of the city.
It's a paradise for anyone into the scene and the professional resident dominatrix and her team can provide a varied range of kink satisfaction. As well as subs and dominas, there are also transsexuals on hand.
It's a well-equipped S&M space that offers full confidentiality and discretion.
Open from 10.00am, Monday to Friday, it is advised that you make an appointment before paying a visit.
Street Prostitution in Langstrasse
It is illegal for prostitutes to solicit business from the streets around Langstrasse and there are only a few areas of the city where plying for trade this way is legal. You can find further details in our Zurich Sex Guide of where you can find the legitimate zones and information on the drive-in sex boxes available outside the city limits where you can take a prostitute.
It is rare to be approached on the streets in Langstrasse by a licensed hooker and if you are then you will probably being solicited by a migrant sex worker.
In a licensed zone you can expect to pay around CHF. 200 (€186) for a full service but a quick blowjob will be cheaper. However unlicensed hookers can charge significantly less than this.
Featured image via Wikimedia Commons.