Want to know more about sex in Poland?
Poland is the 8th most populous country in Europe and home to around 38 million people. It has an interesting position on the continent and has historically been a gateway between the west and the east. Largely influenced by other Slavic nations such as Ukraine, Belarus and Lithuania, Poland also borders Germany and is divided by the Baltic sea to the North from Scandinavia. The country has a reputation for being a conservative and religious nation but how does this influence sex in Poland?
In this guide, we take a look at the social attitudes towards sex in general, the laws on prostitution and pornography as well as looking at the adult industry in Poland.
---
---
Sex in Poland
Poland has a reputation for its conservatism which may be a throwback to its fairly recent history of being a communist nation (1945-1989). Often judged as being reserved, cold and, sometimes, miserable, Slavic people are not as forthcoming with pleasantries as other Western nations and are more likely to mask public emotions. Far from making them a warm or friendly nation, it is simply a cultural thing.
The country is also reputedly one of the most religious countries in Europe. Famously the birthplace of the popular Pope, Jean Paul II, 90% of Poles consider themselves Catholic but only 10% are actively so. Poland is home to a 45ft statue of the late pontiff and also the world's tallest statue of Jesus, 'Christ the King' which stands at a mammoth 118ft tall.
Though many people may not be active in their religion, the Catholic Church still has a good deal of influence on the country's social attitudes. Poland is one of the most pro-life nations in Europe and has restrictive abortion laws; many women choose to receive the procedure in neighbouring countries rather than face the discrimination and lengthy bureaucratic process in Poland. Plans to fully outlaw abortion where ditched in 2016.
Poland also has one of the youngest ages in Europe for people to get married and doctors can deny women access to contraception.
Though the country has legalised homosexuality (see below), public opinion is not in favour of same-sex marriage and over half of all Poles (52.5%) believe that the current scale of gay promotion is excessive. More than one in four (27.9%) say that images of gay parades or practices 'disgusts them'. 30% of the Polish population would like to see ban on the public promotion of homosexual content.
Many commentators have remarked that since the fall of communism, Poland is experiencing almost a reverse sexual revolution with traditional values returning to the fore in many aspects. And t's not just the church where these views are held. Some scientific communities and political parties are so bound up in the 'pro family' drive that any alternative to a traditional 'norm' is seen as a perversion. Parliamentary officials have even likened LGBTQ activities to paedophilia and zoophilia. Gender workshops held in 2014 to promote diversity where met with such right-wing furore that it sparked an open letter from the Polish Academy of Sciences in which it called the classes 'an attempt at unseating children from their own sex'.
Despite such conservatism in some areas, Poland has a liberal approach to other social aspects of sex. Both pornography and prostitution are legal (see below) and the Polish Government has even produced a video encouraging citizens to get going in the bedroom. The Ministry of Health showed images of breeding rabbits followed by the advice 'If you ever want to be a parent, follow the example of rabbits'. Of course, the campaign is an attempt to reverse the rapidly declining birth rate (only Portugal has a lower one in Europe) and is aimed at heterosexual couples.
Poland was the first country in the world to have a licensed sexologist. Kazimierz Imieliński was an active pioneer for sexual health and relationship therapy during the 1960s and 1970s. Despite pressure from the communist state as well as the church, he founded an institute for family planning and sex education.
Sex Education in Poland is considered very poor and is virtually non-existent in many areas of the country. Educators have long complained that the curriculum (which is not compulsory) has been written by ardent Catholics. The policy is one of opposition to contraception, diversity and abortion. As a result, many observers believe that Poland's youth are being denied their basic human rights to information and education in this important area. The government attempted to redress the balance in 2015 but faced massive protests from parents and pro-family groups.
The issue has gained prominence over the last few years with prominent public figures and artists launching their own education campaigns, videos and information on social media.
The dominance of the Catholic Church has meant that the overt promotion of safe-sex and condom use has historically been ignored. Despite this, Poland has a low prevalence of HIV/AIDS yet a relatively high rate of Hepatitis C. A pan-European survey undertaken in 2013 identified Poland as the 4th highest hotspot for STDs in general including chlamydia and gonorrhoea.
Adult Industry in Poland
Pornography in Poland has been legal since 1998 though scenes of violence, sex with minors and animals are, of course, prohibited. It was a close call though; in 2000, an Act to prohibit all pornography (including softcore and hardcore) was very nearly passed by parliament. The bill didn't make it past liberal opposition but is evidence of the appetite for change in the country towards more conservatism.
There are some professional porn studios in Poland with Pole Studs Studios being one of the most well known but most directors and film stars tend to work in countries with better pay, better access to distribution and more legislative copyright protection. The Czech Republic is the obvious centre of choice as Europe's porn powerhouse.
Sex camming is popular in Poland and is fast becoming an easy way for women and men to earn money without actively resorting to prostitution or studio production porn.
Poland was the venue for the 2004 World Gangbang Championships in which a new record was set. American porn star, Lisa Sparxx, was penetrated by 919 men in 24-hours.
Top Polish Porn Stars
The most famous Polish porn star outside of her home country is the delectable Natalia Starr. Born in Poland but raised in America, Starr has worked with all the big name studios including Brazzers, Bangbros, Naughty America, Dogfart and BadoinkVR. Busty and blonde with a nall-natural 34D chest, Starr began in the industry as a fetish model in New York. She is well known for her bondage specialism as well as lesbian scenes.
Natalia's sister, Natasha, also went into the industry and they even starred in a threesome together.
Agnetis Miracle, also known as Duana, is famed for her all natural 32L breasts though sadly she has only done softcore porn and topless modelling.
According to XVideos, the top ten porn stars from Poland are as follows:
| | | | |
| --- | --- | --- | --- |
| Performer | Total Video Views | European Ranking | World Ranking |
| Natalia Starr | 205,854,576 | 34 | 188 |
| Misha Cross | 140,046,611 | 36 | 194 |
| Joslyn James | 93,199,638 | 107 | 462 |
| The Real Hotwife Venus | 12,655,534 | 184 | 795 |
| Carolinaxx | 4,575,913 | 310 | 1,248 |
| Sexy Susi | 48,214,443 | 363 | 1,423 |
| Rebecca Blue | 40,625,531 | 449 | 1,714 |
| Teen Kasia | 135,139,339 | 484 | 1,832 |
| Julian St Joy | 47,405,767 | 563 | 2,134 |
| Natasha Starr | 21,825,491 | 564 | 2,138 |
Of course, there are many other porn stars from Poland worth noting, including:
Magda Polak
Vanessa Michaels
Teresa Orlowski
Jessica Love
Angelica Wild
Ines Cudna
Anushka Garin
Danuta Lato
Laureen Pink
Klaudia Figura
Amira Adara
Alexandra Nice
Allen Benz
Barbi Sinclair
Camilla Rhodes
Nicole Poleski
Olga Polansky
Anita Agni
Prostitution Laws in Poland
Prostitution in Poland is legal as long as prostitutes work independently. Brothels, pimping and sex-rings are illegal as is any kind of coercive practices and illegal activities (underage sex and trafficking). Though legal, the profession is not recognised as employment and as such does not attract any taxation; however, prostitutes cannot apply for any social benefits as a result.
Estimates on the number of prostitutes working in Poland vary with some reports suggesting there are as few as 3,300 women and some believing there to be more than ten times this number, or 33,000. It is difficult to know the true figure as the freedom of movement in Europe prevents accurate figures being placed on the number of other nationalities working in the country. There is a prominent number of Belarusian, Ukrainian and Lithuanian prostitutes in Poland.
Sex in Poland is relatively cheap compared to the rest of Europe.
The sex industry is not very varied with women (and men) providing services as escorts or from massage parlours. Street prostitution is on the decline and very few places in the cities have visible sex workers.
Poland Porn Viewing Trends
Each year, the global porn viewing trends are put under the microscope by the porn tube giant, Pornhub. In the latest, Year in Review, Poland was ranked as the 15th most frequent visitor to the site; the average visitor spends an efficient 9 minutes and 42 seconds online.
The top ten most searched for keywords in Poland for the last three years were:
| | | |
| --- | --- | --- |
| 2017 | 2016 | 2015 |
| Polish | Polish | Polish |
| Mom | Mom | Polskie |
| MILF | Teen | Teen |
| Overwatch | Overwatch | Step Mom |
| Polska | MILF | Teacher |
| Step Mom | Polish Amateur | Mom |
| Lesbian | Step Mom | Lesbian |
| VR | Lesbian | Anal |
| Gangbang | Polska | Polska |
| Step Sister | Feet | Czech |
Interestingly, despite being the third most popular category for the previous two years, the appetite for 'teen' porn has fallen sharply in 2017. Still popular is the demand for home-grown porn with 'Polish' topping the list again.
Of note is the return of the term 'Overwatch' with Poland being the fourth ranked country worldwide where this kind of porn is most popular (South Korea, Belarus and Russia being first, second and third).
Most of the content watched is found in the categories of 'MILF', 'Mature', 'Lesbian', 'Anal' and 'Hentai'.
Relative to the rest of the world, Polish people were 57% more likely to be watching porn from the 'Orgy' category. The 'Mature' category was also 51% more popular in Poland.
The top gaining searches for 2017 were:
Masturbation (up 322%)
Japanese (up 238%)
Hentai (up 218%)
Big Tits (up 141%)
Polska (up 62%)
VR (up 37%)
MILF (up 26%)
Despite the fact that 'Polish' is the most popular search term, the top five most searched for porn stars in Poland were all American:
Sasha Grey
Mia Khalifa
Elsa Jean (American)
Kim Kardashian (American)
Riley Reid (American)
Pornhub also reports on spikes in traffic and Poland experienced a surge of 2320% in extra visitors on Valentine's Day…very romantic!
Though Pornhub is the most popular adult website in Poland (ranked the 18th most frequent visited site and more popular than Twitter!), there are plenty of other adult sites visited by the Polish porn viewing community, including:
XVideos – 21st most popular website in Poland
XNXX – 25th most popular website in Poland
XHamster – 31st most popular website in Poland
Datezone – 42nd most popular website in Poland
RedTube – 46th most popular website in Poland
All of these sites receive more visitors than Netflix.
Top Polish Porn
Given the popularity of five of the largest porn tubing hosting sites in Poland, there is a lot of amateur Polish porn that you can view from names like Pornhub, XVideos, XHamster, RedTube and XNXX.
However, if you are searching for niche Polish porn then these sites will give you some of the best options:
LGBTQ Rights in Poland
Same sex activities have always been legal in Poland though they were officially codified in 1932. The age of consent is equal for homosexuals and heterosexuals.
As we've already stated, the country is marked by the domination of traditional and conservative values which do not support diversity of gender and sexuality. Though there are many proponents to LGBTQ rights in Poland, there is a large sector of the political community and general population that are not supportive of equality.
There is no doubting the political influence of the Catholic Church in such matters and their view that homosexuality is a deviant practice is one shared by the nation. A 2014 poll found that 70% of the population think same-sex relations are 'morally unacceptable'.
However, the situation is one of polar opposites and the younger urban population do appear to be more liberal and tolerant of diversity. Warsaw and Krakow have big gay scenes and plenty of clubs and social groups. Katowice, in the south, is often described as the 'San Francisco' of Poland and is regarded as the most gay-friendly city in the country.
In 2011, Poland elected its first openly gay MP, Robert Biedroń, as well as their first transgender MP, Anna Grodzka.
LGBTQ rights in Poland can be summarised as follows:
There is no recognition of same-sex civil union with same-sex marriage being constitutionally banned.
Same-sex couples may not adopt children.
Transgendered individuals may legally change their gender and have been able to so since 1983.
Lesbians, gays and bisexuals are not banned from serving openly in the armed forces. However, 43% of Poles believe that this should not be the case.
Anti-discrimination employment laws have been in place for LGBTQ individuals since 2003 but do not explicitly protect against prejudices of sexuality and gender; the Act prohibits discrimination on 'any grounds'. A previous wording of the legislation which included protection against discrimination on the specific grounds of gender and sexuality was strongly opposed by the Catholic Church.
Gay men may donate blood.
Despite several attempts by pro-equality groups to allow civil partnerships for same-sex couples, the proposals have been rejected in parliament on numerous occasions by a strong majority. Once again, this reflects the popular opinion polls with only 37% of the population in 2015 showing support for registered partnerships.
Pride parades are held annually in the capital of Warsaw as well as in cites like Krakow but, though tolerated, the majority of Poles (68%) were found to be against the right for the LGBTQ community to organise public demonstrations. Despite this, Poland's LGBTQ campaigners remain an active community and continue to press for changes towards equality in the country.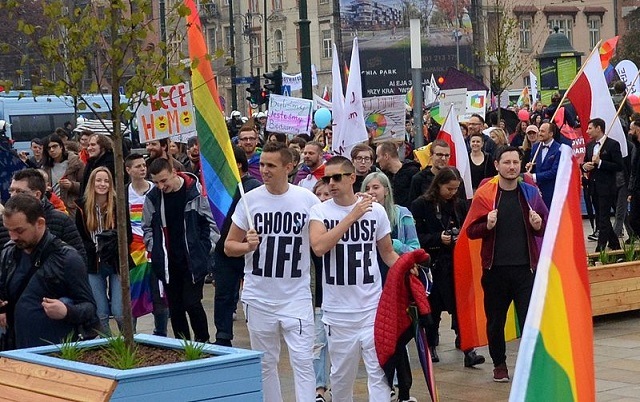 They certainly have their work cut out for them and the endemic homophobia within the government and senior political figures is shocking. In 2015, former President, Lech Walesa, was quoted as saying that gay MPs should not have important positions in the country's government and that they should sit at the back of parliament…or even behind a wall.
The national conservative party, PiS, and the pro-family party, LPR, have all made similarly disturbing public statements including these homophobic remarks:
"If deviants begin to demonstrate, they should be hit with batons." - Wojciech Wierzejski, MP, League of Polish Familes
"If a person tries to infect others with their homosexuality, then the state must intervene in this violation of freedom." – Kazimierz Marcinkiewicz, Prime Minister, PiS
In general, members of the LGBTQ community do face discrimination and abuse with many choosing to keep their diversity a secret or opting to live in neighbourhoods with a more tolerant outlook. According to a report conducted in 2016 by the equal rights organisation, ILGA Europe, Poland was identified as one of the three worst countries in Europe to be gay (Latvia and Lithuania shared this title).
Top Classified/Personals Sites in Poland
Poland has good internet access and many younger singles do use online dating sites to connect with others. The majority of people doing so are looking for serious dating opportunities rather than casual encounters or hook ups. However, there are still some sites where promiscuity reigns and the chances are high to score a no-strings-attached encounter.
The top five most popular dating sites in Poland by volume of traffic are:
Badoo, Tinder and Flirt are popular with a younger demographic and have more casual opportunities than the other two.
However, the following sites are also trusted but definitely have more of a serious dating edge to them:
Most of these sites are premium services and though you can register and browse for free, features such as contacting other members is often reserved for subscribers only.
For other dating opportunities, it is worth following up on some of these sites, some of which are 100% free to use.
Craigslist
Craigslist is the ubiquitous go-to for casual dating and has become a byword in no-strings-attached fun. The site has some coverage in Poland with its Warsaw set-up.
Free to post and free to browse, Craigslist has several personals categories, including:
Casual encounters
Women Seeking Men
Men Seeking Women
Strictly Platonic
Romance
Missed Connections
Sadly, you can't always guarantee the authenticity of the listings and it is known that escorts use these service to advertise their services. It should also be remembered that many more men than women use the site so the odds aren't stacked in your favour. Having said that, there are some good ads available to view and we are assured that the site does come up trumps for the lucky few.
Polskie Serca
Translated as 'Polish Hearts', this site is a popular international site. It is geared towards foreigners looking to meet Polish singles and has over 1.4 million registered users.
It's easy enough to use and you can create an account using your Facebook ID or via email.
The site works for Polish people living abroad as well as for visitors coming to Poland.
A freemium service, Polskie Serca, works best if you are a paid subscriber.
fDating
https://fdating.com/dating-polish-women.html
An international site that offers 100% free dating services, fDating has the listings of over 1300 women in Poland looking for a date.
The site offers comprehensive search facilities so you can filter the results based on everything from physical attributes to location, age and interest. You can also order the listings by the date members were last logged on so you can access more recently active members.
Profiles are very thinly populated and not all have photos so you have to do most of the groundwork in your first message to ensure a response. Patience is key in using this service to good effect.
Other Free Dating Sites
The following sites work on a similar basis to fDating:
Featured image via Pexels.